A Mechanical Portfolio: Does Mechanical Investing Work?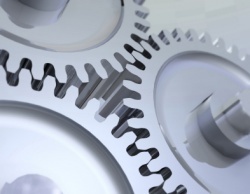 There may be some merit in a mechanistic approach to portfolio adjustment for the following reasons:
- Set at suitable review intervals, trading frequency and related costs can be minimised
- The inertia effect of "falling in love" with stocks is avoided
- The system can allocate assets on a rational basis (asset allocation is the biggest determinant of performance)
- Emotional components (herd behaviour, fear and greed, reluctance to admit mistakes etc) which bedevil individual investors are minimised.
- The system can mandate sales, the hardest element of portfolio management
- The system can be engineered to be biased towards capital preservation 
I set out below the structure of a simple system which attempts to tackle the issues above.
Elements
This system determines which of four diverse asset classes are held at any given time. Each asset class has a single proxy chosen (a) to be easily traded on small spreads and (b) to have a good financial credentials (balance sheet, size etc). The four asset classes are:
Developed market equity
Real estate
Emerging market equity
Hard commodities (gold, mined raw materials)
Clearly there could be more than four asset classes but these four seem to me to cover much of the waterfront and do not correlate much in normal market conditions.
Special Offer: Invest like Buffett, Slater and Greenblatt. Click here for details »
Decision process
This system is based on a quarterly review period. The decision dates are the first trading Tuesday after each of 15th January, April, July and October.  (The dates and frequency could vary but these suit me as I am usually not travelling then). The decision review answers the question "should this asset class be held for a further three months?". If the answer is No then that portfolio element is switched to cash for the following three months.  

Basis of Decision
The asset class is held for a further three months if the 50 day moving average price on the review date is above the 200 day moving average. Otherwise the asset is sold and cash is held until the next review date.
This is a simple "the trend is your friend" methodology that can be back-tested through the last five years - a period of considerable volatility.  I have done this and the results are below.

Proxies
I have chosen single proxies for the four asset classes on the basis that I know the particular assets.   My proxies are:
There can obviously be some debate about whether these are the right proxies. The reader may well have his own. I set out my reasons for selecting these vehicles as an appendix.

Back test method
The table below shows the results of a back test of this system for a five year period (from July 2006) which includes the collapse of Lehman Brothers in September 2008. The initial amount applied to each asset was £100,000. Dealing costs and interest on cash were ignored. Dividends were not ignored. All trades use closing mid market prices. This of course ignores the spread but as there was an average of one trade per asset per year this may not be material unless selling during a period of peak volatility when spreads can be large. The stocks used are fairly large and have good volumes.

Price data came from Yahoo historical tables. The moving averages were established from Stockopedia graphs for the UK stocks and Yahoo for the US stock. 
Findings
The system produced a good result for the real estate asset but in all other cases a buy and hold strategy would have been better. This is perhaps because Land is a leading indicator: it goes into recession first.

If you were forced to sell at the lowest point of the market then the mechanical system would have done a better job of preserving capital (columns C and D). This doesn't tell the whole story as minimum individual asset valuations occurred at dates as far apart as January 2008 and October 2009 depending on asset class and strategy.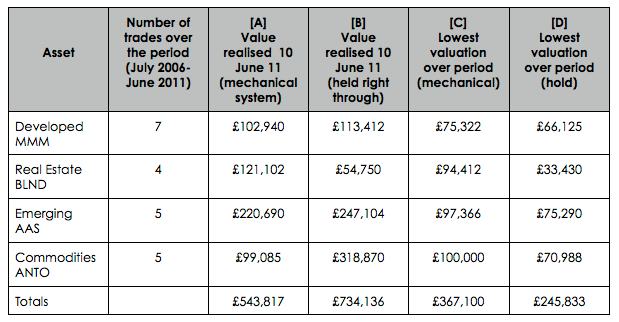 Conclusions

Over the period, the FTSE100 has gone from roughly 5600 to 5800 so some of the result is due to asset allocation and the Alpha element of the specific stocks. Not many people would have been 25% invested in emerging markets and 25% in mining stocks in 2006. A chartist approach using moving averages might be effective in timing entries and exits from real estate companies. For other asset classes a mechanical approach seems to protect the downside if you do not have the stamina to remain invested for long haul. The system gave equal weight to the four asset classes and turned them on or off.   A more sophisticated system would adjust relative weights.
There is no statistical support for the table but it may provide food for thought.  Also the decision test is a bit simplistic.  Perhaps a test based on the outlook in formal trading statements might be better.  Comments welcome. 
Appendix 
My Asset Proxies

Developed Market Equity: MMM

3m is a well established US based conglomerate with operations in many countries and markets. It manufactures. It is perhaps best known for "Post-it" notes but also makes films used in electronics, medical products and much more. The business is not excessively geared at 20%. The company has a beta of 0.82 and therefore is closely correlated with the S&P500.

Real Estate: BLND

If I were starting today I would choose LSP. London & Stamford Property Limited is a good proxy for UK real estate as its portfolio covers retail, office and residential property both inside London and regionally. Its gearing is 33%.

For back testing purposes I have used BLND, British Land as data is available for a five year period.

Emerging Market Equity: AAS

Aberdeen Asian Smaller Companies Investment Trust is a good proxy for emerging markets as it invests in relatively small businesses in Asia outside Japan and largely outside China. The trust is not materially geared (although the underlying companies probably are). The management fee is reasonable (1.4%). I prefer this method of reaching emerging markets as it is actively managed by a well embedded team in Singapore. A suitable ETF may be an alternate.

Commodities: ANTO

Antofagasta plc is one of the oldest listed companies on the London Stock Exchange. Its principal operation is copper mining in Chile but it extracts other commodities including gold. The business has been run for many years with no net borrowing.
Disclaimer:
As per our Terms of Use, Stockopedia is a financial news & data site, discussion forum and content aggregator. Our site should be used for educational & informational purposes only. We do not provide investment advice, recommendations or views as to whether an investment or strategy is suited to the investment needs of a specific individual. You should make your own decisions and seek independent professional advice before doing so. The author may own shares in any companies discussed, all opinions are his/her own & are general/impersonal. Remember: Shares can go down as well as up. Past performance is not a guide to future performance & investors may not get back the amount invested.
---
---

Aberdeen Asian Smaller Companies Investment Trust PLC is an investment trust. The investment objective of the Company is to maximize total return to shareholders over the long term from a portfolio of quoted companies in the economies of Asia and Australasia, excluding Japan. The Company's assets are invested in a diversified portfolio of securities in quoted smaller companies across a range of industries and economies in the investment region, including Australia, Bangladesh, China, Hong Kong, India, Indonesia, Korea, Malaysia, New Zealand, Pakistan, The Philippines, Singapore, Sri Lanka, Taiwan and Thailand. As of July 31, 2012, the Company's investment portfolio included Multi Bintang Indonesia, AEON Co (M), Siam Makro, Bukit Sembawang Estates, LPI Capital, Godrej Consumer Products and Bank OCBC NISP. Aberdeen Asset Management Asia Limited is the manager of the Company. more »

The British Land Company PLC is a real estate investment trust. It provides investors with access to a diverse range of property assets, which it manages, finances and develops. As of March 31, 2012, its 27 million square feet of retail space included 90 retail park properties, 99 superstores, 12 shopping centers and 10 department stores. During the fiscal year ended March 31, 2012, it secured 70 new consents across the retail portfolio accounting for one million square feet, including new consents for Hobbycraft and Pets at Home at the Beehive Centre in Cambridge; Frankie & Benny's at Parkgate, Rotherham, and Smyths Toys at Glasgow Fort Shopping Park. In February 2013, it acquired a portfolio of properties in London from Wereldhave. In March 2013, the Company sold its Ropemaker Place, London EC2 to Frasia Properties S.a r.l. and Frasia Properties Subsidiary S.a r.l. more »

Londonmetric Property PLC, formerly London & Stamford Property Plc, is a United Kingdom-based real estate investment trust (REIT). The Company aims to deliver attractive returns for shareholders through a strategy of increasing income and improving capital values. It invests across the United Kingdom in retail and distribution properties, as well as Greater London real estate opportunities. It employs an occupier-led approach to property investments through opportunistic acquisitions, joint ventures, active asset management and short cycle developments. The asset focus is on properties providing opportunities to improve both rental values and the security and longevity of income and limited risk redevelopments with the aim of enhancing shareholder returns. In May 2013, Londonmetric Property PLC announced the acquisition of Martlesham Heath Retail Park. more »