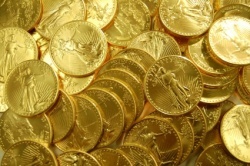 Gold production company Allied Gold (LON:ALD) has celebrated the pouring of its 250,000th ounce of gold from the Simberi Gold Mine in Papua New Guinea since commercial production first began in 2008. The milestone occurred shortly after processing was restarted following a maintenance shutdown that is likely to dent the mine's financial performance for 2011. However, Allied said it was pressing ahead with production changes that would cut the cost per ounce of production by US$50 and that is was on course to significantly expand capacity at its processing plant during the course of next year. Shares in the FTSE 250 company rose by more than 5% to 156p.

Simberi originally began with a modest eight year outlook but is now putting in place expansion and efficiency initiatives for mid-2012 that should see it produce a minimum 100,000 ounces per year (ozpa) over the next ten years from its oxide open pit operations. A sulphide processing circuit could further lift Simberi's annual production rate to more than 250,000 ozpa from 2015.

Processing at Simberi, which lies 45km from Lihir Island in the New Ireland province of PNG, has recommenced following a shutdown due to repairs to the 2.4 million tonnes per annum (mtpa) ball mill. Due to the three week mill shutdown, Simberi is expected to produce in the December quarter between 12,000 and 14,000 ounces, compared to a steady state run rate of 18,000 ounces a quarter. Full year production from Simberi in 2011 is expected to be approximately 58,000 ounces with expansion and fuel cost saving initiatives aimed at lifting production to approximately 100,000 ozpa and reducing costs to a targeted US$850-US$900/oz to take effect during 2012.

Recently ordered heavy fuel oil generator sets will be delivered and progressively installed during the June quarter of 2012. When fully operational, the switch from diesel generators to heavy fuel oil will reduce Simberi's operating cost by approximately US$50/oz.

The expansion of the Simberi processing plant from 2.4 mtpa to 3.5 mtpa is scheduled for between June and September 2012. A number of key long lead equipment items, such as the SAG mill, are already at site and awaiting fabrication or installation in 2012. The key long lead items awaiting delivery in the June quarter 2012 include the tailings thickener and the ore reclaimer.

Frank Terranova, Allied Gold's managing director and chief executive, said: "From Simberi's modest beginnings it is apparent the oxide and sulphide resources provide opportunity for production well into next decade. The focus of much of 2011 has been to prepare for the expansion in 2012. There have been some challenges at Simberi during 2011 and production for calendar year 2011 is now expected to be approximately 58,000 ounces compared to the 70,000 ounces originally forecast. The lower production has seen our average cash costs increase. This means the cash costs for the year will be in the order of US$1000 per ounce compared to the US$850/oz it would otherwise have been. We anticipate that the production rate of 70,000 ozpa will be reflected in the March quarter and then a lift in production during 2012 towards 100,000 ozpa. Higher throughput will reduce costs and the investments we are making with heavy fuel oil generators should also push costs down further."

Drilling continues at Simberi on the oxide and sulphide potential of various pits. A bankable feasibility study for a 150,000 ozpa sulphide circuit to lift Simberi production towards 250,000 ozpa by mid decade is scheduled for release in mid-2012. The group continues exploration operations to further build on the resource base in Papua New Guinea and the Solomon Islands.
There's
value
in the stock market
but do you know where to look?
Get the most concise synopsis of everything that's been proven to work in value investing. If you like your stocks cheap you've found a treasure trove distilled to under 70 pages.
How to find ultimate Bargain Stocks with Ben Graham
How to spot Turnarounds and avoid Value Traps
From Graham to Greenblatt via Piotroski & Lakonishok
How to value stocks and set a margin of safety
Disclaimer:
As per our Terms of Use, Stockopedia is a financial news & data site, discussion forum and content aggregator. Our site should be used for educational & informational purposes only. We do not provide investment advice, recommendations or views as to whether an investment or strategy is suited to the investment needs of a specific individual. You should make your own decisions and seek independent professional advice before doing so. Remember: Shares can go down as well as up. Past performance is not a guide to future performance & investors may not get back the amount invested.
---
---