Aminex indicates Q1 trading in line, sees Nyuni and Ruvuma as key focus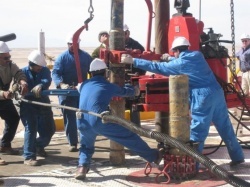 Aminex (LON:AEX), the oil and gas company listed in London and Dublin, today issued its Interim Management Statement for the first quarter 2010 providing a summary of global operations, and highlighting the potential of the Nyuni and Ruvuma projects in Tanzania. According to the company, trading during the first quarter has been approximately in line with expectations. Revenues have been lower than in Q1 2009 due to the anticipated decline in production from the Upper Andrau formation at the Alta Loma field but this has been partially offset by improved commodity prices. 
In the USA, Shoats Creek, the testing of multiple zones in the Olympia Minerals-1 well is due to be finalised shortly. Ninox Petroleum has until 25 June 2010 to decide whether to farm into 50% of the project. If it exercises its option, it will carry Aminex's share of the costs in the upcoming drilling campaign. At Alta Loma, a decision has been taken to postpone making a completion in the "S" sand so long as reduced production continues satisfactorily from the Upper Andrau formation. The operator, El Paso, is evaluating the property to decide where to locate the next well.
In Tanzania, for the Ruvuma basin, the Likonde-1 well has provided strong indications of both oil and gas but drilling was halted due to safety concerns. The next well is likely to be drilled in H1 2011 (50% Tullow, 37.5% Aminex and 12.5% Solo). In Nyuni, Kiliwani North, an application for an expansion to the Songo-Songo Island gas plant has been made and the company is  awaiting a decision by Tanzanian authorities. In the West Songo-Songo PSA, progress has been limited so far.
In terms of outlook, the Company stated that Tanzania remains the current focus of Aminex's international exploration activity with upcoming drilling being planned at both Nyuni and Ruvuma. At Shoats Creek, Louisiana, further drilling will follow the testing of the OM-1 well drilled this year, with potential to be tested in the deep Wilcox sands. Further drilling is also anticipated at the Alta Loma property in Galveston County, Texas.
With one discovery already made and prospective resource volumes in excess of a trillion cubic feet of gas, Nyuni is a core asset in Aminex's portfolio which will be aggressively pursued... The potential for the Ruvuma basin to become a new oil province in southern Tanzania following the drilling of Likonde-1 (operated by Tullow Oil) in the first quarter of this year opens up exciting upside for Aminex and further drilling will follow a detailed appraisal of the Likonde well.
Astaire Securities featured Aminex today in its morning report, noting that the discovery at Nyuni is expected to be a precursor to significantly larger reserves in outlying prospects, and strong hydrocarbon indications at Likonde-1 point to excellent potential at Ruvuma. They concluded:
We like Aminex's diverse mix of assets across the E&P value chain, and reiterate our risked NAV estimate of 26p/share.
For further discusions on the IMS, click here. The shares are currently trading flat at 8.25p, versus a 52 week high and low of 17.25p and 6.13p respectively. Aminex issued its 2009 preliminary results statement on April 1st and the AGM will be held on Wednesday June 9th.
There's
value
in the stock market
but do you know where to look?
Get the most concise synopsis of everything that's been proven to work in value investing. If you like your stocks cheap you've found a treasure trove distilled to under 70 pages.
How to find ultimate Bargain Stocks with Ben Graham
How to spot Turnarounds and avoid Value Traps
From Graham to Greenblatt via Piotroski & Lakonishok
How to value stocks and set a margin of safety
Disclaimer:
As per our Terms of Use, Stockopedia is a financial news & data site, discussion forum and content aggregator. Our site should be used for educational & informational purposes only. We do not provide investment advice, recommendations or views as to whether an investment or strategy is suited to the investment needs of a specific individual. You should make your own decisions and seek independent professional advice before doing so. Remember: Shares can go down as well as up. Past performance is not a guide to future performance & investors may not get back the amount invested.
---
---

Aminex PLC is engaged in the exploration for, and the development and production of oil and gas reserves. Its principal area of activities includes the United States, East Africa, North Africa and North Korea. Its segments include Producing Oil and Gas Properties, Exploration Activities and Oilfield Services and Supplies. The Company's licenses in Tanzania include Nyuni PSA, Kiliwani North and Ruvuma PSA. During the year ended December 31, 2010, it drilled three wells, one in Tanzania and two in the United States. As of December 31, 2010, the Company held leases at Shoats Creek covering approximately 2,100 acres. Aminex Oilfield Services & Supply Company (AMOSSCO), its wholly owned subsidiary, provides logistics services to oil industry and sources oilfield equipment and consumables to international oil companies. In March 2012, it announced that Aminex USA, Inc. its subsidiary, completed agreements to sell leases and other assets consisting of the Somerset Field in Texas. more »