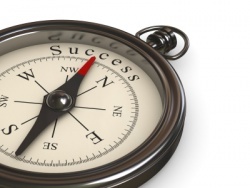 As a long term buy and hold, Aminex (LON:AEX) has been a major disappointment for me , and it is time to consider whether I continue to hold on the basis that 2011 will be AEX's year of triumph, sell out on the basis of too much dilution, lack of confidence in management, and the binary nature of some of its exploration, or somewhere in between. The love affair is over, it's time for a cold clinical appraisal.
USA Assets
The Shoats assets were valued, pre dilution, at circa 4mmboe and the USA assets collectively at an independent valuation of circa 11p per share. Management clearly indicated unverified but best guess reserves estimate of 18mmboe at Shoats (I was in the front row in February 2010 when Brian reiterated this guidance), which even discounted by 50% translated to 20p per share. Gas prices have fallen since then and show no signs of recovering for reasons we are all familiar with, but oil has for some time been trading above the $70 assumption of the original valuation. It was on this basis that we hoped for a sale of USA assets, or reserves based lending facility, to avoid dilution and provide the platform for further Tanzanian exploration.
So what has happened? Whispers are of management regretting the 18mmboe quoted, and having difficulty agreeing a fresh reserves/valuation report. The two wells drilled so far have not flowed as we had perhaps hoped, with one requiring fraccing, leaving us wondering how this changes oil in place expectations, and recovery/flow/cost factors. Importantly these are needed to feed into a DCF model to establish core value. Management have steadfastly refused to make any comment on when the much talked about reserves update and valuation report will be finalised and made available.
I think that most of us now have accepted that the report when it comes will be disappointing, and potentially worse, and have already factored this in to our new thinking and appraisal of the company. The only excuse for management not now coming clean is that to do so might be misleading (but as time goes on this reason wears thin), or that there is an underlying corporate transaction that prevents any discussion (we thought that might be the case with ref to the 140k acres – where did they go to? – but if there is any corporate activity now it is well below the radar).
The most recent broker guidance still refers to the original OPC guidance of 11p (I think) per share, around half that post dilution. If the actual value is below that then in my book that would create a major issue of trust given the repeated use of the word transformational in relation to Shoats – we are surely entitled to expect that to mean an increase, and not decrease in NAV guidance. Unless there is VERY good reason not to do so, management must surely now provide a USA reserves/valuation update if they are to retain the confidence of the market – even if the news is not good.
Nyuni et al
KN1 has now perhaps become the asset that is seen to underpin the sp, but has no value if the gas cannot be marketed within a reasonable timescale. I am not sure whether the specific word imminent has been used, but that is certainly the way in which production news has been talked about for many months, if not years. No one doubts that the pipeline access issue is complex, and made more so by what appears to be intransigence by Orca, but something here has either gone very badly wrong or the original guidance was naive and overly optimistic. 2011 became early 2012, and then late 2012, and still discussions continue. Of course access is only one issue – the other is finding markets, and resolving end of pipeline distribution.
The other assets here, and Nyuni2 in particular, have the scope to put the area on a par with exploration by BG/Ophir and Anadarko/Cove, with major gas reserves on land/shallows being potentially more valuable than deep sea. With talk of gas providing the basis for the electrification of East Coast Africa, and pipelines from Tanzania to Kenya kickstarting industrial development in the area, these assets could indeed be transformational. Talk of a BG LNG plant (news due soon on this?) would create another underpin for these assets.
But, and it is a big but, if the assets are as attractive as we have been led to believe, why has Key been unable to find a buyer after what must be a year now of trying to market them. And why did the broker note only give Nyuni 2 a 30% COS? Lots of questions, and having increased their risk by buying out Key's share, there is a lot of risk riding on this well.
Given the major difficulties in funding (sans dilution), why have AEX increased their risk on a single 30% COS well? Or is that guidance wrong, in which case where is the updated guidance - surely we have a right to know?
Where are we with the new PSA?
LK 1 & 2
Despite all the talk of oil in the region, nothing has yet been found commercially. In the absence of any other guidance as to why we should think differently, COS for LK2 (oil) has to be a low figure, and with that well having used up the balance of AEX funds whereto from there? If LK2 is also a major gas prospect, similar to others in the area, it would be helpful to know that.
Before dilution KN1 really could have transformed AEX - a multibagger was in prospect. Post dilution, and in the light of perhaps more conservative views of the likelihood of oil (and its commerciality), the upside is more difficult to quantify.
Special Offer: Invest like Buffett, Slater and Greenblatt. Click here for details »
An oil discovery elsewhere in the region would certainly raise prospectivity.
N Korea and Egypt
These appear to be side shows for now.
Conclusion
WHERE IS THE GUIDANCE? I had put the lack of information down to AEX putting the finishing touches to information that was sensitive from either a corporate deal point of view, or politically, or both. After all this time though I am leaning to the more straightforward view that there is a lack of progress to report, that the news that is available is disappointing, and that the current fundraising was needed to put the over optimism of the past behind us and create a meaningful platform for a final and fresh approach to development of the assets.
I think that there is enough value in AEX to underpin the current SP, and the OO is likely to be oversubscribed. But in the run up to Nyuni 2 there is likely to be significant selling into strength, and again with LK2.
I have come to my senses and am no longer in love with this share. I will take up the OO but then reduce my exposure in the run up to Nyuni 2, and again to LK2. This share could be hugely successful if one is of the view that the work of many years all comes together in 2011 in an on trend region. Alternatively one can be of the view that the COS on Nyuni 2 and LK2 makes this a binary play that could easily see its SP at or below current year levels with a distressed sale of assets once the funding runs out. Or somewhere in between. This is no longer a buy and hold share for me, but one to watch closely and trade on news (or the run up to news) – what some other respected posters have been doing for some time.
My view on management is agnostic. They could be about to pull a blinder – alternatively they could have been involved in crisis management of successive bad news and fighting for survival (news management to keep funding doors open). True leadership and trust are based though on openness and transparency – whilst we can forgive short term news management/control as being a corporate/commercial necessity, the continuing lack of guidance on the PSA, pipeline access, Shoats reserves/valuation, etc is creating a lack of trust that – imho – is in desperate need of being addressed.
All IMHO and DYOR. Some of the references and figures quoted may not be correct, but anyone who has followed the share will get the gist. Musings on a wet Sunday morning.
I hope that this piece will generate some meaningful and helpful debate, and perhaps management will take note of the sentiments and use the EGM to help us beleaguered long term PI's better understand what is actually going on here.
dbfromgb
Disclaimer:
As per our Terms of Use, Stockopedia is a financial news & data site, discussion forum and content aggregator. Our site should be used for educational & informational purposes only. We do not provide investment advice, recommendations or views as to whether an investment or strategy is suited to the investment needs of a specific individual. You should make your own decisions and seek independent professional advice before doing so. The author may own shares in any companies discussed, all opinions are his/her own & are general/impersonal. Remember: Shares can go down as well as up. Past performance is not a guide to future performance & investors may not get back the amount invested.
---
---

Aminex PLC is engaged in the exploration for, and the development and production of oil and gas reserves. Its principal area of activities includes the United States, East Africa, North Africa and North Korea. Its segments include Producing Oil and Gas Properties, Exploration Activities and Oilfield Services and Supplies. The Company's licenses in Tanzania include Nyuni PSA, Kiliwani North and Ruvuma PSA. During the year ended December 31, 2010, it drilled three wells, one in Tanzania and two in the United States. As of December 31, 2010, the Company held leases at Shoats Creek covering approximately 2,100 acres. Aminex Oilfield Services & Supply Company (AMOSSCO), its wholly owned subsidiary, provides logistics services to oil industry and sources oilfield equipment and consumables to international oil companies. In March 2012, it announced that Aminex USA, Inc. its subsidiary, completed agreements to sell leases and other assets consisting of the Somerset Field in Texas. more »