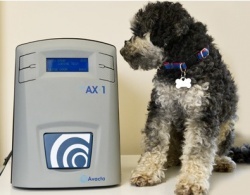 The listed UK market is about to lose a reasonably sized quoted group –  Axis-shield (LON:ASD)  – in the coming months following an agreed takeover by Alere, a NYSE quoted global leader in near-patient diagnostics and health management services sector, for around £235 million.  Nothing hugely interesting in that, you might think but it is hugely relevant for a company that is probably three to four years behind Axis in terms of its commercial development.
This particular company finds itself potentially represented in one of Axis Shield's markets, with highly attractive products and services that are only now moving towards sizeable future revenue streams.  
What Alere's acquisition in Axis-Shield demonstrates is just how valuable those companies with disruptive and strong intellectual property are in the wider global environment, especially in the in vitro immunodiagnostics market; in this case, Alere was extremely attracted to Axis Shield's' Afinion' technology.
Avacta (LON:AVCT) could also be perceived as having similar characteristics to Axis-Shield, possessing a highly disruptive diagnostic instrument – AX-1 – with strong IP, embracing the 'razor blade' model, which will be discussed a little later in this article.
Unlike Axis-Shield, Avacta also has a second unrelated market to diagnostic instruments having developed a biomedical instrument (Optim) –again with strong IP and again embracing the 'razor blade' model.  This product is highly disruptive and also possesses substantial global growth opportunities.
I was kindly invited along to Avacta's relatively new premises on a busy industrial trading estate, just off the A1, near Wetherby, West Yorkshire, to meet with Alastair Smith, Chief Executive Officer of Avacta PLC.
The site houses manufacturing, research and development, laboratories and office support functions for approximately 50 staff.
Avacta – Two high growth opportunities
Avacta Analytical (Optim)
Avacta Analytical supports the manufacture and roll out of innovative instrumentation and services to the biopharmaceutical and biotech industries through its broad-ranging expertise in analytical techniques and protein science.  Avacta has developed a world leading product called Optim.
Avacta Animal Health (AX-1)
Avacta Animal Health provides diagnostic products, reagents and services for the US$1.5 billion global veterinary diagnostics market equipping veterinary professionals with high quality animal health and 'well-being' information, through point of care diagnostics, reagents, testing kits and laboratory based testing.  Most importantly of all, the flagship diagnostic product – AX-1 - will ultimately be used in the human clinical diagnostics market – hence the link with Axis Shield.
Optim – Optimising instrumentation
Let's start with the subsidiary that has begun to generate good early revenues. 
The Optim instrument is targeted at and used predominantly within the Biopharmaceutical industry; one of the key growth drivers in the pharmaceutical markets over the past decade has been the growth of Biopharmaceuticals which is effectively a term loosely employed to describe drugs that are based on biological molecules such as antibodies rather than chemicals (known as 'small molecule' drugs or 'white tablets').
It is much harder for generic drug manufacturers to copy biological medications.  As you would expect, this strategy is very popular with 'large pharma' groups such as Pfizer, Johnson & Johnson, Novartis etc but the downside to such a strategy is the huge development costs, especially at the very early stage of drug development.
It is outside the scope of this article to give more detail and outline this process save to say that large amounts of proteins are required to be thoroughly tested to determine their basic physiochemical characteristics which could support scaled up manufacturing and formulation.
Essentially, the Optim instrument has been designed to accelerate the speed and reduce the cost of critical protein analyses during pre-formulation, stability testing and formulation.
That might sound like gobbledygook to your average lay investor.  So, let's put it another way; global biopharmaceutical businesses such as Roche spend huge sums of money developing biological compounds which may lead, over a number of years, to the basis of new medical treatments.  As you would expect, this is a very, very expensive business with an extremely high failure rate.  So, a product such as Optim is a Godsend.
Optim - 50 times faster with 30 to 600 times less sample
On average, an Optim instrument can significantly reduce costs to a biopharmaceutical client as it can analyse a protein 50 times faster than existing processes and it requires anywhere between 30 and 600 times less sample protein.
As Alastair was quick to point out:
"Optim delivers in two standard working weeks results that would otherwise take over five months of continuous work to complete".
A significant saving in anyone's book and you can understand why the biopharmaceutical industry is warmly embracing Optim. 
One of Avacta's main distributors – the multi-billion dollar NYSE listed Pall Corp – quotes a very interesting comparison table regarding other competing products currently on the market
http://www.pall.com/main/Biopharmaceuticals/Literature-Library-Details.page?id=20111021122306
Alastair continues
"There are other techniques that can be used to get similar information as Optim provides but the time taken and shear cost of the amount of protein required makes the alternatives very unattractive and in fact unusable at the very early stages of drug development when there is almost no protein available."
Optimising revenues - 'the razor blade model'
Such claims are now starting to bear fruit.  Optim is now employed by large multinational Biopharmaceutical groups such as Roche and UCB.  Following 14 orders during the last financial year, Avacta has already secured 8 Optim orders in its first quarter (ended 31 October 2011), which is over 50% of the total order book for the whole of last financial year.  Currently, there are now 24 installed or ordered Optim units and Avacta aims to have up to a total of 40 installed or ordered by the end of the current financial year - July 2012.
Most importantly, Avacta's business model generates recurring revenues not just from the sale of the Optim instrument unit itself (where a typical unit can cost up to £100,000) but critically from the 'consumable' cartridges that are used in each experiment that employs the Optim unit.  This is commonly called the 'razor blade model' and there are significant revenues available here.
A third revenue stream is available from the servicing of the Optim machine itself; Optim needs regular servicing due to the very precise alignment required of its lasers and the highly regulated drug development environment.
Interestingly, increasing Optim associated revenues are now starting to show through in Avacta's results.  Revenues from the consumable cartridges have now increased to £0.81m (2010, £0.05m) as at the 31 July 2011 and this number will obviously 'scale up' as more and more units are sold.
Alastair commented :
"September has been our best month yet for consumables [relating to the Optim unit]".
Alastair continues:
"We work on the conservative basis that our Optim clients may require three or four consumable cartridges per week on average.
We have some very attractive margins and have a target of around 70% - 75% in the medium term from around the 60% level at the moment.  We should be able to meet this target by taking more cost out of the Optim cartridge through re-engineering or even moving to a moulded plastic version if the technical challenge of this can be overcome".
Alastair was keen to stress that the Optim unit will also be able to deliver other services not yet appreciated by the general market, especially around additional consumable cartridge 'types', new add on's to the Optim instrument and new software upgrades.
"We [Avacta] made an important announcement back in June of this year re a collaborative venture with Pall Corp whereby we can leverage our analytical capabilities on the structure and stability of compounds are affected by manufacturing or purification processes.  The market has still not factored anything in for this agreement but revenues will soon be generated from it.
There is a lot of scope to leverage new functionality off the back of our existing Optim offering outside of what we already have in the market".
Optim - Global Sales need Global distributors
 Most importantly, Avacta took the sensible decision last year that in order to globally sell their product (Biopharmaceutical businesses tend to be global in nature) a 'bluechip' international global distributor network would need to be established in identified key markets. 
As such, global goliath of high-tech filtration, separation and purification industry Pall Corp of the US – more on them shortly – took an exclusive distribution agreement in North America (including Canada) and more recently South East Asia (which includes, amongst others, Singapore, South Korea, Thailand, New Zealand, Malaysia and Australia), Isogen Life Science in Europe, DKSH in Japan and Cold Spring Biotech in China, Taiwan and Hong Kong.  Such high quality distributors are a ringing endorsement of the product.
Alastair says that Optim has a very credible sales pipeline of over a hundred solid sales leads and a total addressable market at least an order of magnitude larger.
AX-1 – A disruptive veterinary diagnostic instrument
The veterinary diagnostics market is worth $3 billion annually and is expected to grow at an annualised rate of 8% for the foreseeable future.  There are estimated to be 30,000 vets in the UK and Europe, as well as a further 25,000 in the US.
Avacta Animal Health's business model is two-fold.  Firstly, it offers its diagnostic testing services on a fee-for-service basis using its 'Sensitest' platform in the company's laboratories.  Secondly, the company will shortly introduce the AX-1 immunodiagnostic instrument, which will provide the veterinary market with a rapid point-of-care (POC) testing tool conveniently located within the vets practice.
Currently, whenever a pet owner presents their pet with symptoms of an allergic reaction, there is an expensive process required in order to ascertain whether the pet has an allergy or not by paying for a full lab test which costs around £250.  This can quite frequently turn out to be negative because the cause of the symptoms is something other than allergy and so a great many pet owners decide not to pay for this test. 
However, the first test that will be launched with AX-1 can definitively test whether an animal has an allergic condition or not, without going through the expense and time of the full lab test for as little as £25 - £30.  These results can be provided within 1 hour.  If the results are positive, the vet can then recommend a 'full confirmation test' at Avacta's fee-for- service lab. The system is capable of delivering a wide range of immunodiagnostic tests for a range of diseases and these will be developed over time to expand the menu of test cartridges available to the vet.
Avacta Animal Health has produced a short video showing the process a typical vet assistant must go through in order to execute a test employing the AX-1 'Sensitest'.
Special Offer: Invest like Buffett, Slater and Greenblatt. Click here for details »
http://www.avactaanimalhealth.com/point-of-care-testing
The key point to make is that the whole process is extremely simple with very little human interaction, barring the loading and removal of the cartridge once the test has completed.
Execution of Sales strategy
Significant senior management changes at Avacta Animal Health have been made over the last 5 months with a very strong focus on product 'roll out', sales generation and new tests which should soon be made available on the AX-1 platform.
In August 2011, Avacta announced a new Chief Executive for Avacta Animal Health – Ged Holmes – who has a very strong sales background in both SMEs and very large corporates such as IBM and O2.
Alastair Commented :
"Ged's background is just what is needed – he has a proven track record of successfully launching new technology products into a range of markets. We have also benefited from some detailed input from consultants who have helped with our demand analysis regarding which tests to develop for the veterinary market. We have shortlisted a candidate panel of 12 tests which will be sold into the 'companion animal' and 'equine' market, although we have an additional 6 assays in the near term pipeline".
"Initially, we are targeting the UK vet market for the AX-1 with our existing direct sales force of 6 sales executives in designated regional patches with a senior Veterinary Director (Janice Hogg) for technical assistance.  There will be one test available from late November – the canine allergy test".
Alastair is very keen to stress that "Avacta already has a relationship with around 50% of veterinary surgeons in the UK, as they already use the 'Sensitest' service". Expansion beyond the UK market will follow swiftly.
More tests, more revenues
This is where there will be huge amounts of growth for Avacta Animal Health; the more tests that are available on the AX-1 platform, the more revenue streams that can be generated.  The key is to drive the installed base and the number of tests in the menu which Avacta is gearing up to do.
International expansion of the AX-1 platform
International sales are not far from Alastair's mind
"Obviously, we are likely to follow a similar path to the one which we trod when we established the Optim distribution network last year.  Ideally, we will be looking for a significant partner in the US, as well as one in Europe.  The competitor landscape is naturally tough but we think this is surmountable due to the disruptive nature of our product, especially in the APP testing market".
APP – that's 'Acute Phase Protein'
For those who failed their Biology O-Level / GCSE or have a very poor memory, these are proteins (a protein being a fundamental component of all living cells) produced by the liver that change in concentration in response to inflammation or infection. 
Perhaps that doesn't sound too 'earth shattering' to the layperson on a first read.  However, APP tests are already extensively used in human medicine as a diagnostic tool in that they can be utilised to measure the success of a treatment that a person is taking. 
APP tests are not as widely used yet in the veterinary market other than in Japan but awareness of the value of these tests is growing and Avacta is well placed to exploit this having acquired a family of reagents for veterinary APP tests. APP levels change very rapidly following infection or trauma thus by developing sensitive APP tests this will allow the practitioner the ability to detect an infection or inflammation in an animal at a very early stage.  Early diagnosis leads to improved and more effective treatments.
In practice, it is quite common for the vet to now offer an annual 'pet MOT' and it would make some sense to also 'tie in' an APP test into this overall process. 
Animal health is certainly an exciting market that is crying out for new, innovative technologies in the immunodiagnostic space.  As Avacta fuses the APP tests into the AX-1 instrument menu, this will hugely strengthen an already strong hand.
Pragmatic Senior Management – Animal medicine today human tomorrow
What is very evident about Avacta's management team is that they are essentially very pragmatic about the businesses they run; the long term prize is to launch the AX-1 into the human diagnostic PoC (Point of Care) market – a $16 billion worldwide market and rapidly growing – but there are significant regulatory barriers to entry including FDA (Food and Drug Agency) and European Medicines Agency approval.  This approval can take 2 – 3 years and without growing revenue streams, Avacta realistically becomes reliant on shareholders to continually fund this development until human diagnostic tests can be launched.
However, by targeting the animal immunodiagnostic market, Avacta can very quickly acquire strong revenue streams and develop a substantial business whilst eyeing the human diagnostic market in the medium to long term.
Whilst the company's DNA comes originally from three entrepreneurial academics at the University of Leeds – Alastair Smith as CEO, Simon Webster as Chief Scientific Officer and Kurt Baldwin as Chief Technology Officer – they do not pursue science for science's sake.  They have developed offerings that industry has a real requirement for and which need to be technically resolved.
Alastair is very proud of the business that they have created.
"To be honest, we've had modest capital of around £7m relative to other businesses in this space and I think we have delivered a lot for this.  I do believe that we could have done more, done it faster and more efficiently if we had been fully funded from day one but I don't want to whinge; I think we have played the hand we have dealt well and we have a very supportive investor in IP Group.  We've always made every penny count.  The latest example of this is the 'fit out' of the new labs at Avacta's premises in Wetherby".
"We sourced and installed everything ourselves.  You could pay up to £250,000 for the functional specification we've achieved here but at a fraction of the cost - around £35,000 to be precise.  Indeed, we sourced some of the units from a local manufacturer at the other side of the industrial estate!  We are always looking at creative solutions that require less capital but still achieve the same results". 
Without this resourcefulness, Avacta would not have been able to attract a company such as Pall Corp to its Optim product.
Valuation - Two for the price of one
Let's not beat about the bush here, traditional valuation metrics would appear to show Avacta as overvalued but that's missing the point somewhat; the company has important strategic assets and is very early in its commercialisation of substantial revenue streams.  
All good investors know that the key to any valuation is to look forwards and not back with such opportunities and there are large dollops of 'value' in this company.
Newly appointed 'house broker' Panmure Gordon has set an initial 1.9p price target, although this still appears to be on the conservative side.   A previous broker had recently set a 'break-up' value of Avacta's technology assets at around 2.5p (163% above the current mid price), which should give the prospective and existing investor some comfort. 
Remembering back to the second paragraph in the article, IP is the most important aspect of the Avacta investment proposition right now but that will change as revenues begin to 'step up'.  Avacta has huge intellectual Property not just in its instrumentation and software that supports its products but also its reagents, its APP testing kit, its unique cartridge technology and the ability to move rapidly and roll out its AX-1 into the human diagnostics market in the near term without huge amounts of investment. 
So, the potential investor is being offered two high growth and disruptive businesses for the miserly sum of around £15m, ignoring the human diagnostic business growth to come, as well as international growth in the AX-1 plus a wide range of tests still to be launched.
It is mooted that at some stage in the coming few years, there is likely to be a demerger of both the Animal Health business (AX-1) and the Avacta Analytical business (Optim) as they are strategically unrelated but that it currently makes sense to share the 'head office' infrastructure required to support both operations.
Finances and Forecasts
 The company is beginning to deliver revenue growth - £2.4m in the year ending 31 July 2011 and a 42% increase on 2010 revenue numbers.  The current year ending July 2012 will see stronger progress on sales of Optim units, which Alastair has pencilled 27 in by the end of the current financial year, as well as the soon to be launched AX-1 in late November at the London Veterinary Show.
That could lead to approximately 40 installed / ordered Optim units and the subsequent consumables (cartridges) that would support these could be upwards of £1.50m, almost double the year end July 2011 figure of £0.81m. 
In addition, the company are forecasting sales of 125 AX-1 units against a target UK vet market of 5,000 by the end of the current financial year and it is likely that this will generate upwards of £0.5m in revenue (£0.250m in capital sales and £0.250m in consumable cartridges).  It is also important to remember that this is based on the one test – the canine allergy test
House broker Panmure Gordon estimates that the company expects to generate £1.1m AX-1 revenues by 31 July 2013.  This is also ignoring any distributor sales partnerships that Avacta may sign in the US / Europe / South East Asia.
As with many pioneering technology businesses rich in IP, Avacta has no debt being purely equity financed.
The company is expected to be close to generating a breakeven run rate by the final month of the current financial year (July 2012).  Panmure Gordon are pencilling in an operating loss for the whole year of £370k based off projected revenues of £3.6m.
Summary
When considering whether Avacta will be a future investment success story, the investor needs to get into the mindset of one of Avacta's recent 'partners', Pall Corp - http://www.pall.com/main/About-Pall/Investor-Relations/Company-Profile-48369.page? – a NYSE listed $5.6 billion cap life sciences and industrial business – who have, as already mentioned, have the exclusive distribution rights to the Optim business in North America and South East Asia. 
 There can be no finer partner to scale up Avacta's Analytical activities in these geographic regions.  It is inconceivable that they would back this business unless they felt that they had a product that had a truly disruptive effect in the market place.
In addition, the company is already alluding to a similar relationship with another large third party in its Animal Health subsidiary via its 'Finals' results released recently – "The Group…..is now working closely with a substantial partner that is expected to provide a global route to market for these [The APP tests]and other new products ".
It is hoped that senior management get the opportunity to execute their sales strategies before larger players begin to circle vulture-like around their prized technologies. 
Avacta represents British patented engineering at its very best.
Simon Murphy has a direct and indirect investment in Avacta Group PLC.
Disclaimer:
As per our Terms of Use, Stockopedia is a financial news & data site, discussion forum and content aggregator. Our site should be used for educational & informational purposes only. We do not provide investment advice, recommendations or views as to whether an investment or strategy is suited to the investment needs of a specific individual. You should make your own decisions and seek independent professional advice before doing so. The author may own shares in any companies discussed, all opinions are his/her own & are general/impersonal. Remember: Shares can go down as well as up. Past performance is not a guide to future performance & investors may not get back the amount invested.
---
---

Avacta Group plc is engaged in healthcare equipment and instrumentation business, provides technologies and services to the life sciences/healthcare sector through two operating divisions: Avacta Analytical and Avacta Animal Health. Avacta Analytical provides analytical instrumentation and services to the biopharmaceutical sector. Its analytical instrument, Optim, is distributed through Pall Corporation in the United States, Isogen Life Sciences in Europe, Cold Spring Biotech Corp in the People's Republic of China and Taiwan and DKSH in Japan. Avacta sells Optim directly in the United Kingdom. Avacta Animal Health provides diagnostic products and services. It equips veterinary professionals with animal health information, through point of care diagnostics, reagents and testing kits and laboratory based testing. Avacta's AX-1 point of care immunoassay system is focused at providing the veterinarian with blood test results in the clinic. more »