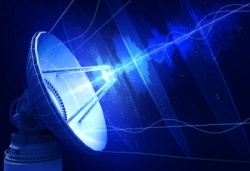 Avanti Communications Group Plc (LON:AVN) is a satellite broadband service company that sells bandwidth capacity to telecoms companies who sell services to residential, commercial and government users.  Residential services will include broadband, VOIP and TV, whilst commercial opportunities exist for business continuity products.  Government uses include military applications and train stock tracking. http://www.avantiplc.com/
Rural TV users are likely to require a satellite service in the future as the analogue TV signal is due to be phased out over the next two years. 
Avanti's model will see them launch satellites that use the latest Ka-band technology to deliver high speed, two-way data services across Europe.  Ka-band technology is 4 times more powerful than traditional Ku-bandsatellites. Lending confidence to the strategic importance of Ka-band is news from Inmarsat (LON:ISAT) in August of the planned purchase of three Ka-band satellites from Boeing at a cost of $1.2bn, with a target annual revenue of $500m five years after a 2014 launch.
Avanti's state-of-the-art Ka-band earth stations are located at Goonhilly and Lands End in Cornwall.  Both sites are equipped with Hughes Network Systems hubs, building upon the extensive Ka-band experience gained by Hughes from its American operations.
Investment Opportunity
The company is worth flagging as an investment with near-term potential for a re-rating as it is due to put its first satellite (HYLAS 1) into orbit on or around 15 November.  This launch slot has been confirmed by Arianespace, the world leader in putting satellites into geostationary transfer orbit, which will use the Ariane 5 launch vehicle in French Guyana.
So as long as the launch is successful and Arianespace get the bird up into orbit, Avanti should enjoy a re-rating. So in the short-term (next two months) forget trying to apply valuation methods to the stock –  this is just a play on the launch. It may have a £500m market cap, and be loss-making, but put that aside for the moment. Assuming stock markets globally are not falling back to earth in November, I suspect that the story surrounding a British company putting satellites up into orbit will attract high volumes of buying. Here's a recent article from the BBC Tech blog showing the interest Avanti is attracting
In the medium-term, however, one should look at contracts secured to date and the likely revenue streams:
Satellites
HYLAS 1- To launch in mid-November and will be the first superfast broadband satellite launched in Europe. It will have capacity of approx. 3.2Gb. In March, 10% of the capacity (320Mb) was sold for a five year period for €21.9m, and in June 100Mb of services was sold for a minimum of €12.7m, again over a five-year period. A small 3-year contract has also been agreed with a Hungarian customer, but with no indication of capacity sold.
HYLAS 2- Avanti's second satellite is also fully funded and will launch in Q2 2012. It will extend Avanti's coverage to Africa and the Middle East. Two agreements were announced in April – the first with Hughes Network Systems for a 5-10 year period for up to $17.4m, and the second with a government customer granting an option valid for three years and approx 20% of capacity over three years for up to £113.4m. Avanti received an option fee of £280k.
HYLAS 3- currently in design.
Anticipated Revenues
Based upon reported contract values by capacity, sales of 13.125% of HYLAS1 capacity have been made for €34.6m over 5 years, or £5.95m p.a. Capacity utilisation will grow from low levels following a successful launch, and in my basic model I have estimated 30% in yr 1, 60% in yr 2, and 90% in yr 3. For HYLAS 2 capacity, I have used the 20% sale already agreed and assumed twice that will be sold before launch and on the back of HYLAS1 successfully operating, with another 20% capacity sold in each of the next two years. I've left spare capacity to be conservative and because Avanti will have standby bandwidth for business internet continuity.
Other contracts announced
Special Offer: Invest like Buffett, Slater and Greenblatt. Click here for details »
25-May-10 – IRISS train stock tracking in UK project.
12-Jul-10 - £70m placing (16.3m shares @ £4.30) to repay HYLAS1 financing, redomicile HYLAS2 assets to Cyprus, and initiate procurement of a third satellite.
16-Aug-10 – Three year contract with Computerlinks which becomes a distributor for Avanti's business continuity products. Worth £4.5m.
8-Sep-10 – Agreement with Astrium Services to establish a secure technology test-bed to enable government & military customers to test and refine future military Ka-band system requirements (using HYLAS1).
This produces revenues as follows:
| | | | | | |
| --- | --- | --- | --- | --- | --- |
| | 2011 | 2012 | 2013 | 2014 | 2015 |
| HYLAS1 - capacity sold |  30% |  60% |  90% |  93% | 96%  |
|  HYLAS1 - revenue |  £11.9m | £23.8m  | £35.8m  | £37.0m  | £38.2m  |
|  HYLAS2 - capacity sold |  - | 40%  | 60%  | 80%  | 90%  |
|  HYLAS2 - revenue |  - | £68.7m  | £103.0m  | £137.4m  | £154.5m  |
| HYLAS3 - capacity sold |  - | -  | -  | -  | -  |
|  HYLAS3 - revenue |  - | -  | -  | -  | -  |
|  Consultancy/Other |  - | £1.5m  | £1.5m  | £1.5m  | £1.5m  |
|  TOTAL |  £11.9m | £94.0m  | £140.3m | £175.9m | £194.2m |
I've been unable to get a handle on the company's costs once the satellites are in orbit so cannot offer estimates of profits and so on. I believe I have been very conservative with these revenue estimates – I have seen higher numbers reported in research notes, leading to their target prices ranging from £11.11 to £22.50.
The annual results to 30 June are overdue (22-Sep last year) which will allow us to value the company on its assets when we see at what value the satellites are being carried, and how much cash is held. The results must be imminent so this may be another catalyst for a price rise if new contracts are revealed ahead of the launch.
It's not difficult to understand that there will be considerable interest in the approach to the launch, and thereafter in expectation of contracts for the sale of capacity. That, at least, is not rocket science...
SM
Disclosure of interest: The author holds shares in Avanti .
Disclaimer:
As per our Terms of Use, Stockopedia is a financial news & data site, discussion forum and content aggregator. Our site should be used for educational & informational purposes only. We do not provide investment advice, recommendations or views as to whether an investment or strategy is suited to the investment needs of a specific individual. You should make your own decisions and seek independent professional advice before doing so. The author may own shares in any companies discussed, all opinions are his/her own & are general/impersonal. Remember: Shares can go down as well as up. Past performance is not a guide to future performance & investors may not get back the amount invested.
---
---

Avanti Communications Group plc is engaged in the provision of satellite communication services. The services are principally provided through Ka-band satellites. On August 2, 2012, the Company launched successfully its second satellite, HYLAS 2. The Company sells satellite data communications services to telecoms companies, which use them to supply enterprise, institutional and consumer users. The Company's Satellites include HYLAS 1, HYLAS 2 and HYLAS 3. HYLAS 1 can variably re-deploy power between beams and can change the frequency at which it operates. HYLAS 2 can switch power between beam pairs. Its subsidiaries include Avanti Communications Limited, Avanti Space Limited, Avanti Space 2 Limited, Avanti Space 3 Limited, Avanti Launch Services Limited, Avanti Broadband Limited, Avanti Broadband (Ire) Limited, Avanti (NI) Limited, Avanti HYLAS 2 Limited, Avanti HYLAS 2 Launch Services Limited, Avanti Communications Infrastructure Limited and Avanti Caledonian Broadband Limited. more »

Inmarsat plc is a provider of global mobile satellite communications services (MSS), providing data and voice connectivity worldwide. The Company operates in two segments: Inmarsat Global, Inmarsat Solutions and Unallocated. With a fleet of 11 owned and operated geostationary satellites, the Company provides a portfolio of global mobile satellite communications services for use on land, at sea and in the air. It also offers a portfolio of remote telecommunications services to customers, offering services over mobile and fixed satellite systems, at L-band, Ku-band or VSAT, and through its owned and operated microwave and satellite telecommunications facilities. It also provides secure, telecommunication solutions for United States Government operations worldwide. In May 2013, Inmarsat PLC acquired TC Communications Pty Ltd. more »