BT Group results: adj. revenues down 2%, adj. EBITDA up 6% to 5.58bn, ahead of expectations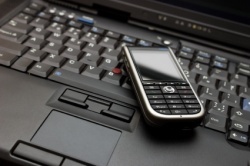 Telecoms giant BT Group (LON:BT.A) said it has delivered full year results ahead of its outlook. For the year to end-March, adjusted revenue was down 2% at £20.9bn, ahead of expectations, largely due to the early delivery of around £100m of revenue, primarily due to significant contract milestones in BT Global Services, without which revenue was down 3%.  Excluding favourable foreign exchange movements of £297m and acquisitions of £31m, underlying revenue decreased by 4%.  Adjusted EBITDA increased by 6% to £5.78bn.

Excluding BT Global Services, adjusted EBITDA for the rest of the group increased by 4%, reflecting continued progress in the delivery of cost savings.  Foreign exchange movements and acquisitions had a net £20m negative impact on EBITDA. All 2008/09 adjusted and underlying earnings measures are stated before BT Global Services contract and financial review charges of £1.639bn. Total underlying operating costs and capital expenditure were reduced by £1.752bn, a reduction of 9%, ahead of the outlook of at least £1.5bn.

Capital expenditure reduced by £555m to £2.533bn, in line with the outlook of around £2.5bn, reflecting the steps taken during the year to improve procurement and efficiency and management of capital projects, while investing significantly in fibre and other programmes.

Adjusted EPS increased by 16% to 18.6p due to the improved operating profit, partially offset by the higher net finance expense. Reported EPS was 13.3p (FY 2008/09: loss per share of 2.5p).

Free cash flow more than doubled to an inflow of £1.93bn, compared with £737m last year, reflecting improved profitability and working capital and lower capital expenditure. Net cash outflow for the purchase of property, plant and equipment and software was £2.48bn. Net debt was £9.283bn at end-March (2009: £10.36bn), a reduction of £1.078bn.

The proposed final dividend of 4.6p gives a full year dividend of 6.9p, an increase of 6% compared with an outlook of around 5%. The Board is committed to paying progressive dividends over the next three years to 2012/13.

Ian Livingston, CEO, said:
'We have made good progress this year and have now set clear objectives for the next three years. 'We have improved customer service, are transforming the cost base and have more than doubled free cash flow, but there is still a lot more to do.

'We are investing in the future of our business, enhancing our TV offering and building on opportunities in our Global Services business. Assuming an acceptable environment for investment, we see the potential to roll out fibre to around two-thirds of the UK by 2015. This will take our total fibre investment to £2.5bn which will be managed within our current levels of capital expenditure.

'During the next three year period we expect to improve our underlying revenue trends, and grow EBITDA and free cash flow, while investing in the business, supporting the pension fund, reducing net debt and paying progressive dividends.

'We are on track with our goal of creating a better business with a better future.'


© 2010 Stockopedia Limited and BFNNews.com. All rights reserved
There's
value
in the stock market
but do you know where to look?
Get the most concise synopsis of everything that's been proven to work in value investing. If you like your stocks cheap you've found a treasure trove distilled to under 70 pages.
How to find ultimate Bargain Stocks with Ben Graham
How to spot Turnarounds and avoid Value Traps
From Graham to Greenblatt via Piotroski & Lakonishok
How to value stocks and set a margin of safety
Disclaimer:
As per our Terms of Use, Stockopedia is a financial news & data site, discussion forum and content aggregator. Our site should be used for educational & informational purposes only. We do not provide investment advice, recommendations or views as to whether an investment or strategy is suited to the investment needs of a specific individual. You should make your own decisions and seek independent professional advice before doing so. Remember: Shares can go down as well as up. Past performance is not a guide to future performance & investors may not get back the amount invested.
---
---

BT Group plc is a communications services company. The Company is engaged in providing and managing data and voice networks and providing a range of services over these networks. It operates in approximately 170 countries worldwide. The Company is a principal communications services provider, selling products and services to consumers, small and medium-sized enterprises and the public sector. The Company also sells wholesale products and services to communications providers in the United Kingdom and around the world. The Company supplies managed networked information technology (IT) services to multinational corporations, domestic businesses and national and local government organizations. Bt has four lines of business: BT Global Services, BT Retail, BT Wholesale and Openreach. In December 2012, the Company sold of its remaining 9.1% iin Tech Mahindra Ltd to institutional investors. more »