Cookson Group - Material discount to peers looks overdone?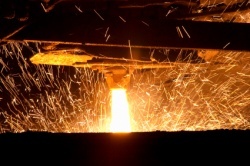 With the shares trading at more than 25% to peers there is the perception that this is a late cycle heavy industrial business. However, global steel production was up +31% in first four months and the Group's positive interim management statement on 26th April suggests that the material discount to peers looks overdone
THE BUSINESS
Cookson Group (LON:CKSN) is an industrial materials business specializing in Industrial Ceramics (58% of sales), Electronics consumables (27%) and Precious Metals (15%). The Group aims to add value to their customers' businesses by providing products, processes and services that allow them to increase the efficiency and quality of their operations. Cookson employs 15,000 people in more than 40 countries, selling its products in over 100 countries.
Ceramics (58% of sales)
The Vesuvius ceramics businesses mainly for steel industry (57%) put together with the Foseco ceramics operation that satisfied the Foundry market (28%). 38% Europe, 23% NAFTA, 28% Asia Pac and 12% ROW -  a good breakdown. Products are all consumables so depend on steel and foundry output. Big 30% falls in 2009 but now forecast to recover c.10% this year and 5% next year. End markets are varied with automotive steel and heavy engineering two of the biggest areas at opposite end s of the cycle.
Electronics (27%)
Business supplies consumables for PCBs, semi conductor and electroplating industry. E.g. solders/fluxes etc.  This business is much more biased to Asia Pac (43%) as this is where the market is. Europe 29%, US 23%.  End markets are all early cycle ( 76% consumer electronics, and 24% car electronics)
Precious Metals (15%)
A much smaller and more stable business. It actually saw higher profits in 2009. It supplies precious metals (Gold, Silver and platinum) and semi finished products to the jewellery trade to designers, wholesalers and retailers. 50% Europe, 50% US  and some export to Asia.
PEER GROUP - other industrial companies:
Tomkins (LON:TOMK)  @245p Mkt cap £2.2bn:   PE 12.2x for 2010  (10.2x 2011)
Invensys (LON:ISYS)  @273p Mkt cap £2.2bn:   PE 12.2x for 2010  (10.8x 2011)
GKN (LON:GKN)  @125p Mkt cap £2.0bn:   PE 9.9x for 2010  (7.5x 2011)
Imi (LON:IMI)  @648p Mkt cap £2.1bn:   PE 11.2x for 2010  (9.9x 2011)
Weir Group (LON:WEIR)        @914p Mkt cap £1.9bn:   PE 12.6x for 2010  (11.5x 2011)
SOME TRADE THOUGHTS
•         Strong value argument. Against industrial peers all of similar size (see above), Cookson is a c25% cheaper and multiples (PER 7.4x Dec 2010 and 6.5x Dec 2011 estimates) close to 9 year lows
•         Perhaps perception is that Cookson is a late cycle heavy industrial business. However its end markets are predominantly early cycle. FAM estimates 55% consumer (e.g. purchases of cars, electronic goods and Jewellery) and only 25% late cycle (engineering/ construction/mining/trucks. If we are expecting recovery – Cookson will benefit early.
Special Offer: Invest like Buffett, Slater and Greenblatt. Click here for details »
•         Global steel production+31% in first four months
•         Positive recent movement in key indicators: 2010 Forecasts have been rising for global steel production, foundry products, trucks and electronics. All by independent industry monitors. Q1 steel production in Q1 was 4.7% up.
•         Positive interim management statement on 26th April; steel production had grown faster than expected, foundry casting markets have improved in emerging markets, electronics markets growing better than expected and precious metals unit still benefitting from high levels of reclaim business.
•         Analysts forecasts have risen over past months. Recovery has now continued from H2 2009 into H1 2010. Low point was H1 2009.
•         Some very strong global leading businesses.
•         On lower dividend payments and reduced working capital cash flow remains positive and gearing is greatly reduced. Strong asset base and plenty of headroom in borrowing facilities.
•         All businesses supply consumables so linked heavily to production rates in key industries. Good news in period of upswing in demand.
•         2009 results showed a 24% fall in revenues and big fall in profit. However H2 revenues rose 13% compared to first half trough and margins recovered to more normal level of 9.2% ( from 1.8% in H1)
•         Shares initially doubled this year (296p to 607p) only to lose half the gain. Now 387p.
•         Analysts like them: 10 buys, 5 Outperforms and 2 holds, 0 sells!
•         Plenty of scope to raise dividend payments from v. low base. 
RED FLAGS            
•         Did they buy Foseco for too high a price? Did they have too high a cost structure at the top of the market? Some strategic questions perhaps about the management team. However restructuring and recovery seems to be quite prompt. They have taken the necessary steaps . Though big rights issue and cut dividend may have been painful for shareholders.
•         Pension liability £138m – but stable.
•         Meager yield but possibility to lift this.
•         Sentiment that continues to view as late cycle beneficiary
•         Concerns over 'double dip'.
---
Disclaimer:
This document is issued by Fundamental Asset Management Ltd who are authorised and regulated by the Financial Services Authority.   Whilst every attempt is made to ensure the accuracy of the information provided, no responsibility can be accepted for any inaccuracy. The information provided cannot be relied upon as constituting a recommendation, nor construed as any offer to sell, or any solicitation of any offer to buy investments. No liability is accepted for any loss whether direct or indirect, incidental or consequential, arising out of any of the information being untrue and / or inaccurate, except to the extent caused by the wilful default or gross negligence of Fundamental Asset Management Ltd, its employees, or which arises under the Financial Services And Markets Act 2000. Past performance is not necessarily a guide to the future and that the price of shares, and the income derived from them, may fall as well as rise and the amount realised may be less than the original sum invested.
---
---

Vesuvius PLC is engaged in metal flow engineering, developing, manufacturing and marketing ceramic consumable products and systems to the global steel and foundry industries and in industries that require refractory materials for high temperature, abrasion resistant and corrosion resistant applications such as the aluminium, cement, glass and solar industries. It has three business segments: the Steel and Foundry businesses, both of which are providers of engineered ceramics, and Precious Metals Processing business.Its products are specialised ceramics, including shrouds, stoppers, nozzles, slide gates, lining refractories and fluxes for the steel production industry and filters, feeding systems, coatings and binders for the foundry industry. On May 1, 2012, the Company disposed the United States business of the Precious Metals Processing business to Richline Group Inc. In November 2011, SERT was acquired by the Company. On March 29, 2012, it acquired Metallurgica. more »

The Weir Group PLC operates in three segments: Minerals, Oil and Gas, and Power and Industrial. The Minerals segment designs and manufactures pumps, hydrocyclones, valves and other complementary equipment for the mining, flue gas desulphurisation and oil sands markets. The Oil & Gas segment manufactures pumps and ancillary equipment and provides aftermarket support for the global upstream and downstream oil and gas markets. The Power & Industrial segment designs, manufactures and provides aftermarket support for rotating and flow control equipment to the global power generation and industrial sectors. On February 22, 2012, the Company acquired Novatech LLC. On December 14, 2011, the Company acquired Seaboard Holdings Inc. In January 2013, the Company sold LGE Process (LGE) to Babcock International Group PLC. On February 15, 2013, it acquired the R Wales group of companies. In April 2013, Weir Group Plc completed the acquisition of Aspir. more »

GKN plc is a holding company. The Company is a global engineering group. The Company operates in four divisions: GKN Driveline, GKN Powder Metallurgy, GKN Aerospace and GKN Land Systems. Its four divisions operate in automotive, aerospace and land system markets, including agricultural, construction and mining. On January 27, 2012, the Company dissolved its Driveline joint arrangement with JTEKT Corporation (JTEKT) in Rayong, Thailand, and acquired the remaining interest in GKN Driveline JTEKT Manufacturing Limited. On 30, September 2011, GKN Driveline acquired the all-wheel-drive (AWD) components businesses from Getrag KG. The Company acquired 100% interests in Getrag Corporation and Getrag All Wheel Drive AB. On September 5, 2011, GKN Land Systems acquired Stromag Holding GmbH (Stromag). On November 30, 2011, the Company sold its Engineering Services division of GKN Aerospace. In October 2012, the Company acquired Volvo Aero (the aero engine division of AB Volvo). more »