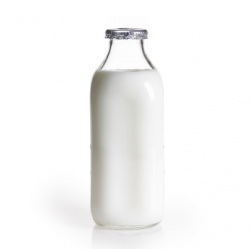 Dairy Crest (LON:DCG) describes itself as "the UK's leading dairy company, processing and selling fresh milk and branded dairy products in the UK and Europe". After the previous post on Robert Wiseman Dairies (LON:RWD) we have some idea of what processing is all about but Dairy Crest is also involved in selling a wide variety of dairy products. Again, the main area that drives operating results are margins. There are three divisions: Spreads, Cheese and Dairies (which is really a kind of residual for what doesn't fit in elsewhere). In these divisions DCG has a fairly impressive roster of brands. In Spreads DCG has Clover, Countrylife, St.Hubert (30% market share in France) and Valle ("undisputed leader of Italian spreads market", according to 2011 AR). In Cheese DCG has Cathedral City (9% share of retail cheese) and has just launched Davidstow. In Dairies DCG has Frijj, sells its processed milk to retailers and runs the milk & more delivery service which delivers a limited range of everyday groceries (link). The company also offers the details below about its brands:
(On the right axis, we have COGS and on the left, we have ADMIN and S&D)
(On the x axis we have the sum of ADMIN, COGS and S&D costs as a % of revenue, roughly equal to the inverse of EBITDA margin. On the y axis we have RNOA)
Operating Metrics – The first thing to point out is how thin margins are. Like Robert Wiseman this is due largely to the processing business but we also have some other stuff going on here. The dairies division produced revenues of £1.09bn operating at 2.5% margin, the cheese division produced revenue of £285m at a 19% margin with cheese somewhere in the middle with £223 of revenue and 13% margins. This means that while spreads make twice as much profit as dairies and cheese makes roughly the same amount of profit as dairies, spreads and cheese make only 25% of the revenue in the dairy division. Most of the question to ask here will probably come in the "Recent Trends/Competitive Position" section but we should highlight here how unbalanced this business mix is in terms of margins.
The second table shows the recent trends in the cost items. What we see is that the company is doing a good job of taking costs out of the business through the COGS line (particularly impressive compared to RWD where COGS has increased around 7% since 2007) while keeping costs steady elsewhere. These cost savings appear to have been achieved through a mix of small improvements, like cutting wastage or supply chain improvements, and larger improvements as in the "three year capital investment programme for our liquid dairies" (which the company was one year into as of AR11). The company estimates that it will be able to take another £20m of costs out of the business in the coming year.
From the third table, we can see the effect of changes in costs on returns. Simply put, 1% reduction in costs has, given the historical relation between the two variables since 2001, resulted in improvements in RNOA of around 1.55%. If we say that the analysts have it right (there are roughly 13 covering the company so they will be fairly close) and DCG achieves revenue of £1.625bn in 2012 and the company achieves £20m in cost reductions through the year (equating to, roughly, a 2% improvement in EBITDA margins) then, given this historical relationship, we should see improvement in RNOA of around 3% from 10% in FY11.
Looking to net operating assets, we see capex in the range of £30-40m over the past five years but we have seen intangibles/goodwill becoming a more prominent item on the balance sheet. This isn't necessarily a bad thing, the company does have some good brands, but it means we have to rely on the ability of management to buy something intangible for less than it is worth which is obviously quite tricky.
Whilst operating assets have stayed somewhat constant, operating liabilities have grown which means net operating assets have fallen. The most important item here is trade payables. Growth in trade payables is obviously something of a double-edged sword as it shows the company has some room to move with suppliers but this is money that will have to come out of cash flow over the coming year so this is something to bear in mind for short-term cash flow.
Financial Condition – Recently, DCG has made some large investments in reducing its net debt. Unfortunately, looking at the net debt figures confuses the picture so we will have to break it down a bit. The main investment in reducing debt was made in FY10 (£150m) but as this was paid down, mostly, with the cash balance this didn't have any effect on net debt until the year after when cash began building up a bit. One area that isn't clear is the £60m or so in debt coming due within the current fiscal year but the company is liquid enough to deal with this. The company has also consistently maintained dividends of around £20m. I think both of these are pretty good investments for cash although the dividend is quite generous which perhaps suggests there isn't much to invest in (capex in FY11 was around £50m, the highest number for the past seven years).
The other big issue is a significant pension deficit of some £60m. The deficit halved in the last fiscal year due to a £60m acturial gain so in the 2010 annual report, the deficit was £120m. Obviously, this is really less than ideal as its such an open-ended liability. The company doesn't appear to be making any unusual gains for changes in assumptions or anything so there isn't really too much to be said.
The financial condition is broadly quite healthy but the company is coming off a period of quite heavy investment in debt and capex with a significant amount of current debt and payables coming due within the year. Certainly, this isn't going to threaten the company significantly but it will probablly mean the company will build some cash through the year and there won't be another big debt paydown.
Special Offer: Invest like Buffett, Slater and Greenblatt. Click here for details »
Recent Trends/Competitive Position – Some of the issues here have already been covered in the Robert Wiseman post. The two most important things to point out are that Dairy Crest has the smallest share in the major retailers liquid milk trade and that processor margins are at all time lows. What is noticeable with Dairy Crest is that it has good share with two smallest retailers of milk, M&S and Waitrose, and half the trade with Sainsbury's which is the number two milk retailer. Relative to Arla, Dairy Crest's position with retailers looks quite good as it doesn't rely too much on one retailer (Asda is number 3 and we could infer that this will make up a lot of Arla's trade)  but fills in the gap with smaller retailers. These contracts are also fairly sticky as processors are finding out to their detriment. Another important factor for processors is what gets paid to farmers. In the short term, farmers don't really have much choice with processors as the standard contract between the two can only be cancelled on 12 months notice. Over the long term, farmers will move away from processors who don't offer a good margin. Obviously, this is quite tricky at the moment as retailers have begun selling near 50ppl and the cost of production for farmers is now nearing 30ppl which really doesn't leave much margin for anyone else. Dairy Crest seems to offer quite reasonable prices to farmers coming in slightly under RWD and roughly equal with Arla. One thing that is noticeable is that DCG appears to run a considerable amount of contracts with farmers. I am not sure how to interpret this but it could suggest it deals with smaller groups of farmers.
However, the processing business is clearly only part of what Dairy Crest does and the spreads and cheese division make far more profit. One important factor is that there isn't a price war in cheese and spreads. Indeed, prices for both are up slightly since this time last year compared to prices for milk which are down about 7%. There are no synergies in production as the facilities are geographically seperate but Dairy Crest's size probablly gives it some negotiating power with its farmers (especially, if the numerous contracts suggests it deals with marginal farmers). More important, is the negotiating position DCG has with retailers. Cathedral City, in particular, seems to have developed into a fairly successful brand. Certainly, the supermarkets are dominant as most people, probablly, buy their cheese and the cheese market itself is heavily fragmented (although Cathedral is number one it only has a 9% share). However, DCG has built brands that are recognizable and valued by consumers and the company continues to invest in marketing and R&D to maintain this position.
Overall, we have a somewhat complex mix of two very different businesses in DCG. The processing business is split between those small contracts with M&S/Waitrose and a good share with the number 2, Sainsburys. The company also appears to be fairly generous in its dealings with farmers which is generally a good sign. The spreads and cheese businesses appears to have some good brands with strong positions that give it some leverage over retailers, something the company definitely doesn't have in processing.
Historical Valuation -
Valuation – Projecting what the future is going to be like for Dairy Crest (LON:DCG) is really quite challenging. As with Robert Wiseman Dairies (LON:RWD), if we plug in the same operating trends from the past five years into the next five years then we get a value of 610p. What this means is that the market has priced in a substantial change in operations (only 15% of analysts are giving a buy). I think this is probably true but, it seems to me, the market is not giving much credit for DCG's effort to improve margins. In addition, we also have to consider the massive mix in margins which mean that sales growth in cheeses is far more valuable than that in dairies.
Base Case- Drift upward in margins towards 5% (the top of the range in the past five years), revenue growth of 4% and growth in NOA of 2%. The logic of NOA growth here is that current operating liabilities will revert to the mean somewhat and the company will continue capex at this higher rate around £50m. In all cases, I will assume debt drifts down slowly with a fairly high expense rate.
Worst Case – Margins improve slightly, revenue growth of 2%, growth in NOA of 2% and the same financial conditions as above.
Best Case – Margins improve slowly finishing the period at new highs near 5.25%,  revenue growth of 5%, growth in NOA of 2% and the same financial conditions in the Base.
The point here isn't really to project what the future will be like but to see what happens to valuation under different conditions. The main problem with all the assumptions here is that we are assuming margins stay at roughly this level which may not, for whatever reason, prove to be the case. However, given DCG's efforts at cutting costs and the margin mix of the business I think this isn't a completely outlandish scenario to consider. Another area to consider is that sales growth may prove to be considerably slower than I have projected (although over the five year period, I doubt its going to be far off) especially over the short-term. Indeed, analysts are predicting sales growth will be under 1% in each of the next two years. This case may not prove to be completely terrible as it may make it easier to take costs out.
Conclusion – The current price certainly looks on the cheap side and I think there is a pretty good margin of safety. However, I think the investor needs to be quite familiar with the qualitative situation here to be fully comfortable with allocating a significant percentage DCG's way. As with RWD, the possibility that processor margins continue to come under pressure seems quite plausible. However, DCG is in fairly good position with its customers, it has a fairly outstanding record of improving gross margins under tough conditions, cheese and spreads haven't been subject to the same squeeze on processor margins as liquid milk and, due its strong brands, there is more scope for improving its operating margins through sales growth outside of processing. So, as with most of these value situations, we have to keep a close eye on industry conditions but DCG, at this price, seems to represent a good opportunity.
Disclosure of interest: The author may hold shares in Dairy Crest (LON:DCG) . You should do your own research. 
---
Disclaimer:
As per our Terms of Use, Stockopedia is a financial news & data site, discussion forum and content aggregator. Our site should be used for educational & informational purposes only. We do not provide investment advice, recommendations or views as to whether an investment or strategy is suited to the investment needs of a specific individual. You should make your own decisions and seek independent professional advice before doing so. The author may own shares in any companies discussed, all opinions are his/her own & are general/impersonal. Remember: Shares can go down as well as up. Past performance is not a guide to future performance & investors may not get back the amount invested.
---
---

Dairy Crest Group plc is an integrated dairy company. The Company is principally engaged in the manufacture, processing and distribution of milk and dairy products in the United Kingdom and Europe. As of March 31, 2012, the Company's segments include Cheese, Spreads, Dairies, Share of Associates and Joint Ventures and Other. It produces spreads and butter brands at two factories in the United Kingdom and one in France. It focuses on three brands: St Hubert in France and Clover and Country Life in the United Kingdom. The Company has a cheese brand in the United Kingdom, known as Cathedral City, and a cheese supply chain. It also has a smaller cheese packing facility at Frome, Somerset. It processes and delivers fresh conventional, organic and flavored milk. It also manufactures and sells FRijj, which is a fresh flavored milk brand, cream and milk powders. In August 2012, the Company disposed of St Hubert. Effective March 1, 2013, the Company acquired Proper Welsh Milk Co. more »