Emerging South Africa coal play, Continental Coal Limited looks to join AIM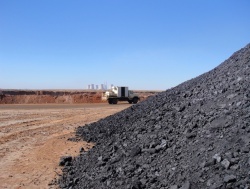 Seasoned AIM watchers, weary of watching Chinese companies like West China Cement Ltd (LON:WCC) move to new pastures, may be interested, even excited, to hear about the latest plans of ASX listed Continental Coal Limited (ASX:CCC) to list on the London market.  
The shares of Continental Coal, an emerging coal mining and exploration company focused on South Africa, recently saw frenzied trading activity on the ASX after announcing the acquisition of Mashala Resources for US$35m up-front (plus some deferred consideration). Owner of the Ferreira mine, Mashala is another South African coal mining business set up in 2003 which Continental's recently appointed CEO Lodewyk 'Don' Turvey had identified as a possible target while he was at BHP Billiton. 
At a London investor presentation on Wednesday, Director Jason Brewer gave an overview of "ContiCoal", as it's known down under. BEE compliant, the company holds a 74% stake in its underlying South African thermal coal producing business. After completion of the Mashala deal, it will have c. 500 million tonnes of resources and has a very ambitious production target of 16 million by 2015. The assets are located in South Africa's Central Basin coalfields and will include two producing mines producing c. 2 million tonnes per annum, Vlarkvarkfontein and Ferreira, and a further eight development coal projects.
Project Map
Vlarkvarkfontein (60% stake) is ContiCoal's existing production asset. It is an 850 hectare property, 100 km east of Johannesburg and some 13 km from Eskom's Kendal power station. It is a 17 million tonne resource sufficient for a ten year mine life, with expected production of 100,000 tonnes of domestic quality thermal coal. The mine commenced coal sales in May this year, with the first commercial sales contracts signed in June.
Ferreira (100% stake) is to be acquired as part of the Mashala deal. It is a conventional opencast mine, with 3 million tonnes of resources. Mining commenced in August 2008 and the coal is export grade, with approximately 600,000 tonnes exported in 2009.  According to management, the mine has a relatively short life (2 to 3 years) but with the opportunity to extend that further. In any case, the plan is to leverage the related infrastructure, including a wash plant, rail siding capable of exporting 1.2m tonnes and key logistics, for other nearby development projects.
Post the deal, the main near-term development coal projects will be:
Penumbra (100% interest), being acquired as part of Mashala, is an underground mining project, 3 kms away from Ferreira and fully permitted. Development will begin immediately, with first production expected within nine months. The aim is to create a 500,000 tonnes per annum export thermal coal operation, at  a development cost of some US$36 million.
Vaalbaak (75% stake) is located 230km east of Johannesburg, adjacent to TOTAL SA's Forzando Colliery. It will be a conventional underground board and pillar contract mining operation, with 54 million tonnes of resource. First coal production is expected to occur in the first half of 2011.
Project  X (50% stake) is located immediately north of Vaalbank, adjacent to the Koornfontein Colliery. It is a similar mine to Vaalbank, but smaller, with a 25 Mt of resource sufficient for a twenty year mine life. Production is expected six to nine months after Vaalbank.
Those that have been watching Coal Of Africa (LON:CZA) recently will of course be rightly mindful of political/legal risks in the region. On questioning, Brewer argued that this risk, while present in South Africa, was relatively remote. Instead, he argued that the key concern was likely to be one of logistics, i.e. getting the coal out of the country given the scale of the project.
Special Offer: Invest like Buffett, Slater and Greenblatt. Click here for details »
On that front, the Company recently signed an off‐take and financing transaction with EDF Trading, part of EDF S.A. EDF Trading has secured all export quality thermal coal produced from the Project X, Vaalbank and Vlakvarkfontein mines for a period of 20 years at the market price less a nominal sales commission. In exchange, EDF has agreed to provide Continental with US$20 million through an advanced purchase of export coal from the three mines. 
At present, it seems that ContiCoal only have allocation for export for 200k tonnes and, while they expect to lease 400,000 tonnnes as a result of the Mashala transaction, this is just a drop in the ocean given the potential scale of the project. However, Brewer indicated that they have negotiated several options and will shortly sign formal agreements for a further 2 million tonnes which they now plan to do once the deal is completed, which should carry them forward to mid 2011 and 2012.
Management's plan is to complete the Mashala deal in September, subject to regulatory approvals, and then look to dual-list in London in the near term. In this respect, ContiCoal is hoping to replicate the success of Range Resources (LON:RRL) (Pete Landau is a Director in both businesses) which has seen massive trading since it dual-listed on AIM at the start of 2010. The exact timing of a London listing is still under discussion. Interestingly, at present, there seems to be no intention to raise further equity funding as part of the dual-listing. The business has an aggressive investment budget of A$155 million over the next 12 months mainly for Mashala as well as the funding of Penumbra and Vaalbank projects.
2010 Budget Sources and Uses
However, as the chart above shows, the plan is to fund this via cashflow, coal loans, asset sales, a convertible note as well as $38 million of equity financing recently raised on the Australian market.
All in all, ContiCoal looks to be an interesting and welcome addition to the AIM market – an ambitious company with a considerable resource base and good momentum at a time of high global demand for thermal coal - so watch this space! For those interested in further background on ContiCoal and Mashala, it's well worth listening to this recent Boardroom Radio interview with Jason Brewer.
There's
value
in the stock market
but do you know where to look?
Get the most concise synopsis of everything that's been proven to work in value investing. If you like your stocks cheap you've found a treasure trove distilled to under 70 pages.
How to find ultimate Bargain Stocks with Ben Graham
How to spot Turnarounds and avoid Value Traps
From Graham to Greenblatt via Piotroski & Lakonishok
How to value stocks and set a margin of safety
Disclaimer:
As per our Terms of Use, Stockopedia is a financial news & data site, discussion forum and content aggregator. Our site should be used for educational & informational purposes only. We do not provide investment advice, recommendations or views as to whether an investment or strategy is suited to the investment needs of a specific individual. You should make your own decisions and seek independent professional advice before doing so. Remember: Shares can go down as well as up. Past performance is not a guide to future performance & investors may not get back the amount invested.
---
---

Coal of Africa Limited (CoAL) is engaged in the acquisition, exploration and development of thermal and metallurgical coal projects in South Africa. The Company operates in three segments: Exploration, Development and Mining. The Exploration segment is involved in the search for resources suitable for commercial exploitation, and the determination of the technical feasibility and commercial viability of resources. The Development segment is engaged in establishing access to and commissioning facilities to extract, treat and transport production from the mineral reserve, and other preparations for commercial production.. The Mining segment is involved in day to day activities of obtaining a saleable product from the mineral reserve on a commercial scale. During the fiscal year ended June 30, 2012, it produced 4.930 million run of mine tons of thermal coal, mined at Vuna, Mooiplaats and Vele collieries . . more »

Range Resources Limited is engaged in hydrocarbon exploration and development within Somalia, Republic of Georgia, Texas, Trinidad and Colombia. During the fiscal year ended June 30, 2012 (fiscal 2012) the Company commenced its development drilling program in a Trinidad holding company whose two wholly owned subsidiaries hold production licenses for three blocks in producing onshore oilfields in Trinidad. During fiscal 2012, the Company spudded the historic Shabeel 1 well in the Dharoor Valley. During fiscal 2012, the Company, along with its joint venture partners, spudded the first exploration well- Mukhiani 1, on the Vani 3 Prospect on Block Via. The second (Shabeel North) of two historical exploration wells in Puntland was completed subsequent to the fiscal year end June 30, 2012. On July 1, 2011, the Company acquired 100% of West Indies Exploration Company Ltd and Drilling International Service and Supply Ltd thru SOCA Petroleum Ltd. more »