Encore Oil - 2010 Final results and exciting times ahead!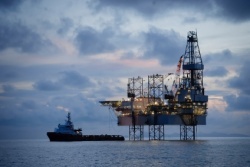 Encore Oil PLC's Final results for the year ending 30 June 2010 were released this morning. Lots of good, solid stuff: sale of Breagh gas find (gain of £23m), strengthening the board, share buyback program below cash value, hiving off onshore portfolio to Egdon etc. But for me the key points were "Significant oil discovery at Catcher, up to 300mmbbls Oil in Place to date with substantial potential upside in the rest of the block... Cash of £41.9 million as at 30 June 2010... Debt free".  Together, this leaves Encore Oil (LON:EO.) excellently placed for the current Cladhan appraisal drilling and to return to appraise Catcher.
On Catcher, Alan Booth's CEO statement said:
The results of drilling at Catcher have opened up a new play fairway in this area of the North Sea.  We are especially excited at the number of additional prospects on the licence that appear to demonstrate similar seismic characteristics to our Catcher discovery. We intend to return to the Catcher block this autumn or early next spring, dependent upon rig availability, to drill between two and four additional exploration and appraisal wells.


It is possible that the Galaxy II (right), which drilled the original Catcher wells, may be available for this from mid September, see Jimarilo on ADVFN

Booth's Statement continues:

Further success on the block would suggest a cluster of oil accumulations with potentially many hundreds of millions of barrels of oil in place. The low cost of drilling, the ability to use either semi-submersible or jack-up rigs, together with outstanding reservoir and oil quality would be likely to make this a highly valuable discovery, with potentially significant strategic importance.
All music to shareholders ears :)  Semi-sub rates would be a lot more than jack-up rigs, so the suggestion that Encore could consider using one emphasises their desire to get on an appraise this fast, if jack-up availability is restrictive. Booth then goes on to emphasise that Encore may be a small E&P but it has a great deal of experince in taking North Sea discoveries through to production, with the implication that if Premier Oil (LON:PMO) want to take over the operatorship, they will have to pay for it:
As operator EnCore is extremely well placed to progress the further exploitation of the block. Of course until we know more about the size and scale of the development project, it will be difficult to progress potential development options in any detail. I believe our team is uniquely well suited to the task ahead of us having been the management team that led the appraisal, Front End Engineering and Design, regulatory FDP approval and the subsequent development of the Buzzard Field between 2001 and 2005. Buzzard is currently the largest field in the UKCS producing in excess of 200,000 barrels per day.
Booth then emphasises Encore's very desirable cash position. It is the lack of this which is holding Nautical Petroleum (LON:NPE) shares back at the moment.
We believe that our very strong uncommitted cash position will ensure our ability to continue to capture significant additional value in the Catcher area for an extended period without the need for any additional funding.

Special Offer: Invest like Buffett, Slater and Greenblatt. Click here for details »
Moving on to Cladhan, where appraisal drilling started last Friday, Booth writes
The well is being drilled as a side-track to the original discovery well to target a potential reservoir to the south of the currently established accumulation. The location was designed to minimise the cost of drilling in the failure case whilst enabling further side-tracking in the success case by drilling to a down dip location to establish the location of any oil-water contact. We expect the operations to complete within the next month, subject to any operational and weather delays. We believe that Cladhan also has the potential to make a significant impact on our valuation in the event of success as the upside reserves potential on Cladhan is very significant, whilst the commerciality threshold is quite low.
The original well (then known as Bowstring East) was drilled in October 2008 and found light oil.  The well was drilled to a total depth of 9,734 feet.  Wireline logging confirmed 25 feet of net hydrocarbon pay over a gross interval of over 110 feet.  No oil-water contact was found, so the upside could potentially be very large. Encore have described this as ranging from the sub-commercial to the 'very significant'.

Until the Catcher result in June, the appraisal of Cladhan was going to be Encore's most important drill this year.



So if the Galaxy II (or other) rig is confirmed, Encore has the potential for continuous, highly significant drilling during the rest of this year.
db
---
Disclaimer:
As per our Terms of Use, Stockopedia is a financial news & data site, discussion forum and content aggregator. Our site should be used for educational & informational purposes only. We do not provide investment advice, recommendations or views as to whether an investment or strategy is suited to the investment needs of a specific individual. You should make your own decisions and seek independent professional advice before doing so. The author may own shares in any companies discussed, all opinions are his/her own & are general/impersonal. Remember: Shares can go down as well as up. Past performance is not a guide to future performance & investors may not get back the amount invested.
---
---