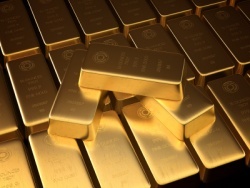 Earlier this year we reported on the impressive returns that were being produced from a stock screen that allows you to see which companies are attracting favourable upgrades from brokers. The Earnings Upgrade Momentum screen has continued to outperform the FTSE so far this year and one of the interesting current patterns is that half of the 10 qualifying companies are gold mining stocks. So called "earnings upgrades" – when analysts revise their expectations about a company's performance – can be a significant indicator for individual investors. Indeed, while relying too heavily on the opinions of analysts can be a risky business, these upgrades have been shown to be a fairly influential guide to the future. 
How the screen works 
As a reminder, this screen works by seeking out stocks that are covered by more than three analysts. Thereafter, each company's earnings per share estimates for the following year should have been increased by more than 5% during the previous month. In addition, there must have been at least one upgrade during the previous month, and the number of upgrades must be higher than the number of downgrades. 
At the height of the financial reporting season in March this year (when the market hit a 2012 high of 5,966 points), the screen was the best performing Stockopedia strategy. Among the companies qualifying at the time were paper and packaging group Mondi (LON:MNDI) and media company Itv (LON:ITV). Both were hit by the market-wide volatility that struck in early summer but have subsequently recovered and are now trading close to their 1-year highs. By contrast, Max Petroleum, a small-cap oil and gas stock on the screen back then, went on to see its price collapse under the weight of poor news from its operations in Kazakhstan. That illustrates the importance of doing further analysis and/or using diversification when screening, rather than just pickling one name blindly from a list. 
In the year-to-date, the Earnings Upgrade Momentum screen has produced a return of 15.9%. The list of stocks qualifiying changes every day although we rebalance our model portfolio each quarter. Interestingly, out of the 10 now qualifying companies, six of them are mining stocks – and five of those have a strong emphasis on gold production. 
Why gold now? 
Between October 2008 and August 2011, the price of gold surged from around $715 per ounce to a high of $1,890. Many analysts thought the price would go on to break $2,000 but during the second half of last year gold became volatile and went on to fall to $1,550. However, since mid-August the price has been on the march again and gold currently trades at just short of $1,750. Analysts have credited much of that performance to anticipation surrounding the US Fed's decision to launch a third round of quantitative easing. The price 'pop' from the Fed's move has been more muted than on previous QE rounds, but some institutions think the price will go on to trade much higher. BlackRock's Evy Hambro has been reported as predicting $2,400 per ounce by next summer, while Deutsche Bank's forecast for next year is $2,113. 
For mining companies that are producing increasing amounts of gold, this recent increase in the price can only mean good news – and the brokers seem to agree. 
The top qualifying gold production share on our Earnings Upgrade Momentum screen (based on FY2 EPS upgrades) is also the smallest stock on the list. Amara Mining (LON:AMA), which changed its name earlier this month from Cluff Gold, makes its money from the Kalsaka gold mine in Burkina Faso, which is expected to produce 60-70,000 ounces of gold in 2012. The addition of the neighbouring Sega project should maintain that production profile over the medium term, while the development its Baomahun project in Sierra Leone is expected to contribute an additional 135,000 ounces of gold per year starting in 2014. 
Special Offer: Invest like Buffett, Slater and Greenblatt. Click here for details »
Centamin (LON:CEY), which runs the Sukari Gold Mine in Egypt, has seen its shares jump by 30p to 104p during the past two months. While operations were hit by strike action and technical glitches over the summer, Q3 production was up by 20% to 60,922 ounces and the company is on course to hit its full year target of 250,000 ounces. While Centamin continues to explore around its Sukari project, exploration drilling is also under way on the first of four licences the company holds in Ethiopia. 
Fresnillo (LON:FRES) is the largest stock on the Earnings Upgrade screen and it too has enjoyed some strong momentum in its shares since the end of the summer. While Fresnillo is the world's largest primary silver produce it also has major interests in gold. The company recently reported that it was having a record year for gold production – up 15.1% to 375,637 in Q3 on the same period last year. At the full year, the company is expecting to have produced 41Moz of silver and 460,000 ounces of gold. 
Another of the gold mining large caps is AngloGold Ashanti (LON:AGD), which beat its Q2 production guidance with 1.07Moz following strong performances at its mines in Continental Africa and the Americas. AngloGold Ashanti has nearly tripled its EBITDA since introducing a new operating model in 2008. It is now focusing on increasing production through the development of projects including the expansion of the Cripple Creek & Victor mine in Colorado, the development of the Kibali and Mongbwalu mines in the Democratic Republic of Congo and the new Tropicana mine in Western Australia. 
Wrapping up the list, Russia's largest gold producer Polyus Gold International (LON:PGIL) has also attracted attention from analysts. The company has just released figures for the first nine months of the year, with 2012 production outlook reconfirmed at 1.6 million ounces. Much of the Polyus's recent price performance is down to a strong set of half-year financial results at the end of August, when it said that profits had more than doubled to US$426 million. The company has also raised the possibility of a potential offer for the company should Onexim – a 37.78% shareholder – act on an announcement that it may sell some or all of its holding. 
A great time for gold stocks? 
Bullish markets and 'easy money' economic stimulus have proved to be a boon for gold production stocks since the summer. Companies catching the eye of analysts - and making it onto the Earnings Upgrade Momentum screen - all have strong production profiles, they are seeking to increase output and have pipelines of new mines and exploration projects on the horizon. For the investor, the stability of the gold price is a constant uncertainty, likewise quant analysis is just one step in the overall investment process. Nevertheless, this type of screen sheds some fascinating light on the stocks and sectors which could be capitalising on the prevailing economic conditions – and gold producers seem to be well placed. 
See the full Earnings Upgrade Momentum list by subscribing here to PRO: www.stockopedia.co.uk/plans
There's
value
in the stock market
but do you know where to look?
Get the most concise synopsis of everything that's been proven to work in value investing. If you like your stocks cheap you've found a treasure trove distilled to under 70 pages.
How to find ultimate Bargain Stocks with Ben Graham
How to spot Turnarounds and avoid Value Traps
From Graham to Greenblatt via Piotroski & Lakonishok
How to value stocks and set a margin of safety
Disclaimer:
As per our Terms of Use, Stockopedia is a financial news & data site, discussion forum and content aggregator. Our site should be used for educational & informational purposes only. We do not provide investment advice, recommendations or views as to whether an investment or strategy is suited to the investment needs of a specific individual. You should make your own decisions and seek independent professional advice before doing so. Remember: Shares can go down as well as up. Past performance is not a guide to future performance & investors may not get back the amount invested.
---
---

Amara Mining plc, formerly Cluff Gold plc, is a gold mining and exploration company. The Company is engaged in the acquisition, exploration, development and operation of gold mines and deposits in West Africa. The Company's segments include Kalsaka, Yaoure and Baomahun. Kalsaka is the Company's key cash flow generator and produced 71,505 ounces of gold during the year ended December 31,2011. It also controls four new exploration licences in Eastern Burkina Faso, providing a pipeline of future projects to the Company. Baomahun is the Company's wholly owned flagship development project in Sierra Leone, with 2.1 million ounces of indicated mineral resources and a further 0.9 million ounces of inferred mineral resources. Its Yaoure is located in Cote d'Ivoire. Diamond drilling at Yaoure in 2011 totalled 3,067m in 29 holes, On May 2012, it acquired Sega Gold Project (Seg) from Orezone Gold Corp. more »

Centamin plc is the ultimate holding company. The Company, along with its subsidiaries, is engaged in the business of exploration for precious and base metals. The Company's principal asset is the Sukari Gold Mine (Sukari), which is located in the Eastern Desert of Egypt, approximately 700 kilometers from Cairo and 25 kilometers from the Red Sea. The Sukari Gold Mine is a gold mine in Egypt. During the year ended December 31, 2011, the Company produced 202,699 ounces of gold. During 2011, the Company acquired Sheba Exploration (UK) Plc and had interests in four exploration licenses in Ethiopia, where it conducted further exploration activities. Some of its wholly owned subsidiaries are Centamin Egypt Limited, Viking Resources Limited, North African Resources NL, Pharaoh Gold Mines NL, Egyptian Pharaoh Investments, Centamin UK Limited, Sheba Exploration (UK) plc and Sheba Exploration Limited. more »

Fresnillo plc is a silver and gold mining company. The Company, along with its subsidiaries, is engaged in the mining and beneficiation of non-ferrous minerals, and the sale of related production. The primary contents of this production include silver, gold, lead and zinc. As of December 31, 2011, the Company had five operating mines: Fresnillo, Herradura, Cienega, Soledad-Dipolos and Saucito. Fresnillo is a silver mine, located 60 kilometers northwest of Zacatecas. Saucito is eight kilometres southwest of the Fresnillo mine. Commercial production at Saucito commenced during the year ended December 31, 2011. Cienega is located near the community of Nuestra Senora de la Cienega. Its Herradura mine is located 125 kilometers northwest from the town of Caborca in the State of Sonora. Soledad-Dipolos mine is located nine kilometers northwest of the Herradura mine. As of December 31, 2011, Industrias Penoles S.A.B. de C.V. (Penoles) owned a 77% interest in the Company. more »