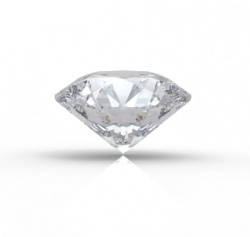 News that Sotheby's, Geneva, this week set a world auction record for any diamond and any jewel raises questions over why diamond miners seem so unloved by investors. The answer, in a nutshell, is that they're yet to fully recover from the cataclysmic market events of 2008. The signs are there, but it seems that investors need more convincing. 
This good news is that the Sotheby's record suggests that demand for rare diamonds is as good as ever; this jewel ranks among the top 2% in rarity in the history of mined diamonds. The auctioneers sold a single, cut and polished, pink diamond weighing 24.78 carats for CHF 45.4m (about USD 46.2m).
Just where the stone was mined was not mentioned: it was previously seen on the market 60 years ago, in the hands of celebrity jeweler Harry Winston. The new owner, Laurence Graff, surprisingly named the stone "The Graff Pink", and gushed that "It is the most fabulous diamond I've seen in the history of my career and I'm delighted to have bought it."
The warm and fuzzy headlines generated by the Sotheby's sale contrasts sharply with the mysterious journeys of the world's diamond miners over the past few years.
De Beers, still the world's biggest digger of rough diamonds, faced a March 2010 recapitalisation of USD 1bn, mainly to repair a somewhat battered balance sheet. De Beers's sales collapsed from USD 6.9bn in 2008 to USD 3.8bn in 2009, in the wake of well known global events. The group was forced to rationalize in all directions: output was slashed, some mines were closed, others sold, and many jobs fell by the wayside.
Sales by De Beers soared to USD 3bn during the first half of 2010, from USD 1.7bn for the same period in 2009. Perhaps most important of all, De Beers produced positive free cash flow (operating cash flow, less capital expenditure) in the first six months of 2010, to the tune of USD 621m.
This is a very different De Beers to that seen in 2007, when operating cash flow was USD 844m, and capital expenditure was huge at USD 1.5bn on the back of, mainly, several new mine builds. While capital expenditure peaked just before the horrors of 2008, the item has contracted massively, to just USD 90m in the first six months of this year.
On 23 July 2010, De Beers commented during its interim results: "rough diamond prices are now, on average, comparable to June 2008 pre-recession levels". De Beers recovered 15.4m carats in the first half of this year, more than double the 6.6m number for the first half of 2009.
 

 

 

 

 

 

USD m

1H10

1H09

2009

2008

2007

2006

Free cash flow

 

 

 

 

 

 

Operating cash flow

711

-31

226

700

844

809

Capital expenditure

-90

-86

-181

-403

-1,503

-1,194

Free cash flow

621

-117

45

297

-659

-385

 

 

 

 

 

 

 

Shareholder advances

1,000

500

553

264

 

 

 

 

 

 

 

 

 

Net debt

-1,983

-3,329

-3,200

-3,552

-4,057

-2,994

 

 

 

 

 

 

 

Dividends*

0

-74

-105

-358

-125

-646

* Includes in 2006 a USD 473m return of capital to shareholders

 

 

 
Most recent numbers for De Beers also showed strong growth during the third quarter of 2010, as ramping up continues. De Beers should be in line to hit its target USD 1bn EBITDA (earnings before interest, tax, depreciation and amortisation) this year; EBITDA for the first half of 2010 was already at USD 762m (2009: USD 297m).
Among other notable producers, transnational miner Rio Tinto (LON:RIO) , based on recent briefings, remains relatively cheery on the long-term supply/demand dynamics for diamonds. Rio Tinto anticipates moving towards pre-feasibility on the Bunder project in India in 2012. Rio Tinto has also earmarked USD 803m to complete the Argyle (Australia) underground mine, and is exploring on its own and with juniors in several diamond provinces.
£BHP, the world's biggest diversified resources stock, which owns 80% of, and operates, the EKATI diamond mine in the Northwest Territories, Canada, has this year been fairly neutral on the subject of diamonds, and even suggested a tightening of exploration outlays for the subsector. EKATI has produced an average over 3m carats of rough diamonds a year over the past three years. Annual sales from EKATI (on a 100% basis) are equal to about 3% of world rough diamond supply by weight, and some 9% by value.
Russia's unlisted Alrosa, one of the world's bigger diamond miners, earlier this year concluded four bond issues, raising USD 1bn, and planned to raise a similar amount by year end, to recapitalize a balance sheet which kicked off the year with debt of around USD 3.5bn. Use of the bond markets, rather than selling diamond inventory from stockpiles, has been a positive for diamond price recoveries. Gokhran, the Russian treasury, holds stock of unsold goods mined in 2008-2009, worth an estimated USD 1bn.
Listed diamond stocks, which preclude a substantial majority of global rough diamond production, remain a generally disappointing group. London-listed Gem Diamonds, which went public in 2006, has to date raised just over USD 800m in equity, but has produced a cumulative negative free cash flow of nearly USD 150m.
The first half of 2010 saw the counter close to washing its face, measured on free cash flows. Beyond disappointing operational results, returns have also been hampered by pricy acquisitions made high in the previous cycle, notably of Ellendale in Australia.
| | | | | | | |
| --- | --- | --- | --- | --- | --- | --- |
| Gem Diamonds |   |   |   |   |   |   |
| USD m | 1H 2010 | 1H 2009 | 2009 | 2008 | 2007 | 2006* |
| Operating cash flow | | 15.9 | 47.5 | 59.1 | 49.6 | 14.2 |
| Capital expenditure | -29.8 | -21.0 | -58.9 | -137.9 | -109.6 | -7.9 |
| Free cash flow | -1.9 | -5.1 | -11.4 | -78.8 | -60.0 | 6.3 |
|   |   |   |   |   |   |   |
| Equity raised |   | 98.8 | 98.8 |   | 606.9 | 103.2 |
|   |   |   |   |   |   |   |
| Cash on hand | 108.3 | 120.5 | 113.8 | 61.4 | 183.5 | 51.9 |
| Debt | 0.0 | -0.9 | -0.2 | -37.8 | -32.2 | -60.3 |
| Net cash/(debt) | 108.3 | 119.6 | 113.6 | 23.6 | 151.4 | -8.4 |
| * Six months |   |   |   |   |   |    |
Canada-listed Harry Winston, with a market value of USD 1bn, barely washed its face on free cash flow during the first half of 2010. Harry Winston is a major jewelery retailer, and owner of a 40% stake in Diavik Diamond Mine, located off Lac de Gras in Canada's Northwest Territories. The mine is majority owned and operated by Rio Tinto. 
Among the most promising of listed diamond stocks can be named Petra Diamonds (LON:PDL) . Des Kilalea, a specialist diamonds analyst at RBC Capital Markets says "Petra is one of the few junior or mid-cap diamond mining companies to deliver on its potential. The growth profile should take the company to production of over 3m carats a year (on a 100% basis) by 2019. No other listed diamond producer offers this".
The global supply-demand dynamics for diamonds have been impacted to a material degree by Marange, a major discovery, in Zimbabwe. The deposits are yet to be commercially mined, and output is yet to be fully cleared under global certification processes. While these uncertainties remain, diamonds mined under less than optimum conditions, including political interventions, continue to move outside the country.
It is thought that Marange could supply up to USD 1bn worth of goods into global markets. Even so, the longer term dynamics for diamonds remain generally sound, with demand growing strongly in Asia Pacific, led, of course, by China. The consensus among larger diamond miners is that, based on current knowledge, global mine production is likely to peak between 2015 and 2018. This suggests a relatively dry, and continuing, period for smaller diamond explorers, many of which have fallen by the wayside during the past two years or so.
As diamond miners generally continue to repair, each has the hope of finding an exceptionally rare diamond like the one sold this week by Sotheby's. High quality gems offer exceptional margins for diamond miners. In the meantime, demand for luxury goods, as suggested by stock pricing levels for the likes of LVMH and Tiffany & Co., a specialist jeweler, confirm that global demand for rarities has recovered excellently from the doomsday scenarios so commonplace during 2008.
Selected diamond stocks

 

 

 

Stock

From

From

Value

 

price

high*

low*

USD bn

CAD 0.88

-25.4%

35.4%

0.192

CAD 0.06

-79.7%

20.0%

0.011

GBP 0.04

-5.9%

357.1%

0.004

GBP 0.02

-40.6%

0.0%

0.002

CAD 1.03

-13.4%

692.3%

0.032

CAD 0.10

-41.2%

81.8%

0.004

CAD 0.07

-22.2%

100.0%

Special Offer: Invest like Buffett, Slater and Greenblatt. Click here for details »

0.020

AUD 0.05

-21.5%

325.0%

0.046

CAD 0.12

-50.0%

64.3%

0.007

GBP 0.09

-41.3%

32.1%

0.055

Gem Diamonds

GBP 2.08

-30.6%

15.6%

0.461

Shore Gold

CAD 0.72

-39.0%

33.3%

0.159

GBP 0.96

-7.3%

89.1%

0.539

CAD 4.85

-12.6%

140.1%

0.346

GBP 0.24

-51.0%

4.3%

0.104

GBP 0.39

-27.1%

48.6%

0.063

ZAR 0.35

-35.1%

17.7%

0.026

ZAR 2.30

-56.6%

9.0%

0.035

AUD 0.17

-31.3%

283.7%

0.015

GBP 0.42

-18.0%

56.5%

0.088

GBP 0.10

-29.3%

67.3%

0.024

CAD 0.56

-30.0%

143.5%

0.164

CAD 0.27

-41.1%

43.2%

0.019

Harry Winston

CAD 12.54

-16.1%

39.2%

1.035

BRC Diamondcore

CAD 0.11

-47.6%

69.2%

0.010

ZAR 0.22

0.0%

266.7%

0.017

CAD 0.08

-48.4%

14.3%

0.007

CAD 0.91

-63.6%

225.0%

0.020

CAD 2.53

-17.9%

83.3%

0.218

CAD 0.18

-54.4%

20.0%

0.015

AUD 0.00

-50.0%

50.0%

0.007

CAD 0.26

-30.7%

62.5%

0.009

CAD 0.05

-44.4%

66.7%

0.014

CAD 0.28

-40.4%

55.6%

0.009

AUD 0.04

-43.1%

54.2%

0.085

AUD 0.01

-33.3%

55.6%

0.007

AUD 0.05

-8.2%

411.4%

0.024

Averages/Total

 

-33.7%

111.7%

3.889

Weighted averages

 

-25.1%

55.0%

 

 

 

 

 

 

Diversifieds with diamonds

 

 

 

Anglo American**

GBP 29.55

-3.7%

33.7%

63.497

BHP Billiton

GBP 23.53

-5.9%

40.2%

228.464

Rio Tinto

GBP 42.69

-4.7%

55.2%

141.047

CAD 0.18

-60.9%

38.5%

0.060

AUD 0.15

-14.7%

85.9%

0.261

 

 

 

 

 

Indicator stocks

 

 

 

 

USD 55.66

-3.7%

55.4%

7.028

EUR 117.35

-2.6%

70.2%

78.494

USD 45.63

-30.3%

12.1%

0.656

GBP 0.13

-3.7%

258.6%

0.067

* 12-month

 

 

 

 

** Holds 45% of unlisted De Beers

 

 

 

Source: market data; table compiled by Barry Sergeant

 

 













---
Disclaimer:
As per our Terms of Use, Stockopedia is a financial news & data site, discussion forum and content aggregator. Our site should be used for educational & informational purposes only. We do not provide investment advice, recommendations or views as to whether an investment or strategy is suited to the investment needs of a specific individual. You should make your own decisions and seek independent professional advice before doing so. The author may own shares in any companies discussed, all opinions are his/her own & are general/impersonal. Remember: Shares can go down as well as up. Past performance is not a guide to future performance & investors may not get back the amount invested.
---
---

Gem Diamonds Limited is a global diamond mining company. The Company owns two production mines, the Letseng mine in Lesotho and the Ellendale mine in Australia, as well as the Ghaghoo mine, which is in development in Botswana. The Company operates in Lesotho, Australia, Botswana, Belgium, and British Virgin Islands, Republic of South Africa and United Kingdom. The Company owns 70% interest of Letseng Diamonds (Letseng). Its products also include white diamonds. Letseng diamond mine is engaged in mining and processing diamond bearing ore sourced from the Main and Satellite kimberlite pipes. Ellendale diamond mine is engaged in mining and processing diamond bearing ore sourced from the E9 lamproite pipe. As of December 31, 2011, the Ghaghoo mine in Botswana was developed and Phase 1 construction of the underground mine was progressing. It is a holding company. In February 2013, Goodrich Resources Ltd acquired Gem Diamonds Australia Holdings Pty Ltd. more »

Petra Diamonds Limited (Petra) is an independent diamond mining company and a supplier of rough diamonds to the international market. Petra is a diversified portfolio, with controlling interests in eight producing mines: seven in South Africa (Finsch, Cullinan, Koffiefontein, Kimberley Underground, Helam, Sedibeng and Star) and one in Tanzania (Williamson). The Company operates in two segments: mining, which is engaged in the extraction and sale of rough diamonds from mining operations in South Africa and Tanzania, and exploration, which is engaged in the exploration activities in Botswana. The Company's subsidiaries include Autumn Star Investments (Pty) Ltd, Blue Diamond Mines (Pty) Ltd, Crown Resources (Pty) Ltd, Cullinan Diamond Mine (Pty) Ltd, Cullinan Investment Holdings Ltd and Dancarl Diamonds (Pty) Ltd. On September 14, 2011, the Company announced the completion of the Finsch diamond mine in South Africa (Finsch) acquisition. more »

Rio Tinto plc (Rio Tinto) is engaged in finding, mining and processing mineral resources. The Company's product group includes aluminum product group, copper product group, diamonds and minerals group, energy product group and iron ore products group. Its products are iron ore, aluminum, copper, diamonds, coal, uranium, gold and industrial minerals (borax, titanium dioxide and salt). Its iron ore businesses delivered record production and shipments, and its copper business showed a second half recovery in copper volumes. In January 2012, it acquired 2% of Ivanhoe Mines Ltd. In August 2012, Orocobre Ltd acquired Borax Argentina S.A. from Rio Tinto Ltd entities, Rio Tinto Minerals Development Limited and Borax Europe Limited. In September 2012, it sold the North American portion of its Alcan Cable business to General Cable Corporation. As of December 31, 2012, the Company had 51% interest in Turquoise Hill Resources Ltd.,formerly known as Ivanhoe Mines. more »