HB Markets Daily Newsflash Featuring ROK, Xaar, Adventis Group, Media Corp Plc, Vitesse Media, Eg Solutions Plc, Forbidden Technologies, Innovation Group, Software Radio Technology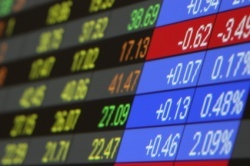 Adventis Group (LON:ATG) (ATG, 11.0p, £5.22m) A profits warnings expects adjusted PBT for 2010 to be up to 50% below market expectations of £1.97m. We now expect adjusted PBT of £1.0m and adjusted EPS of 1.5p for the current financial year. The poor performance is reflected by a slowdown in the Healthcare division, campaign delays in the Media, Planning and Buying Businesses. The stronger performance in the Technology and Telecoms division due to the expansion of services from the addition of bChannels in February 2010 has failed to offset the poor performances in the other divisions. We expect the current and coming financial years to remain extremely challenging for the group. The share price has almost fallen by 30% this morning. Adventis is currently rated on 7x for the current financial year. We believe there is still scope for the price to fall further. We reduce our recommendation to a SELL with a target price of 9p, equivalent to 6x 2011 earnings.  
Eg Solutions Plc (LON:EGS) (EGS, 38.0p, £5.43m), the provider of back-office optimisation software, reports trading for the 6 months to 31 July 2010 is in line with the Board's expectations. New contract wins coupled with broader and deeper relationships with existing customers has driven revenues up 15% to £2.41m (H109: £2.09m) and normalised PBT are up on the previous year. Stronger cash generation has improved the net cash position to £0.7m. We are provided with confidence by 71% of the anticipated revenues for the FY ending 31 January 2011 under contract. The market forecasts 2011 PBT of £0.31m and EPS of 1.6p and 2012BT of £0.57m and EPS of 2.9p.  The stock is rated on 2011 earnings of 23.8x falling to a more reasonable 13.1x in 2012 – in line with the sector. We therefore reiterate our HOLD recommendation.  
Forbidden Technologies (LON:FBT) (FBT, 21.0p, £17.04m), the developer of Cloud video platform FORscene, reports North One Television, part of All3Media, is using FORscene for the production of a new series of 'The Hospital'. This highlights repeat customers which confirm FORscene's position as an efficient workflow tool. The group is still very exciting and with a valuation that leaves plenty of upside. SPECULATIVE BUY
Innovation Group (LON:TIG) (TIG, 10.75p, £100.56m), the global provider of business process outsourcing and technology solutions to the insurance, fleet and automotive industries reports an IMS from 1 April 2010 to date. Restructuring of the group has helped boost l-f-l outsourcing sales up 4% at constant currency, despite the tough environment. The group continue to anticipate exceptional charges of £9.0m relating to £5.2m of provisions relating to the property consolidation, which will deliverc.£4.0m of annualised cost savings in 2011. For prudence, the group recognise bad debt of £0.75m relating to a Tier 1 European insurer. Customer retention is good. The group continue to win new business and are focussed on increasing revenue visibility. We expect the group to be trading in line with 2010 PBT and EPS estimates of £11m and 0.5p respectively. We reiterate our HOLD recommendation.  
ROK (LON:ROK) (ROK, 19.75p, £35.41m) Following the poor trading statement early on this month, stating underlying PBT would be significantly below market expectations, this morning's interims are no real surprise. Interims to 30 June 2010 saw underlying PBT halve to £3.0m (H109: £6.0m) on a 15% decline in revenues to £308.1m (H109: £364.5m). Net debt fell to £47.6m (H109: £57.0m). The 33% cut in the interim DPS to 0.5p (H109: 0.75p) sends signals of deteriorating profitability.  The squeeze in the fiscal spending does not bode well for the business. The group has already planned for lower volumes in construction next year. The high level of future revenue visibility supports a potential increase in ROK's market share in the declaiming social housing industry. Visibility of revenues in the Maintenance and Improvements business is good and the Board expect income to grow through new insurance customer wins. ROK has a strong order book at £435m. The market forecasts flat volumes in 2010 with PBT of £12.5m, EPS of 5.26p and DPS of 2.4p. In 2011, the market forecasts PBT of £14.2m, EPS of 6p and DPS of 2.4p. The stock is rated on 3.7x 2010 earnings falling to 3.3x in 2011 to reflect the weak economic climate. We reduce our recommendation to a HOLD.
Software Radio Technology (LON:SRT) (SRT, 21.5p, £21.0m) has received new orders for its AIS Class A product, valued at $0.75m, and to be delivered around the world over the next three months. The orders highlight the strength of revenues generated from existing customers. The contract wins are supporting the share price. We repeat our HOLD recommendation.
Vitesse Media (LON:VIS) (VIS, 9.0p, £2.75m), the online, print and events business, reports interims to 31 July 2010 are in line with market expectations. The first half will see pre-tax losses from the previous year move to a profit. The market shows some signs of improvements with Q2 like-for-like sales up 3.5% over the same period the previous year. However, we do not believe this is sustainable. The market forecasts 2010 PBT of £0.2m and EPS of 0.5p. We reiterate our HOLD recommendation. 
Xaar (LON:XAR) (XAR, 127.5p, £80.19m) Interims to 30 June 2010 for the inkjet printing technology group are no surprise. Adjusted PBT remained flat at £1.3m on a 14% increase in revenues to £23.9m (H109: £20.9m).  Encouragingly while the P! (platform1) printing product sales were stable the newer P3 generation is seeing an increase in demand with the group now expanding production. Gross margins of 39% (H109: 42%) have been hit on the older products. The group has committed to maintaining a 1p interim dividend per share, aided by net cash of £8.2m (FY09: £11.1m), but allowing for £2.8m of capital expenditure and £0.9m of dividends. The outlook statement is mixed. Despite the uncertainty surrounding the global markets, the Board believe better visibility of certain markets and increasing P3 product demand will require substantial investment in capacity and capability to capitalise on the potential. We continue to rate the group as a HOLD as it is sitting on over 24x PER for this year, falling to some 13.7x next year.
---
Disclaimer:
HB MARKETS DISCLOSURES
The analyst may have a personal holding of the securities issued by the company, or of derivatives related to such securities.
HB Markets plc or an affiliate may own more than 5% of the issued capital of the company.
HB Markets plc or an affiliate may be party to an agreement with the company relating to the provision of corporate broking services, or has been party to such an a greement within the last 12 months. Our corporate broking agreements include a provision that we will prepare and publish research at such times as we consider appropriate.
HB Markets plc or an affiliate may have been a lead manager or co-lead manager of a publicly disclosed offer of securities for the company within the last 12 months
HB Markets plc may be a market maker or liquidity provider in the securities issued by the company
Please check with our advisers 020 7382 8384 if you are concened with the above material interests prior to acting upon this information.
RISK WARNING NOTICE
All investments are speculative and prices may change quickly and go down as well as up. Past performance will not necessarily be repeated and is no guarantee of future s uccess. There is an extra risk of losing money when shares are bought in some smaller companies including "penny shares". There can be a big difference between the buying price and the sel ling price of these shares and if they have to be sold immediately, you may get back much less than you paid for them or in some circumstances, it may be difficult to sell at any price. It may also be difficult for you to obtain reliable information about the value of this investment or the extent of the risks to which it is exposed. Where a company has chosen to borrow money (gearing) as part of its business strategy its share price may become more volatile and subject to sudden and large falls. This investment may not be suitable for all investors, and clients should carefully consider their own personal financial circumstances before dealing in the stock market, particularly those on fixed incomes or approaching retirement age. If you have any doubts you should seek advice from your investment adviser or your broker at this firm.
AIM: The Alternative Investment Market (AIM) is market designed primarily for emerging or smaller companies. The rules of this market are less demanding than those of the official List of the London Stock Exchange and therefore companies quoted on AIM carry a greater risk than a company with a full listing.
MATERIAL INTEREST
We endeavour at all times to ensure that our research is clear, fair and not misleading, however, we do not hold our research out as being impartial and it should not be v iewed as wholly objective since HB Markets plc (including its parent company and its subsidiaries, their directors, officers or employees) may have or previously held a material intere st in the company which is the main subject matter of the research note, or any other company mentioned, and may be providing or have provided within the previous 12 months significant advice or investment services in relation to any company or a related company referred to in this document, or any other associated document. This document has been prepared and issued by HB Markets plc on the basis of publicly available information, internally developed data and other sources believed to be reliable. Whilst all reasonable care is taken to ensure that the facts stated are accurate and the opinions given are fair and reasonable, neither HB Markets plc nor any director, officer or employee shall in any way be responsible for its contents. This document is intended to provide clients with information and should not be construed as an offer or solicitation to buy or sell securities.
---
---

Xaar plc (Xaar) is an independent supplier of industrial inkjet printheads. Xaar is engaged in the principal activity of the development and commercial exploitation of patented inkjet printing technology. The Company is a holding company. The Company has manufacturing facilities at the United Kingdom and Sweden. The Company also develops and sells ink systems, electronics and a fluid optimization service. Xaar sells to original equipment manufacturers (OEMs) around the world through its regional sales offices and distributors. The Company operates in three principal geographical areas, which include Europe, Middle East and Africa (EMEA), the Americas and Asia. The Company operates in four segments: Industrial, Packaging, Graphic arts and Licensee royalties. During the year ended December 31, 2011, the Industrial segment accounted for 46%, Graphic arts segment accounted for 26%, Packaging segment accounted for 17% and Licensee royalties segment accounted for 11% of Xaar's revenues. more »

Reabold Resources plc, formerly Adventis Group Plc, is an investment company in the natural resources sector. The principal activity of the Company is the identification and evaluation of investment opportunities in the natural resources sector worldwide, including direct and indirect interests in exploration and producing projects and assets. more »