In Crisis, there is Opportunity: Investing in Turbulent Times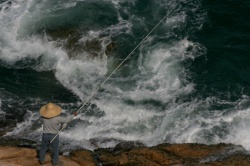 The markets are tanking, some are expecting a crash, many are questioning the stability of the Eurozone, and everyone seems to think there are serious systemic issues in the financial system. It's at times like these that it's worth keeping one's head and remembering to stick to the plan. Of course, that's presuming you remembered to have a plan! Warren Buffett said that it's only when the tide goes out that you discover who's been swimming naked, and we suspect the rising volatility in the market is going to show that a lot of swimwear has been left on the beach.
That got us thinking about what is the best way for stockpickers to capitalise on this kind of volatility. For those that have managed to raise some cash, one idea is to put some extremely low limit buy orders with a broker in case something silly happens. And silly things happen more regularly than one might imagine providing great bargains for the opportunistic. After all, it was only a couple of weeks ago that we saw the 'flash crash' and such household names as Procter and Gamble (NYSE:PG) trading momentarily down up to 60% before rallying as fast as they fell.
But which stocks are worth buying in a time when even the most bullish seems to be hovering their fat fingers over the sell button? We believe in sticking to what works in the long run, and what's been shown to work by the best stock investors of all time. Buying good companies at cheap prices! So we'd certainly suggest building a checklist of companies that you've identified as 'good' and that you would buy at lower prices. Figure out a price level that you think would provide a rate of return on investment that compares favourably on a risk-adjusted basis against available returns on 5 to 10 year government bond yields. And put in some outrageously low limit orders well below your identified purchase price. You just never know what you might pick up.
Of course, that raises the question of what is a good or high quality company?  A recent paper [1] by Jeremy Grantham of the successful fund management house GMO indicated that the only way to generate persistent excess returns in the market is to focus on companies that are able to generate consistently high and stable returns on capital (ROC) year in year out.  These kinds of companies show the ability to set their own prices and not be buffeted by prevailing economic winds.  Of course these companies rarely come very 'cheaply' - the market tends to charge a premium for good companies.  But just as on the high street, it's often worth paying more for quality. Entertainingly Jeremy Grantham berates the value investing crowd for their propensity to get caught up in perennially favouring 'cheap' companies without taking into account the 'good' part.  If you focus on 'cheap' companies alone, he argues that you can find yourself stuck in a 'value trap' of owning companies that are vulnerable in a recession and which could stay 'cheap' forever. 
We've run our own screens on the market to try to pick out some names based on the metrics outlined above.  We hunted for consistent returns on capital of above 15% annually, consistent earnings growth of 10% + , with positive outlooks.  We've screened for stocks that show 4 years of these consistent returns running from 2006 to 2010, right through the last terrible bear market and recession.  These companies are doing something right and just may have proven that their business models can survive the worst of what is yet to come if everything starts to unfold.
Now, we're certainly not saying these stocks are buys at their current prices - this is just a rudimentary stock screening exercise to find companies that have shown high and stable returns.  More research is certainly required in every case before ever taking a position.  Some of them are trading at lofty valuations with PE ratios of 25X and above - such as ASOS (LON:ASC) , Autonomy Corp (LON:AU.) & Abcam (LON:ABC) -  so they could be very vulnerable to sharp falls if either the market malaise continues or they suffer a slowdown in business.  Others like Spice Plc (LON:SPI) have recently given profit warnings.   But, nevertheless, we do think that some of the companies thrown up by this exercise may be worth investigating further to see if they are worth buying on serious price declines. 
Special Offer: Invest like Buffett, Slater and Greenblatt. Click here for details »
Stockopedia 'Quality' Screen As at 20 May 2010
You can easily run your own screens like these by using software such as Sharescope or web tools like Sharelockholmes - you don't have to own a Bloomberg terminal. 
If you can identify a watchlist of companies that you deem to be of high quality then you'll be well positioned to pick up bargains as and when they arise by using seriously out of the money buy limit orders or by being nimble on your toes.  It pays to be prepared, especially at times like these.
If anyone has thoughts or comments on any of the stocks listed above, we'd be very interested to hear them. We are going to keep a close eye on them over the coming weeks and months.
Follow edcroft on Twitter
There's
value
in the stock market
but do you know where to look?
Get the most concise synopsis of everything that's been proven to work in value investing. If you like your stocks cheap you've found a treasure trove distilled to under 70 pages.
How to find ultimate Bargain Stocks with Ben Graham
How to spot Turnarounds and avoid Value Traps
From Graham to Greenblatt via Piotroski & Lakonishok
How to value stocks and set a margin of safety
Disclaimer:
As per our Terms of Use, Stockopedia is a financial news & data site, discussion forum and content aggregator. Our site should be used for educational & informational purposes only. We do not provide investment advice, recommendations or views as to whether an investment or strategy is suited to the investment needs of a specific individual. You should make your own decisions and seek independent professional advice before doing so. Remember: Shares can go down as well as up. Past performance is not a guide to future performance & investors may not get back the amount invested.
---
---

Serco Group plc is a holding company. The Company operates in five segments: Civil Government; Local Government and Commercial; Defense, Science and Nuclear; Americas, and AMEAA. Its Civil Government consists of the United Kingdom and Europe civil government and transport. Its Local Government and Commercial consists of the United Kingdom and Europe information technology (IT) and business process outsourcing (BPO), integrated services, education and commercial businesses. Defense, Science and Nuclear brings together the United Kingdom and Europe defense and science-based businesses. Americas consists of the United States defense, intelligence and federal civil government agencies operations, and Canadian operations. Its AMEAA consists of its operations in Africa, Middle East, Asia and Australasia. In June 2012, the Company acquired Vertex Public Sector Limited. In June 2012, AMEC plc acquired Serco Group plc's nuclear technical services (TS) business. more »