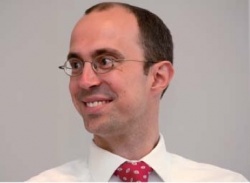 Ceres Power Hldgs (LON:CWR) is a leading developer of fuel cell micro-combined heat & power (mCHP) products for the residential market, using its own proprietary, patented technology. Work is well advanced on commercialising a wall-mountable boiler replacement/alternative, targeting UK and Irish customers, through agreements with British Gas (Centrica), Calor Gas and BGE, from whom conditional forward orders for 70,000 units have already been received. Detailed background on Ceres is available in the Stockopedia Wiki.
Following on from Ceres Power's product demonstration and results presentation to analysts and major shareholders last week, I had a number of queries for the company. Ceres' CEO, Peter Bance, kindly spent a considerable amount of time with me recently responding to my questions arising from the presentation. Some further collateral for investors not attending last week should be published on Ceres' website in the near future. I will highlight this when it becomes available.
Impressions
Before diving into the "meat" of the interview, I would just like to record some general impressions. Having been Ceres' CEO since 2003, Peter remains the company's strongest advocate and product evangelist. I did not detect any waning in Peter's evident determination to convert the (so far unfulfilled) promise of fuel cell technology into a practical & commercially successful mass-market product.
Q&A
Please note that the answers given are not verbatim but are my interpretation of Peter's responses to my questions. My comments/thoughts are in italics.
Q1. After our conversation following Ceres announcement of 2nd July, I understand that the main outstanding issues requiring resolution related to control software and overall system reliability. What progress has been made on those issues and how do they impact the timetable for gaining CE approval?
A1. Substantial progress has been made and the mCHP product should soon be ready for submission for CE approval. As stated in our results announcement, CE approval is anticipated to occur in Q4 of this year. Precise timing will depend on how smoothly the process goes, which could be likened to an "MoT test" for the product. Substantial work has already been done to ensure that individual subsystems will qualify.
It is expected that design refinement will continue during the beta and even into the gamma field-trial phases.  
After all, the purpose of this testing is to uncover any issues that occur in the "real world" and to address them before full commercial launch. If nothing were found it would suggest some inadequacy in the test process! 
Q2. Slide 10 states that there was no measurable degradation in cell performance after 100 thermal test cycles. Have you observed degradation under more stringent conditions?
A2. Conditions can be simulated that will lead to performance degradation. These conditions could be considered analogous to driving a car at high speed in low gear, which will lead to engine damage. Our objective is to determine an "operating envelope" for the fuel cells that does not lead to performance degradation. We then ensure that the mCHP system, as delivered, always operates comfortably within this envelope, thus ensuring adequate performance throughout the designed stack life.
Q3. Slide 16 of the presentation shows overall system output of 34% of gas energy-content input as usable electricity vs a 39% target. Do you expect that the target will be met in due course?
A3. Yes. As shown in the slide, the fuel cell stack already converts 58% of energy input to electricity. Further optimisation of the overall system design should reduce losses & improve efficiency.
Q4. My past recollection was that 1kW of power was required to cover a typical home's electricity consumption needs most of the time, but I observe from slide 16 that the current product ony delivers 800W of usable electricity. Is this adequate?
A4. 1kW was only an approximate figure (and may have been gross rather than net output). Per slide 29 you will note that British Gas has specified an output of 700W+ as being adequate, based on their measurements of real-world requirements. We already exceed this criterion.
Special Offer: Invest like Buffett, Slater and Greenblatt. Click here for details »
Q5. I observe from slide 37 that you now anticipate that the Horsham mother plant could expand to produce ~30,000 fuel cell modules p.a. You have previously indicated that capacity there could ultimately reach 1,000,000 fuel cells wafers p.a. My understanding was that this would lead to 50,000 modules p.a., each using 20x50W wafers.
A5. Design refinement has led us to a 1kW stack design now employing 100 wafers, each with a smaller form factor. This refinement leads to better stack reliability/life by putting less load on each wafer but without increasing overall stack weight/size. We can expand the motherplant to produce 3,000,000 wafers p.a. of this form factor, equivalent to 30,000 fuel cell modules.
Q5a. So that means you have had to change the stack design in the relatively recent past, to accommodate this improvement?
A5a. Yes, lessons from alpha-phase testing led us to this refinement for the beta-phase. It is important to note that this change does not represent any fundamental alteration to the design principles or welding technique but was relatively straightforward to incorporate into tooling being developed for mass production. Whilst we do not rule out minor changes, we do not anticipate any further substantive changes before the gamma-phase or commercial production.
Q6. I am pleased to see from slide 35 that British Gas intend to start marketing of the mCHP product this year. However, I am mindful that innovative British manufacturers in the past stimulating demand ahead of product launch and then failing to deliver sufficient product to satisfy demand. How will Ceres and British Gas avert this problem?
A6. Ceres and British Gas are well aware of this issue. Marketing will not be over-aggressive initially, so as to match demand to available supplies. We expect that marketing will begin in a "viral" manner, as units are rolled out for the field trials and users of the units spread the word.
This is why so much care is being taken during the alpha & beta phases, to try to ensure that those "early adopters" enjoy a positive experience. With the initial roll-out expected early 2011, following CE certification, comment in the financial press can also be expected which should boost demand for Ceres' shares and, IMO, raise the share price.
Q7. With the currently proposed feed-in-tariff (FIT) will it pay Ceres' users to leave the unit generating electricity constantly, rather than allowing the unit to load-follow?
A7. As things stand, this may be the case in certain households and could be enabled via an amendment to the control software, which could be uploaded remotely. However, we do not believe these subsidies will remain in place permanently, or at the current levels. As can be seen from slide 23, end users can expect substantial annual cost savings, even without a subsidised FIT. I was very pleased with comments by British Gas describing Ceres' unique load following capability as "game changing".
Considering the overall economics of UK power supply, where Ceres' unit comes into its own is during perriods of peak demand. At night, by contrast, current baseload power is adequately delivered by cheap baseload nuclear power. If, as we hope, a substantial number of Ceres units are installed in the UK, this will reduce the requirement to run comparatively "dirty" and expensive standby power stations to supplement the baseload supply during peak periods of demand. This is known as "peak-shaving" and a consultancy, Oxera, has confirmed this based on their modelling of the UK grid and the impact of significant increases in baseload nuclear and intermittent offshore wind. This despatchability of a Ceres Power CHP unit is a very valuable and unique capability, as confirmed by British Gas.
This is something investors in Ceres' competitors have failed to understand. All competing SOFC systems can only be operated reliably if left on continuously at full power. Due to the basic physics of Ceres' SOFCs, they run at temperatures that do NOT put so much thermal stress on their materials and those of their enclosures when starting up or shutting down. Moreover, again uniquely, Ceres has found that its cells can operate at reduced power levels, enabling the load following capability. In the long-run, a requirement to operate continuously, to avoid damaging the cells, makes them unsuitable for residential applications. AFAIK Ceres is the only company to have overcome this problem.
Thank you Peter.
Mark
---
Disclaimer:
The author may hold shares in this company, all opinions are his own and you should check any statements that appear factual and not rely on them before making an investment decision. The author is NOT a qualified analyst nor authorised to give investment advice. Whilst the author is a director of ShareSoc, all views expressed are entirely his own and not necessarily those of ShareSoc.
---
---

Ceres Power Holdings Plc is a developer of decentralized energy products. The Company is engaged in the development and commercial exploitation of microgeneration products based on the Company's solid oxide fuel cell (SOFC) technology. Ceres Power has developed a manufacturable technology platform: the fuel cell module (FCM), using its SOFC technology and operating on mains natural gas or packaged fuels, such as liquefied petroleum gas (LPG). The Ceres fuel cell module provides a platform for the development of a range of related products for applications, including Combined Heat and Power (CHP) products for boiler replacement in private residential and social housing segments, as well as installation in new homes, operating on mains natural gas or packaged fuels, and portable products providing back-up power and prime power, as alternatives to generators and batteries, operating on packaged fuels including LPG, propane and butane. more »