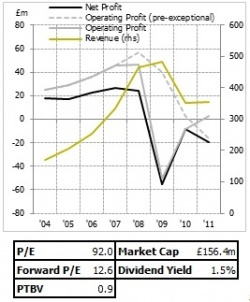 Speedy Hire (LON:SDY) are the market leader in providing equipment leasing services in the UK. The CEO splits those UK hire operations in 4 distinct segments; lifting, power, survey and general tools and equipment. Doing a quick 'first response' to that list points to their customers being companies related to construction, infrastructure investment and the like. That's an accurate appraisal, and takes us quickly from premise - the company has suddenly stopped performing as well as it has historically - to reasoning; they got dragged down as the boom turned to bust. Construction-related revenue accounts for 55% of this year's total - and that's coming down, says management.
That idea in combination with the trends in the graph alongside means our potential value proposition is simple, then; the company is earning poor returns on capital, but historically hasn't done so. The current price may be an opportunity to buy a well positioned company (they are market leaders, after all) which is on its way out of the down point in the cycle. The risks are also equally obvious - though fiendish to quantify. The period pre-recession was, obviously in hindsight, rather a fantastic time for the clients Speedy Hire services. It's that old chestnut then; what can we call our baseline expectations for profitability?
This story is well told in the company's 2012 annual report, with three graphs highlighting how things have changed. While the EBITA margin cliff and RoCE tumble are obviously very bad news for investors, the net debt: EBITDA ratio isn't particularly worrying. This is a low figure, and in any case the metric doesn't take into account the enormous value of hire equipment on the balance sheet. From a lender's point of view I imagine Speedy Hire looks very safe, and if the lenders are happy then I'm happy they won't be poking and prodding. Even if the company never makes a profit again it can easily pay off its debts and have money left over for shareholders - all it has to do is run down its fixed capital and not replace it. 

That's not what we really want, though; we want the company to return to its 2007 ways. From the looks of the breakdowns of cost on the annual reports, it appears the problem is just one of the size of the business. Fixed costs have carried on their inexorable march upwards - admin costs are up about 32% from £128m in 2007 to £169m in 2012 - while revenue has dropped marginally. Depreciation has actually dropped slightly in that period, so it appears that it's the slippery back office costs which are making up most of the increase. I'm curious to see where all those costs lie. The trouble, then, is that this sort of inflexibility is exactly what you would expect given what they do. Taking those inflexible fixed assets off other companies' balance sheets is basically their remit, after all.
One thing I did really like in the 2012 report is a passage where the CEO talked about where he saw the future of the company. It's quite long, but worth the read:
Special Offer: Invest like Buffett, Slater and Greenblatt. Click here for details »
Our strategy remains one of re-orienting Speedy as a services company as opposed to an asset supply company. This strategy is driven by the simple premiss that service is more highly valued than commoditised supply and will therefore attract higher margins. We have called this evolutionary strategy Project Darwin.

To test the credibility of our objective we asked ourselves and our customers the fundamental question: why do customers hire? The simple answer was to avoid risk, and particularly three types of risks: > capital risk, involving the desire to avoid the cost of capital from purchasing assets and the balance sheet and cash flow effects therefrom; > operating risk, associated with fixed operating costs, especially in respect to property, people and logistics; and > legislative or compliance risk, especially in respect of health and safety and environmental matters and possible consequences such as fines, increased insurance premiums, being precluded from tenders and damage to reputation. On further analysis we concluded that hire alone does not fully eliminate or solve these risks for our customers. To seek to do this and to enhance our offering we established the supplementary services of training and TRIM (test, repair, inspect and maintain)...
It goes on to detail a more all-encompassing service strategy. Apart from the cheesy name, I like the frank discussion of what they can do better and where their potential is. The CEO seems cognisant of their strengths and where they need to be heading, which is more than can be said for some. He also actually acknowledged that SH was earning below its cost of capital, which I don't often see. More often you'll come across management pointing to a metric which is headed in the right direction and being economical with the truth. Still, I have to be wary that I might not be the hardest person to impress, given my knowledge of the sector; limited at best!
All-in-all, I'm not really too swayed either way. My uneducated guess is that the company is probably close to a fair price here; I don't think they'll earn the returns they did pre-2007 any time soon. The strategy laid out for the business is interesting and persuasive, but I can't invest on the basis of that - at the very least I'd want to see a breakdown of those costs, which I can't find much mention of and don't know enough about the industry to guess. I get the impression management are trying to avoid cutting to the bone so as to be able to adapt quicker if the market picks up. I guess there's a relatively high floor value in the business because its assets can be wound down over a few years and the book value of them can therefore more or less be redeemed - hence why I'm not particularly compelled to think it'll move that much either way. I don't like making that appraisal, though. It means there's two directions I can be wrong in!
---
Disclaimer:
As per our Terms of Use, Stockopedia is a financial news & data site, discussion forum and content aggregator. Our site should be used for educational & informational purposes only. We do not provide investment advice, recommendations or views as to whether an investment or strategy is suited to the investment needs of a specific individual. You should make your own decisions and seek independent professional advice before doing so. The author may own shares in any companies discussed, all opinions are his/her own & are general/impersonal. Remember: Shares can go down as well as up. Past performance is not a guide to future performance & investors may not get back the amount invested.
---
---

Speedy Hire Plc is a holding company. The Company is engaged in the provision of equipment for hire and sale, and associated services to the construction, infrastructure, industrial and related industries. The Company operates in two segments: UK & Ireland Asset Services and International Asset Services. The Company provides a range of services, such as the hire of small tools and equipment; surveying and measurement instrumentation; lifting and materials handling equipment; low level and non-powered access equipment; compressed air; lighting equipment; temporary power eneration; mechanical pumps, and temporary site communications. It also provide associated services through the provision of training, asset management and testing, repair, inspection and maintenance (TRIM). In April 2011, the Company sold its Accommodation Hire business to Elliott Group Ltd. more »