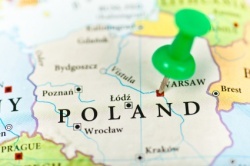 The overwhelming majority of the Oil and Gas companies discussed on Stockopedia are listed in the UK and, to a lesser extent, Canada. As noted by several posters, there are plenty of other markets, and other companies, which might be worth a look. This post covers one of them, Warsaw-listed Kulcyzk Oil Ventures, KOV.PW
Why on earth am I bothering about a company on the Warsaw Exchange? For historical reasons. KOV is one of two companies spun out of Loon Energy, which formerly listed, as LEY.V, on the Toronto Venture exchange. I bought a small stake in Loon because of its interests in Syria and Brunei. It also had a very small operation in Colombia. Its largest shareholder, Dr. Jan Kulczyk, a widely-diversified millionaire once said to be the richest man in Poland, prompted its division into two separate companies, KOV, which eventually listed, after a considerable delay, in Warsaw in May this year, and a new Loon Energy Corporation in Toronto, with the symbol LNE.V.
After the division, LNE.V took the Colombian interests, and Kulczyk Oil Ventures the Syria and Brunei interests. I chose not to accept a miserly offer from Dr. Kulczyk for my shares in LEY.V, leaving me with legacy holdings (way under water) in both KOV.PW and LNE.V, to wait and see what would happen. The main attraction remained the Brunei interests (though LNE.V has done okay over the last few months).
For updates on LNE.V, see the
website
 or the
S'pedia Colombia board
. KOV has subsequently acquired acreage, and a small amount of production in Ukraine, to provide it with some cash flow. 
You can read the latest news from KOV
here
. There are plans for testing of its Lempuyang-1 and Lukut-1 wells in Brunei, " following encouraging indications during the drilling and from the interpretation of wireline logs from both wells". An aero-gravity survey over Block L and a 3D seismic survey over the Belait North structure in Block M,  both completed and interpretation under way. The latest presentation is
here
.
Here's a quick summary of the assets:
BRUNEI
Four wells drilled this year, two on each block.
Block L: (KOV: 40 per cent)
Lukut-1: Ten zones of interest identified during drilling, with up to three to be tested early next year. Aggregate potential net pay of between 19 and 47 metres.
 Lempuyang-1: Two tests over a total of 53 metres 
The aero-gravity survey suggests that these may both be part of a larger structure.
Block M: (KOV: 36 per cent)
Two other wells, Mawar-1 and Markisa-1 also ready for testing, though no dates yet announced. Second half of 2011?
Also in Block L is the Jerudong field, discovered in 1955 and shut-in in 1962 for political reasons (the Konfrontasi with Indonesia). Produced around 750,000 bbls of oil before shut-in. A new well planned here in the second half of 2011.
SYRIA
Block 9, covering around 10,000 sq.km and extending east from Latakia and south of Aleppo. KOV 45% and operator. Under-explored - only 4 previous wells. Oil and gas discoveries to east and south in the Palmyride Basin. 420 sq. km of 3D seismic completed and processed  in 2010 in the extreme east of the block, north of the Harbaja and Muduwara fields. First two wells expected in first half of 2011.
Loon, then KOV, originally held 100 per cent, but farmed down a 20 per cent beneficial interest to Triton Petroleum (a Singaporean private company from whom KOV bought its stake in Brunei Block M ), 30 per cent to MENA Hydrocarbons Inc.,
http://www.menahydrocarbons.com/
 whose directors include the President/CEO and Non-Exec Chairman of Bankers Petroleum
http://www.bankerspetroleum.com/
 and the COO of Colombia's Gran Tierra
http://www.grantierra.com/
 , and 5 per cent to another party.
UKRAINE
70% of KUB-Gas was acquired last summer, with four (small) producing fields, gas processing facilities and development and exploration upside. A testing programme on 4 intervals planned this month on the M-19 exploration well.
The upside in Ukraine may be improved by the introduction of modern (Western) techniques - e,.g, a pilot compression programme on 2 Vergunskoye fields has increased production by 100 per cent.
A recent study by RPS of total KOV Ukrainian reserves (November 2010), shows a
substantial increase in reserves
(95-96 per cent being gas and the rest condensate).
Total Proved (1P)
Current report: 33.9 BCFE or 5.6 MMBOE
Previous report: 10.6 BCFE or 1.8 MMBOE
Increase: 221%
Total Proved + Probable (2P)
Current report: 43.9 BCFE or 7.3 MMBOE
Previous report: 18.2 BCFE or 3.0 MMBOE
Increase: 141% 
FORWARD ACTIVITY - planned wells for 2011/2012
Brunei: 7 wells
Syria: 2 wells
Ukraine: 12 wells. 
Current production c. 1,000 boepd. In summary, Ukraine seems likely to provide cash flow, Brunei has the greatest potential and Syria is pretty much wild-cat exploration.
Would I buy KOV now? Probably not - I haven't a clue about the Warsaw exchange, or the likely movement of the zloty against sterling (thank goodness it's not the Euro!). But, having first bought into Loon because of the Brunei interests, I am happy to wait and see whether the exploration and appraisal programme there finally delivers the goods.
Finally, it's worth noting that Mr. Kulczyk's holding company ,
Kulczyk Investments
, which holds his interests in KOV, has a stake of over 10 per cent in
Aurelian Oil & Gas Plc
(LON:AUL) , and took up over 10 million Euros worth of shares in the AUL placing last month.  I wonder if he has any long term objectives to rationalise his Oil & Gas interests?
Man Siarad
Disclaimer:
The author may hold shares in this company. All opinions are his own. You should check any statements that appear factual and seek independent professional advice before making any investment decision.
---
---