Lo-Q plc: Transitioning from startup origins to a professional operation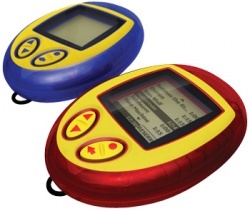 Lo-Q (LON:LOQ) is an AIM listed business which designs and operates "virtual queuing systems" for theme parks that allow members of the public to make reservations for rides and attractions. The Company raised some eyebrows in July by announcing that its Chairman, Jeff McManus, would be leaving the firm abruptly after some ten years. Stockopedia News recently attended an investor meeting where the Founder (and now interim CEO), Leonard Sim and the Finance Director discussed recent events and the prospects for the business.
An electrical engineer by background, Leonard conceived the idea in the 90's in a queue with his family in a Florida theme park and set up the business in August 2000. FD John Alder, ex. PWC, was appointed to the Board late last year, having joined in 2008. By way of background, the underlying premise of Lo-Q is that park visitors join a virtual queue for a particular attraction or ride, instead of physically standing in-line. Unlike traditional paper-based queuing systems, visitors can be updated in real time when their queue slot is available. This system drives revenue for park operators since, instead of standing in line, the guests are free to spend money at a retail outlet or a restaurant. Once their ride is ready, Lo-Q's systems alert the customer so they can make their way to the attraction. "True virtual queuing" means that all guests wait the same amount of time for their rides, so a Lo-Q system does not impact queue dynamics.
In total, the Company has contracts with 18 theme parks with 7 major operators [1] . This includes 11 Six Flags theme parks in North America, Dollywood in the US, theme parks in Australia and Italy, as well as Legoland Windsor in the UK. The Company has two main products:
The Q-Bot is a proprietary handheld unit which Lo-Q characterises as a "true virtual queuing system for theme parks". Park visitors can rent small hand-held units and, when guests make a reservation using their Q-bot, the system registers that person or group into a virtual queue. Guests are informed via the Q-bot display with a beep and vibrate when their ride is ready. They can be advised should their ride break down, or even updated on special promotions and events running throughout the day.
Q-txt is a lower spec mobile phone based reservation system. The Q-txt system gives guests the opportunity to purchase Q-txt credits either directly from a park's website, prior to their visit, or at a location in the park. Q-txt is in use in a number of locations including Flamingo Land in Yorkshire and Lake Compounce, USA.
For historical reasons given its origins, the company has been reliant on Six Flags (NYSE:SXFL) as a major customer (11 parks). This had been a subject of some concern to investors especially when Six Flags entered Chapter 11 bankruptcy proceedings in the US in 2009. In the interims, however the Company noted that Six Flags had emerged from Chapter 11 in April 2010, following a 10 month period of re-organisation. This suggests greater stability, at least until the Six Flags contract is up for renewal at the end of 2012.

At the time of Jeff McManus' departure, Lo-Q released its latest interim results. The business experiences strong seasonality as the theme parks are closed in winter months and there was a recent change in the year-end to reflect this, which makes it difficult to judge the year to date performance, but overall the business looks to have good momentum. [2]  The company is debt-free and, as at April (typically the low point), the company had £2.9m of cash (vs. £1.3m in 2009). On a pro-forma basis, revenue was up 21% to £2.46m while the loss before tax was down 19% to £0.9m . The number of visitors using Lo-Q systems grew 18% (vs. 8% attendance growth over the same period in the relevant parks) and growth has been driven by the take-up of premium Q-bots (platinum and gold) for which customers pay extra in order to reduce queuing time. In the first half of 2010, the company also won two new park contracts - Six Flags America near Washington D.C. & Lake Compounce in Connecticut. It also agreed extensions to four other existing contracts.
Given that management have identified over 200 major parks as targets and given the apparently compelling nature of the technology (who, after all, wants to stand in a queue?), it might be seen as surprising that they have secured 18 park contracts after some ten years in operation. The issue with winning more business doesn't seem to be competition. Management indicated that, at present, it was the only major player deploying this technology – and it saw limited to negligible threats from other third party suppliers (potential rivals in the past had folded). When asked about the technological threat from smartphones, Leonard felt that the variability of operating systems was a constraint on this kind of competition in the near term but noted that the Labs team was focused on ensuring that Lo-Q's own innovation kept up with the pace of mobile phone-based applications.
Instead, the issue seems to be two-fold. Firstly, the industry apparently tends to be a conservative one, perhaps reflecting the need for a strong safety culture, and it takes a while for innovation to spread and to be accepted. This has both helped and hindered by ongoing consolidation in the theme park industry from family to private equity ownership (Merlin – owned by Blackstone, Parques Reunidos– owned by Candover Investments (LON:CDI) ). The greater focus of such owners on improving efficiency has been offset by the fact it is now important to establish at multi-levels with both group management and park management, which is time-consuming but hopefully stickier.
A second factor is "internal competition" from the parks themselves trying to provide an internal solution. For the most part, this is based on technologically inferior solutions such as paper tickets. Although these approaches have a number of disadvantages (such as an inability to cope with ride-down time, no scope for optimising penetration, bunching at ride entrances), this again provides a hurdle to wider adoption.
Special Offer: Invest like Buffett, Slater and Greenblatt. Click here for details »
Still, management do seem focused on diversifying their portfolio - apart from new product development (discussed below), a more structured review of markets is apparently planned later in the year. This is encouraging as one risk inherent in the theme park business is weather / seasonality. So far, the company is spread across three continents which provides some natural weather hedging but, with the exception of Australia, the business is strongly weighted to the Northern hemisphere. This is understandable given that there are more parks in this part of the world but perhaps more could be done in future in regions such as South America or Asia.
However, the key initiative to diversify and indeed expand the addressable market for Lo-Q lies in its plans to market a new product for water parks. This will be a waterproof wristband with a personalised screen that tracks time and money for each user. The prototypes have experienced some delays due to production issues but the plan is for an official launch in October at the World Water Park convention in Texas. Trials will be undertaken in August in one small and one medium park but the expectation is that this product could need further trials next year. 
The most obvious advantage of the new product is that it will allow money to be deposited in advance when paying entry to the park and regular downloading to pay for drinks, ice creams etc. This should boost in-park spend for water parks which is typically far lower than other parks given customers' poor access to their cash (as they are often wearing their swimming costumes). The Company believes that the target market for such a device could be more than 100 medium and large water-parks.

However, the name chosen for Lo-Q's underlying patent application - a "system for regulating access to a resource" - also illustrates how this product could potentially have far wider application than just water-park cash management. The idea is that, once a visitor enters a park, minutes begin accruing on their wristband and the system tracks the number of minutes being accrued. Each attraction then specifies a certain number of minutes as its "entry price". As a result, it should be possible for the park to dynamically adjust the price of a given attraction in terms of minutes depending on demand. This would allow the operator to manage the flow of visitors around the site without (in theory) the need for any waiting in line. If achievable, it's possible to see such a product might appeal not just to water park operators, but much more broadly.
One concern raised at the meeting was how best to price / monetise the product. To be effective, the wristbands will need to be given to all park guests (as opposed to the current Lo-Q's product, which are basically premium sales to a subset of guests). Will it therefore be priced on a royalty basis or on a profit share basis? This is is still being discussed but it seems that the answer could be both - both a royalty for the unit plus a revenue share of any incremental revenues generated from increased per user park spend. Leonard also discussed premium applications whereby, say, a Platinum user could have a wristband that accrues "time" more quickly than a regular wristband. 
Overall, our initial impression of Lo-Q was of an attractively positioned and ambitious business with some strong defensive intellectual property. It is still an entrepreneurial organisation that is working on professionalising its management and organisational structure - the recent Chairman upheaval can perhaps be seen in this light. The management certainly recognised that the organigram could use some optimisation – as one example of this, the entire sales force is based in the UK, despite the US being the largest global market.

The challenge for Lo-Q (LON:LOQ) will be to manage this transition, especially given that their understandable entrepreneurial enthusiasm for the new product could potentially jeopardise good intentions. The profile of the new CEO will certainly be revealing. The wording of the announcement - "advanced discussions with its preferred candidate" - suggests that management have someone firmly in mind but they weren't willing or able to provide further details at the session. It will certainly be interesting to see if they go for a professional manager from outside the industry or whether, given the emphasis placed in the meeting on industry relationships, they engage someone with previous experience of selling services into theme parks.
[1]
Six Flags, Hershend, Merlin, Dreamworld, Parques Reunidos, Flamingo Land, Parque Isla Magica
[2]
Lo-Q recently changed its year-end to 31st October to more appropriately reflect the trading year
There's
value
in the stock market
but do you know where to look?
Get the most concise synopsis of everything that's been proven to work in value investing. If you like your stocks cheap you've found a treasure trove distilled to under 70 pages.
How to find ultimate Bargain Stocks with Ben Graham
How to spot Turnarounds and avoid Value Traps
From Graham to Greenblatt via Piotroski & Lakonishok
How to value stocks and set a margin of safety
Disclaimer:
As per our Terms of Use, Stockopedia is a financial news & data site, discussion forum and content aggregator. Our site should be used for educational & informational purposes only. We do not provide investment advice, recommendations or views as to whether an investment or strategy is suited to the investment needs of a specific individual. You should make your own decisions and seek independent professional advice before doing so. Remember: Shares can go down as well as up. Past performance is not a guide to future performance & investors may not get back the amount invested.
---
---

Lo-Q plc is engaged in the development and application of virtual queuing technologies. The Company develops virtual queuing technologies for a theme park or other attraction. The Company designs, installs and operates systems, which allow members of the public to make ride and show reservations when they visit a theme park or other attraction. Its flagship product, VQ is a virtual queuing system for theme parks. Its hand-held units, called Q-bots, are used in theme parks around the world. The Company has overseas operations in the United States, Canada, Italy, Germany, Spain and Australia. more »

Candover Investments plc is a United Kingdom-based investment company. The principal activity of the Company is to invest in private equity transactions. It invests in buyouts across Europe via funds managed by its wholly owned subsidiary, Candover Partners Limited. The activities of its principal subsidiary, Candover Partners Limited, are to raise, invest and manage, on behalf of third parties, private equity funds (the Candover Funds), alongside which the Company makes co-investments. As of December 31, 2009, the Company's 10 largest investments included Expro International, Stork, Parques Reunidos, Alma Consulting Group, Ontex, Qioptiq, Equity Trust, Eurotax Glass's, Capital Safety Group and Innovia Films. During the year ended December 31, 2009, Candover Partners Limited purchased Bearstead Holding Sarl, which owns a 100% interest in Bosting Holding Sarl. In April 2011, the Company sold Candover Partners Limited and 29.1% of its portfolio of investments. more »