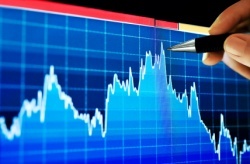 UK and US indices have rallied strongly since my last report, with the Dow climbing to 10653 from 10198, and FTSE100 rising to 5332, up from 5132. For the first time in a number of months, there's some clarity following what has been a very tricky period analytically. Both charts now have re-established the overall uptrends which began in March 2009, and I think it's reasonable to say that the bull markets which were identified in these reports last year are still intact.
It is pleasing that observations and comments made in my reports over the last few months seem to have eventually been right. In particular, the apparent head & shoulder top formations, which while impressive looking in terms of their size, just didn't seem to be in the right place at the right time, i.e. I said there was a question mark regarding context. What I meant by that was it seemed too early in the cycle (assuming it was a bull market) to be coming to an end. Context means not simply interpreting patterns in the same way wherever you see them, but also taking into account the relative position on the chart based on time and/or distance. This is a very powerful idea which allows you to eliminate certain patterns which otherwise might lead to incorrect conclusions if simply taken on face-value.
Another observation was that the markets had a number of chances to go significantly lower, and didn't really take them. If you like a "double negative" which equals a positive.
I pointed out in the last report how finely balanced things were, with relatively small swings shifting the probability one way then the other. I think this situation has now resolved itself, and both indices could easily absorb a fair amount of downward movement without altering the overall picture. While the current price action does now provide a much clearer indication of direction in the medium-term, i.e. up, there is nothing on the charts to suggest any particular target. That often happens, and it needn't be a problem, simply having a reasonably clear idea of medium-term direction is sufficient.
Last time £/$ stood at 1.52 and E/$ was 1.26. I said I expected them to move higher in the short-term, which they have to 1.59 and 1.32 respectively, but said I still wasn't convinced about a change to the bigger picture. Well these moves have now persuaded me that the medium-term downside risk on both charts has been pretty much eliminated, however given the strength of the recent advance, both charts may see some short-term corrective movement as they are a little overbought at the moment.
Gold is currently at $1205, slightly down from $1211 in my last report. While it's little changed overall, quite a lot has happened in those four weeks. On the bar chart, a small head & shoulder top has been completed, with a head at $1265 and neckline at $1180. I'm referring to the pattern as small because it is less than three months duration, so it's towards the lower end of the spectrum in terms of reliability. The price broke down to $1155 but has since rallied. The height of the pattern would give an eventual downside target of $1095. As I write, the price has just completed it's 8th consecutive daily move higher in order to reach $1211, so it's quite an interesting situation. The rally would seem to be vulnerable now after such a long sequence of up-days, and the H&S top could start to reassert itself. However, if the rally continues and the price manages to close above $1220, i.e. above the right-hand shoulder, then we would have to say that the H&S is no longer valid. (c) Robert Newgrosh 2010
---
Disclaimer:
As per our Terms of Use, Stockopedia is a financial news & data site, discussion forum and content aggregator. Our site should be used for educational & informational purposes only. We do not provide investment advice, recommendations or views as to whether an investment or strategy is suited to the investment needs of a specific individual. You should make your own decisions and seek independent professional advice before doing so. The author may own shares in any companies discussed, all opinions are his/her own & are general/impersonal. Remember: Shares can go down as well as up. Past performance is not a guide to future performance & investors may not get back the amount invested.
---
---