Michael Laurier, CEO of Symphony Environmental Technologies Plc, speaks to Stockopedia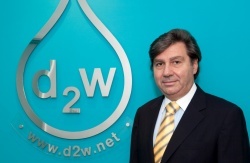 Symphony Environmental Tech Plc (LON:SYM) is currently a £17m market capitalisation AIM listed company which specialises in developing and marketing d2w additive to plastic manufacturers and commercial end-users to ensure the biodegradability of plastic in the environment.  The degree and speed of biodegradability can be 'programmed' into the plastic manufacturing process. The d2w additive is building brand-recognition worldwide.  The company has also created d2p anti-microbial additive which has many applications, particularly in the healthcare and food industries. Symphony does not manufacture products itself, but has subcontracted the work to specially selected and audited factories around the world - to maximise security and flexibility of supply.
To find out more, we met recently with Michael Laurier, CEO and Founder of Symphony at their new offices in Borehamwood.
Pleasure to meet you, Michael.  Can you tell us a bit about your background and how you came into the business?
Yes, I was born and bred in packaging; my grandfather started in 1920 with a natural product called jute - or burlap as some people may know it, and that's why I've got quite a lot of knowledge about how good or how bad are long-life shopping bags made from burlap products.  The business evolved and in my father's time went into plastics.  In my turn I looked for ways to improve plastic and found degradable technology. So it's evolved since the 1920s, although Symphony as the company known today was established in 1995.
Can you talk us through the evolution of the company?
Yes, Symphony was set up in 1995 and we floated on the OFEX market in 2000 and on the AIM market of the London Stock Exchange in November 2001. Since that date, we've been investing seriously into degradable plastic technology and also creating the market opportunity for the technology - which we describe as d2w - with a logo that looks like a water droplet. This is now the international symbol that appears on thousands of tonnes of degradable plastic packaging and shows that it's an eco friendly product.  A good example in the UK might be if you were to go into a newsagent or supermarket and look at the newspapers and magazines, where you'll find the little d2w logo on the plastic wrap, with an environmental message.  So it's through this sort of example that people can recognise the significance of what we are doing.
So how does d2w make plastics bio-degradable?
Basically d2w turns ordinary plastic at the end of its useful life into a material with a completely different molecular structure.  At that stage it is no longer a plastic and has become a material which can be bio-assimilated in the open environment by a similar process as a leaf.  
A lot of people get confused with the meaning of bio-degradable - what does it really mean? d2w causes oxidation, that's the first phase, which brings the molecular weight down so that it's harmless at that point. It's virtually invisible to the eye, and you might say "job done." Then, at that point, it goes into bio-degradation mode. 
The other Symphony technology, which is reasonably new for us, is called d2p.  It's an anti-microbial technology. I have in my hand a plastic pen and this is a good example of where one could use an anti-microbial product.  Somebody picks a pen up with dirty hands and somebody else then picks that pen up and you're moving harmful bacteria, around.  So d2p goes inside ordinary plastic and it gives it anti-microbial properties, so we're killing a lot of harmful bacteria and viruses.
d2p can go into lots and lots of different plastic products such as food-wrapping and items that are mainly touched by the human hand such as door knobs, lavatory seats, table-tops etc.  If you go to your fridge, for example, the fridge lining is made of plastic. Because it's in contact with food, it's the ideal environment for microbes to breed, If you were to put the d2p technology inside that plastic on the day that it's produced, you can give it years and years of anti-microbial service at very low cost.  It's quite an interesting market that we've just moved into.
When did you start up the d2p side? 
We announced it to the market last year and we've started accelerating the marketing and the R&D in the last few months.
Is d2w more of a solution for surface plastic littering, as it were, than for landfill?
Yes. Packaging is not just for protecting goods from damage and contamination – it also carries the brand-owner's message. The problem with that beautiful package, which generally costs quite a lot of money to produce, is that after it has served its purpose it could end up in the environment with the brand-owner's name on it. It could get blown around or float out to sea.  So the value of d2w to the brand owner is to minimise the negative exposure of his brand if it becomes litter. This is of course self-interest for him, but he is also doing the environment a favour because nobody wants to think of plastic waste lying or floating around for decades.
d2w plastic will fragment in a landfill where oxygen is present and will save some space, but a landfill is not an environment for which degradable plastic of any kind is really relevant.  Once a piece of plastic waste has been collected and buried in landfill it has already been disposed of responsibly.  Landfill operators do not want material degrading unless the landfill is designed to collect the gases - they prefer stability.  Actually, plastic should not be wasted by burying in landfill.  If it is not suitable for recycling (and most consumer plastics are not) it should be taken to a modern incinerator, where the energy within can be captured and used.
When we're talking about surface littering, a lot of people are saying there are huge volumes of plastic floating in the oceans, but if those plastic products had d2w inside they would quickly degrade and eventually bio-degrade.  So our technology is used for preserving brand value investment. It also conveys a new message to the consumer who buys the bread, or whatever the product might be - a new message saying 'Our plastic is not like any other -  it's actually an intelligent plastic'.
It's very easy to make the change to d2w.  Your current supplier of plastics remains your supplier, your manufacturer remains your manufacturer, you continue to use your favourite raw materials and printing inks. The only change is that you add 1% of our very special d2w additive to the production process, much like putting sugar into a cup of tea to make it sweet.  So a brand owner could make that change overnight, and at little or no extra cost. It's what I would call a no brainer.
Symphony has been building d2w up as a brand. Could you take us through that because that seems to be a core part of your strategy - and maybe any IP protection you may have as well?
So far as protection is concerned our formulations are copyright protected, but we are also following the Coca-Cola Principle by keeping our formulations a secret.  Also we're constantly changing our formulations, improving, and tailoring them to particular products and market conditions. We focus on the d2w brand, which is now known in more than 90 countries.  It is often co-branded with other brands and creates brand value perhaps in the same way that Intel would enhance the brand value of a computer.  So we're working the same principle, 'My plastic's got d2w inside' and that's how we're positioning the d2w brand.
So would brand-owners recognise that and feel that its the product that they have to have inside their own product or its packaging?
Exactly.  We have spent millions to develop our technology but the recognition programme is probably the most challenging.  We encourage our customers to use their marketing budgets to communicate to the rest of the world that they're using d2w and doing something positive for the environment. You can see the pen in my hand, it's an NH Hotel pen. On these pens, you will see the d2w logo. It's the d2w brand that they consider gives their pen and their hotels environmental benefit and helps them communicate their own message.
So, for example, we saw that you had signed a deal with the third-largest business hotel chain in Europe?
Yes, this is the NH Hoteles group with nearly 400 hotels. We've spoken about their pens but you can go into an NH Hotel anywhere in the world and find not just the pen, not just a d2w garbage bag or laundry bag, you will find the shampoo bottle, the conditioner, even the plastic comb would have the d2w logo on, and that sits next to the EC logo, which is an eco-brand.  So it's pretty important to them. They have major environmental initiatives and I think an important point about NH (apart from their spectacular growth from zero 10 years ago to 400 hotels now, employing something like 19,000 people) is their commitment to the environment. They are using solar power, they are conserving energy and water, and d2w plastic technology is one of their top, top initiatives. It's all part of what they offer to the public as being a hotel stay that has minimal cost to the environment.
I should add that NH Hotels and our other major customers don't just decide on d2w overnight – there is always a long period of due-diligence where everything has to be proved.
You've gone through a reorganisation and change in your strategy over the last couple of years. Could you please discuss that? 
Yes, the company itself has been evolving, and in time you always learn ways to do things better. The way that Symphony used to work was to trade the finished products. We would give the additive to the manufacturer in China or in India and bring the finished product back for sale. However, we found was that it was very, very difficult to work that business model because we usually had to dislodge an existing supplier. So the change in strategy was to work with and not against the supplier and to simply sell him the d2w which he could use in his existing machines.  The resistance to change then became far, far less. Entry to market was much better and we could use less capital because we were not trading the entire product.  So we became a technology provider rather than a commodity supplier. We still sell a small amount of finished product in the UK and in countries who do not manufacture themselves.
As finished-product was a high-turnover/low margin business with high financing-costs, an important effect of this change was to reduce turnover but increase profit.
After that, the next step was to consider how we would sell the additives. So, what we've done is to establish a global network of distributors who know what matters and who matters in their country, and it's these distributors, using their own capital and employing their own people, who stock and market our d2w, and soon our d2p, additives. Three years ago we had only seven Distributors, but now we have 57, who are covering 92 countries.
Maybe you could talk to us about the difference between oxo and hydro plastics because you're regularly discussed in comparison with Plantic Technologies (LON:PLNT) amongst investors, and I understand you're very different?
As we speak, I think your readers will know that Plantic is de-listing. One of the reasons we think is that we don't believe that any company that's trying to sell hydro bio-degradable products, can ever be successful. Plantic's product is similar to Stanelco who went through a name change very recently and had done several major fundraisings.
Hydro-biodegradable products are made from food crops, which makes supply very limited, and a lot of people think that land and water resources should be used to grow food, not to grow crops to make plastic. Rather like the Sinclair C5 it seemed like a good idea at the time, but people have realised that this type of plastic is not really "renewable," it is much too expensive for everyday use, and has other major drawbacks.
The global capacity for food-crop to make hydro bio-degradable plastics is in the region of 500,000 tonnes. We're in a market that has a capacity of between 200m and 250m tonnes, so they're not serious competitors in the first place.  Further, most of the hydro bio-degradables will only work if you pick them up and take them to an industrial composting unit.  So if it's floating in the ocean or lying in the forest it's not going to biodegrade anything like as quickly as d2w plastic.  Even under industrial composting conditions it's not much use, because it turns itself into CO2 gas within 180 days – contributing to climate change but doing nothing for the soil.  Even worse, if it gets into anaerobic conditions it can emit methane, which is 23 times more powerful as a greenhouse gas than CO2. 
For these reasons we think that there's very limited commercial scope for these "bioplastics."
Special Offer: Invest like Buffett, Slater and Greenblatt. Click here for details »
What other competitors do you see in the bio-degradable plastics business and what do you see as your competitive advantage? 
Well in hydro bio-degradables there are a few companies that have got very, very deep pockets – and they need to have deep pockets in order to keep going!  You can talk about NatureWorks LLC in the United States, or a company in Italy called Novamont, and BASF (PINK:BASFY) in Germany.  They have very aggressive PR strategies against oxo –its a compliment really that they are so worried about competition from us.
They came into the bioplastics business because about ten years ago there was a fad in the world about sustainability and anything that you grow was considered to be really good. The reality is different.  You can take a handful of examples where start-up companies with zero funding get market caps of 300m to 400m but will never be capable of producing anything meaningful in terms of profit.  So they start with lots and lots of investment and over the years - and I'd rather not quote any examples - the capital has drained out and you're thinking 'Where do they go from here?'
But on the oxo side do you see any competition?  When you're trying to sell into plastics manufacturers are there alternatives to what you're doing now?
Fortunately we are not in a saturated market scrabbling for market-share.  All the oxo companies together have only just scratched the surface of the market. Symphony is now the world leader – operating as I said in 92 countries. We are the only public company, and the others are small private companies. We don't just sell a bag of additive, we have a technical team with more than 50 years experience between them of actually running a plastics factory, who can give our customers all the technical support they need.
Of course, when you start creating markets, you always get lots of people trying to copy but there's nobody really that has our model.  The best way of describing this is that there are an awful lot of coffee shops out there where the coffee is cheaper than Starbucks, but the experience isn't even close.  One is able to sell its coffee for £2 a cup and the other can barely make 50p.  Our model, as you heard me say, is about working with the commercial end-user and creating value for his brand. So we're not really trying to sell the additive.  We're actually getting involved in the marketing concept and it is a lot different to what anybody else might try to do.
So is that what the team here are most focused on?
Our team here at Head Office is developing, improving, and supporting a global infrastructure.  We don't do much direct selling now -  we train people technically, we train marketing and PR and legal people, we train and improve all aspects of the business. We have strengthened significantly our marketing department and our technical department by employing additional graduates and purchasing some very sophisticated equipment. Each group of Distributors is supported by a manager reporting direct to me.
On the political side, what sort of legislative trends do you see?  Are there trends around the world to encourage the take up of these products?
Yes we are very much alive to political and legislative change.  Our Chairman is a member of the European Parliament, and our Deputy Chairman was a member of the UK Parliament who served on its Environment Select Committee.  There are currently lots of trends, some negative because politicians and officials are lobbied hard by the bioplastics companies, and some have imposed complete bans because they just don't know what the alternatives are. Banning plastic altogether is not practical, so they focus on the humble carrier bag to make a gesture.  But there are some countries that pass legislation that actually encourages the use of degradable plastic.
Such as any specific countries?
There are quite a few but the most visible at the moment is the United Arab Emirates.  They have seen the plastic waste in their deserts and around their coasts, and they know that they will not be able to collect it.  So they have passed laws that say you must use oxo-biodegradable plastics made with an approved technology. The UAE government undertook an in-depth process of due-diligence, including inspecting our laboratories and factories, and they have certified d2w as an approved technology.  So yes, in answer to your question, legislation is changing all round the world to put pressure on retailers and other commercial end-users to adopt a more responsible position on plastic waste in the open environment.  Symphony is in the right space at the right time and being the only dedicated public company we're very visible and very credible because we have to meet much higher standards than a smaller private company in this industry.
If we just maybe touch on valuation, Symphony might appear to trade at a PE discount to some comparables in this sector.  As a growth story and, I guess, a clean-tech company one might expect more of a premium. Do you feel the discount is a result of size or is it something else?
I agree that there is currently a low valuation and I think it is due to a time-lag in the market digesting the fundamental change in the company. Bad news always comes out fast but good news is sometimes one of the best kept secrets.  I think, so far as Symphony is concerned, it is gradually sinking in that last year the company made its maiden profit after a 10 year development phase  and that we have affirmed progress with the results for the first half of 2010, announced on 6th September. The SP has risen substantially over the last two years. All this is due to d2w degradable plastics and in future years we expect a growing contribution from the d2p anti-microbial product.
As the market-cap rises, Symphony will get on to more of the radar screens of the large investors, but a mature investment fund would look to buy very large amounts of stock and it's difficult to buy large amounts of Symphony stock.
Would there be any need for sizeable fundraising which might give an opportunity to get more of those institutions on board at a later date? Do you see a need for that extra capital?
Not really – unless we needed it for a major project or acquisition.  I'm sure your readers would have heard that in the last set of results we announced that we were focusing on bringing debt down and we have actually brought debt down. We now have shareholder approval to buy Treasury shares and we are in a position to pay a dividend when the time is right. 
What do you think are going to be the key earnings and sales drivers for Symphony over the next couple of years? 
By dramatically expanding our distribution network so that we now have global reach, and by improving its quality and our central support services, we have created an enormous pipeline of opportunity which is beginning to show results on the bottom line.  This is the foundation of not just a steadily growing business but we think could be substantially better than that.  So if we just reflect on the number I gave earlier, global demand for plastic is between 200m and 250m tonnes.  Our view is that we are in a market that has a value of somewhere between $1.5b and $3bn, so if we took only 5% of that market, our shareholders would be more than content.  So we have a very, very big opportunity and we are the main player, the most visible player, and the only quoted company in that arena.
In recent interims I think you had a 33% increase in underlying profits, and the trend seems to be continuing from last year.  There do seem to be more trade debtors; are you being more lenient with terms in order to drive the sales and do you have the financing in place to grow like that?
We have no bad debts.  Increases in trade debtors is a function of increased trade and we had a surge of business in the last period whose payments didn't come in until the next period. Far more of our customers are now able to get trade-finance insurance and if we have credit-insurance cover on a customer, it's easy to finance the debt and create the sale. Under those circumstances, we have no issue with being able to finance an increasing trade-debtor book through traditional bank financing.
So you have enough headroom there, so that you can really push sales in that way?
Yes we do.
What do you see as the biggest opportunity on the horizon, what's driving everybody here?
What's driving everybody is the increasing awareness on the part of the public and their governments around the world that something must be done about plastic waste which gets out into the environment and cannot realistically be collected.  In the real world people cannot manage without plastic to protect their food and other goods from damage and contamination, and there is no need to do so.  All you need to do is to use d2w technology to make plastic degrade in much the same way as a leaf.
As I have said, we are as yet only scratching the surface, and we believe that every tonne of plastic that's being produced for products with a short service-life should have our technology inside. There is now an opportunity to control the life of every piece of plastic.  So if I have a piece of plastic in my hand, it could be a shampoo bottle or it could be a drinking straw, you can't predict how long that will last. It's got the potential to last for decades. That, to me, doesn't sound right.  If the technology's available, which it is with d2w, to be able to predict the approximate end of life of that product, then our mission is to aim to get all of it converted, which takes me back to a modest $1.5b to $3bn market. How much of it can we take? We'd like to think a fair amount.
That sounds like a very ambitious plan?
Yes, it's an ambitious plan and that's one of the reasons why we're a public company. I believe, and have always believed, that we need to share what we're doing with other people.
Is there an exit plan that you have here, would you see yourself being eventually acquired by a bigger plastics group or what?
We're very open-minded.  Our main focus is to keep seeing the value of the company increase. As the value increases, the exit route for any investor is always in place. We've seen, in time, that many investors have come in, some people were lucky enough to get in at the 2.5p level, quite a lot of them got out at 5p, others got in at 5p and exited at 10p, so perhaps the ones getting in at 15p might exit at a lot higher.  So there are continual exit routes, as you have with any decent public company.  As to an all-out exit route for the entire company, we're not ready for that yet. We haven't executed the plan yet, we've got a long way to go.
Well thanks very much for speaking to Stockopedia.
It's a pleasure, thanks for doing the interview.
There's
value
in the stock market
but do you know where to look?
Get the most concise synopsis of everything that's been proven to work in value investing. If you like your stocks cheap you've found a treasure trove distilled to under 70 pages.
How to find ultimate Bargain Stocks with Ben Graham
How to spot Turnarounds and avoid Value Traps
From Graham to Greenblatt via Piotroski & Lakonishok
How to value stocks and set a margin of safety
Disclaimer:
As per our Terms of Use, Stockopedia is a financial news & data site, discussion forum and content aggregator. Our site should be used for educational & informational purposes only. We do not provide investment advice, recommendations or views as to whether an investment or strategy is suited to the investment needs of a specific individual. You should make your own decisions and seek independent professional advice before doing so. Remember: Shares can go down as well as up. Past performance is not a guide to future performance & investors may not get back the amount invested.
---
---