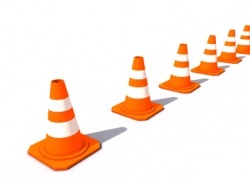 Shares in building services group ROK (LON:ROK) edged up by 6.5% to 20.5p this morning despite news that revenues from continuing operations for the half-year to end-June fell by 15% to £308.1m. Rok will pay an interim dividend of 0.5p. Group operating profits, before restructuring costs and amortisation of intangibles, fell by 49% to £4.5m (2009: £8.9m). Fixed costs have been reduced by 7%. Underlying operating margins on the same basis fell 0.9% to 1.5% (2009: 2.4%).

Restructuring costs of £6.8m were incurred in the first half relating to the streamlining of the cost base in the Maintenance and Improvements division, including the restructuring of the PHE business. PHE became the focus of attention earlier in the year when "serious failings in the financial controls" of the business emerged. Finance costs from continuing operations were £1.5m (2009: £1.3m). Headline profits before tax from continuing activities before intangibles amortisation and exceptional restructuring costs reduced by 61% to £3.0m (2009: £7.6m). Amortisation of intangible assets reduced from £0.6m to £0.4m being the amortisation of brands and order books associated with acquisitions.

Elsewhere, a tax credit of £1.0m (2009: £1.5m charge) represents an effective rate of 25% (2009: 25%). Basic earnings per share from continuing activities fell to (1.6)p (2009: 2.6p). Adjusted earnings per share before intangible asset charges and restructuring costs reduced to 1.0p (2009: 3.3p). The disposal of development assets held by the group in its discontinued development portfolio continued during this period - disposal proceeds totalled £1.6m.

Operating cash inflow before tax, defined benefit pension contributions and restructuring costs paid for the first six months of 2010 was £5.9m, (2009: (£9.5m)) which reflects the more stable business mix following the downsizing of our cash generative construction activities throughout 2009. Group net debt at the period end was £47.6m (2009: £57.0m) reflecting the changes referred to above. Average net debt during the period amounted to £64.2m compared with £65.1m during the second half of 2009. The Group has committed bank facilities totalling £81.0m on a three-year revolving credit facility expiring in March 2012. The facilities amortise to reflect Development asset disposals. All banking covenants have been met throughout the period. The Board is proposing to pay an interim dividend of 0.5p per share (2009: 0.75p). This reflects the Group's policy of adjusting the dividend in line with the change in underlying earnings per share.

Stephen Pettit, Rok's chairman, said: "Rok has a diversified range of revenue streams, a growing customer base, a strong order book with a very high level of visibility of work well into next year, significantly improved cash generation, and excellent customer satisfaction. The problems within PHE have been a regrettable chapter in Rok's history. Immediate and appropriate action was taken relating to the shortcomings in financial and operational control in this part of our Maintenance and Improvements operations as referred to in our recent trading update. The Board and management team are totally committed to rebuilding the strength of the business and delivering against expectations."
© 2010 Stockmarketwire.com. All rights reserved
---
Disclaimer:
As per our Terms of Use, Stockopedia is a financial news & data site, discussion forum and content aggregator. Our site should be used for educational & informational purposes only. We do not provide investment advice, recommendations or views as to whether an investment or strategy is suited to the investment needs of a specific individual. You should make your own decisions and seek independent professional advice before doing so. The author may own shares in any companies discussed, all opinions are his/her own & are general/impersonal. Remember: Shares can go down as well as up. Past performance is not a guide to future performance & investors may not get back the amount invested.
---
---