SEAQ, Market-makers and the Liquidity Trap for Small-Caps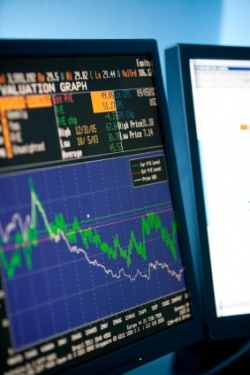 There's a danger lurking at the heart of the London market for smallcaps, one which, if not addressed soon, could imperil London's status as an attractive place for smaller companies to list compared to markets like Toronto and Australia.... We are of course talking about "fat spreads". As most readers will know, bid-offer dealing spreads are the difference between what an investor pays for buying the shares and what the seller gets for disposing of them at a particular point in time. When there are lots of buyers and sellers (i.e. when a stock is "liquid"), competition forces the bid and offer closer together so that this difference for a stock like Barclays is insignificant. Unfortunately the situation is very different for most AIM and PLUS stocks. If a share price is quoted at say 16p-20p, then a smallcap investor knows that, as soon they buy a share, they could be 20% down. High dealing spreads like this can deter investors, which creates a dead-weight loss for both companies and investors.
The issue is that that the bulk of small-caps still use the old Stock Exchange Automated Quotation system ("SEAQ"). Most Main Market and the largest Aim shares are traded on the order-driven SETS, SETSqx and SETSmm platforms. SETS is the LSE's proprietary electronic order book for the the most liquid stocks, which works by matching buy and sell orders electronically. In practice for traders, SETS means that the order book is open to the public. An individual investor can put an order on the book using a direct market access share account (e.g. via iDealing or IG Markets).
In contrast to this, SEAQ is the London Stock Exchange's non-electronically executable quotation service that relies exclusively on specialized and competing dealers also known as market-makers.  Market makers (or 'jobbers' as they were once known) were formerly the exclusive wholesalers of the stock market. SEAQ stocks need to have at least two market-makers who  are obliged to offer to buy and sell shares to investors at all times. SEAQ effectively gives a monopoly over all of the incoming orderflow to the market makers since members of the public cannot submit limit orders which can match with each other.
The idea behind SEAQ is that individual investors should always be able to trade and that the element of competition between market-makers should lead to narrower dealing spreads and a hunger to do business. In practice, however, this doesn't seem to be working. Bid/ask spreads and hence trading costs on SEAQ seem typically very high.  It's a vicious circle – illiquidity creates large spreads which, in turn, worsens liquidity.
There is another way, such as the Direct Market Access systems employed in Canada and Australia, which allow traders even in smallcaps  to deal directly with each other. On the exchanges in Canada, if you want to sell a stock, you offer it at a set price. That offer is placed on the exchange and if somebody wants to buy, they can at that level. Period.
Equally, though, there is the SETSmm system introduced in this country for the trading of Main Market Mid Cap securities in November 2003 or another variant, SETSqx. SETSmm is an electronic order book system. It differs from SETS in that MMs can visibly place their quotes on the book too – so even in the absence of orders from other traders/investors, there will always continuous liquidity provision from market-makers (who post two-way prices on the SETSmm screen that are firm up to the normal market size of the stock).
You will notice market maker quotes alongside anonymous orders. Hence investors can trade via a system which offers more of a level playing field, but have the assurance that there will always be firm two-way prices available.
SETSqx is one other system designed for the less liquid shares which works by merging an electronic accumulation of orders with individual bids and offers of market makers (it's akin to SEAQ with 4x daily auctions at which DMA orders can be filled).
Independent analysis has shown moving to systems like SETSmm improve market efficiency. And on the second anniversary of its introduction, the LSE commented that:
"the greater market efficiencies created by SETSmm have led to a direct reduction in trading costs paid by investors… the real cost of trading in the securities that have moved to SETSmm have fallen by almost 50 per cent over the last two years".
Since 2005, the SETSmm platform has also been extended to include the c. 100 largest AIM stocks. And yet this "highly successful" initiative now appears to have stalled. It's a shame that this has not been rolled out to cover the long tail of literally thousands of companies listed on AIM.
Special Offer: Invest like Buffett, Slater and Greenblatt. Click here for details »
In fairness, a number of useful measures have been taken by the LSE to address the issue of spreads. The LSE announced back in November 2006 a Larger Size Market Maker scheme offering Larger Size Market Makers a proportion of the Exchange charge for trades, provided that a firm's quotes must meet certain size and spread requirements. [1]
But the worry is that this is just tinkering with incentives, rather than addressing the root causes, i.e. increasing competitive pressures. And things appear to have been getting worse in the meantime. Weak stock prices in the past couple of years have lead to a big decline on the number and value of shares being held by marketmakers in smallcaps. In "normal times" when there was institutional demand for a stock, MMs would take sell orders from small investors and take the stock onto their own books until they had a sufficient quantity to pass on to institutional clients who are not typically not really interested in picking up smaller parcels of shares. In times of crisis, however, there's a risk that the market-makers run scared at the first sign of trouble, and virtually shut up shop because they can't easily get credit to support their activity, and they fear being saddled with a load of stock on their books. As a result, one investor on the site has rightly noted:
"There are currently institutions that WOULD like to buy meaningful quantities of a given stock – but the MMs won't take small parcels onto their own books for them. As a result, when a PI sells even a small parcel, the MMs will drop the price significantly. The bottom line is that you end up with a totally false market that does not reflect the true supply/demand situation for stock".
There are of course arguments in defense of SEAQ.  One view is that market makers add to the liquidity and depth of the market and that, on smaller, order-driven markets, it can be difficult to determine the buying and selling prices of even a small block of stocks that lack a clear and immediate market value because there are often no buyers or sellers on the order board. Nevertheless, the Australian, Canadian and even Norwegian exchanges all operate effectively with an order driven system with large numbers of smallcap listed businesses.
It just seems unfortunate that, in a modern financial centre like London, small caps still have to deal with a trading platform that has been discarded for larger companies and which seems contrary to the interests of both investors and smaller companies. If the market is not pricing these shares correctly, then the worry is that London could eventually cease to be a place where smaller companies can raise equity capital on attractive terms. In our opinion, it's time to change to a transparent, order-driven system, one that gives potential buyers and sellers direct access to the market for all listed companies.  
Interestingly, Sharemark (http://www.sharemark.com) – The Share Centre's trading platform – also offers an order-based trading system for AIM listed companies such as Brainjuicer Group Plc or LO-Q. Sharemark operates a periodic auction-based dealing facility, which works by matching prospective buyers with prospective sellers. According to Sophie Douglas, Manager of Sharemark:
'The Sharemark order driven mechanism can also be used for the dual trading of AIM and PLUS listed stocks, providing an additional liquidity pool complimenting those markets'.
Commenting back at the second anniversary of SETSmm, Martin Graham, the Exchange's Director of Market Services and Head of AIM, said:
  "SETSmm has ... brought about a reduction in spreads which in turn has stimulated increased trading.  It has also encouraged the entrance to the market of new participants who prefer order-book trading… with end investors benefiting from a reduction in trading costs of over £330 million a year."
Surely it's time for smallcap investors to start seeing some of these benefits too? Because if they don't, the worry is that investors are more than capable of upping sticks and moving their investing to other markets like Canada, which would be a shame for all concerned - even the market-makers.
There's
value
in the stock market
but do you know where to look?
Get the most concise synopsis of everything that's been proven to work in value investing. If you like your stocks cheap you've found a treasure trove distilled to under 70 pages.
How to find ultimate Bargain Stocks with Ben Graham
How to spot Turnarounds and avoid Value Traps
From Graham to Greenblatt via Piotroski & Lakonishok
How to value stocks and set a margin of safety
Disclaimer:
As per our Terms of Use, Stockopedia is a financial news & data site, discussion forum and content aggregator. Our site should be used for educational & informational purposes only. We do not provide investment advice, recommendations or views as to whether an investment or strategy is suited to the investment needs of a specific individual. You should make your own decisions and seek independent professional advice before doing so. Remember: Shares can go down as well as up. Past performance is not a guide to future performance & investors may not get back the amount invested.
---
---

Lo-Q plc is engaged in the development and application of virtual queuing technologies. The Company develops virtual queuing technologies for a theme park or other attraction. The Company designs, installs and operates systems, which allow members of the public to make ride and show reservations when they visit a theme park or other attraction. Its flagship product, VQ is a virtual queuing system for theme parks. Its hand-held units, called Q-bots, are used in theme parks around the world. The Company has overseas operations in the United States, Canada, Italy, Germany, Spain and Australia. more »

Barclays PLC (Barclays) is a global financial services provider engaged in retail banking, credit cards, wholesale banking, investment banking, wealth management and investment management services. The Company's operations include its overseas offices, subsidiaries and associates. The Company operates in eight segments: UK Retail and Business Banking (UK RBB), Europe Retail and Business Banking (Europe RBB), Africa Retail and Business Banking (Africa RBB), Barclaycard, Barclays Investment Bank, Barclays Corporate Banking, Wealth and Investment Management, and Head Office and Other Operations. In April 2012, its investment banking division is combining its corporate finance and mergers and acquisition groups. In July 2012, it sold 90.4% of Sweden-based carbon project developer Tricorona back to the Company's management. In February 2013, Kotak Mahindra Bank Ltd acquired the business loans portfolio of the Indian arm of Barclays Plc. more »

BrainJuicer Group PLC (BrainJuicer) is a full service quantitative market research agency. BrainJuicer and its subsidiaries provide on-line market research services. The Company's solutions include Creative 6ers, SatisTraction, DigiViduals and ComMotion. SatisTraction uses its FaceTrace and MindReader technologies to assess customer experience. SatisTraction can deliver data in real time through an online portal. DigiViduals are advanced robotic researchers programmed to represent a particular marketing construct and comb the social media landscape to build a picture from which insights and new products can be generated. The Company's principal operating subsidiary is BrainJuicer Limited. Using its FaceTrace technology, ComMotion measures what people are feeling and how they're feeling it. During the year ended December 31, 2011, the Company opened an office in Atlanta, Georgia to serve its clients in the American South and Southeast. more »