Site Upgrades: Portfolios, Alerts and Extended Coverage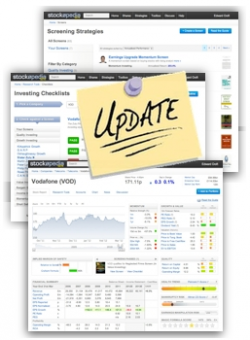 We are dedicated here at Stockopedia to creating the kind of tools that our subscribers need to make better decisions in the markets. But in our dedication to generate the best toolkit for smart investors to discover and analyse stocks we had to put our portfolio ambitions on hold… until now!
We've always supported the ability to create watchlists of stocks and add some simple holdings size and cost prices to the lists, but serious investors need serious tools. Today's release is just the first step along the journey to what we hope will be the best portfolio management system on the planet. Not only that but we've extended coverage and released a new alerts system… here are a few feature highlights from last night's release (sign up here for a free 2 week trial):
Portfolio Base Currencies
We have added support for multiple portfolio currencies. At the moment we are providing GBP, EUR and USD currency support but can add more on request. This sets the reporting currency for your portfolio and all gains/losses will be reported in this currency.
Transaction support
We've added the ability to log all your portfolio history - with transactions in whatever trade currency they were traded in. Many London traded securities are priced in Euros, Dollars, even Norwegian Kroner - so this is an essential feature. The portfolio overview page provides an aggregated view of all the positions in your portfolio.
Withdrawal/Deposit Support
If you run your own dealing account, have an ISA or SIPP you'll always have a cash balance unless you are fully invested. We are pleased to announce that we now provide the ability to log cash deposits and withdrawals to generate a more complete portfolio valuation.
Allocation analysis
For sure many sites provide a pie chart showing your sector allocation - but frankly that's not very helpful. Our allocation report shows you exactly which sectors you are overweighting versus the market, which stocks are below or above target allocations so that you can find your blind spots fast.
Ratios and Analytics
Ever wanted to know what your overall portfolio P/E ratio is vs the market, or even what the overall financial risk is? We have taken the first step towards this goal with a new Analytics page that tracks all our most popular financial analysis apps on the portfolio level (F-scores, Z-scores etc) as well as the key ratios investors need to track to ensure they are ahead of the market. These features will be advancing quickly in coming months.
Special Offer: Invest like Buffett, Slater and Greenblatt. Click here for details »
Portfolio Charts & Calendars
Now you can track your overall portfolio valuation visually. We provide several charts including portfolio valuation, equity valuation, and profits. We've also provided a new Portfolio Calendar feature that provides agenda, week and month views - quickly discover when companies have upcoming announcements or events.
Extended Coverage - Closed End Funds, ETFs and Preference Shares
You can now add over 4000 securities to your watchlists/portfolios.  We've added closed-end funds, ETFs and Preference Shares so every LSE and AIM traded security and over 120 PLUS listed shares are now available for portfolio/watchlist tracking. Watch this space as we plan to soon add pan-European coverage. Let us know via the Green Feedback button if you can't find the stock you're looking for. 
Technical and Fundamental Stock Alerts (& Notes)
Alerts have often been offered by websites based on price movements. We've taken this a huge step forward with a new alerts system based on any of our screenable ratios. If you ever wanted to buy a stock but only at a PE Ratio of e.g. less than 10, you can set that up. Or if you just want to know when the stock is trading 70% above its 200 day moving average as a sell signal… you can do that too. See the button on all Stock Reports or your alerts centre from the drop down in the top menu. 
We've also added quick, easy and private note-taking on all stocks & transactions, so you can keep track of stocks you're watching record the rationale for each purchase and avoid confirmation bias! 
More coming soon - please give us feedback
This is really only the first step and these features are still labelled 'beta'. We need the community support to help iron out any remaining issues, and help develop the feature set that most matters. We have big plans to create the kind of portfolio monitoring that we dream of - with diversification and risk alerts, trade ideas, dashboard overviews, portfolio groups and full risk and optimisation analytics - so please get in touch and let us know how we can improve these tools to satisfy your needs.
Safe Investing !
Follow edcroft on Twitter
There's
value
in the stock market
but do you know where to look?
Get the most concise synopsis of everything that's been proven to work in value investing. If you like your stocks cheap you've found a treasure trove distilled to under 70 pages.
How to find ultimate Bargain Stocks with Ben Graham
How to spot Turnarounds and avoid Value Traps
From Graham to Greenblatt via Piotroski & Lakonishok
How to value stocks and set a margin of safety
Disclaimer:
As per our Terms of Use, Stockopedia is a financial news & data site, discussion forum and content aggregator. Our site should be used for educational & informational purposes only. We do not provide investment advice, recommendations or views as to whether an investment or strategy is suited to the investment needs of a specific individual. You should make your own decisions and seek independent professional advice before doing so. Remember: Shares can go down as well as up. Past performance is not a guide to future performance & investors may not get back the amount invested.
---
---