Tracking the FTSE All Share Highs and Lows: Everything else is just in between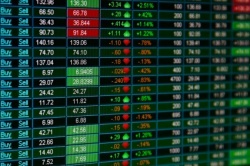 In a week in which Warren Buffett said that "it's quite clear that stocks are cheaper than bonds, I can't imagine anyone having bonds in their portfolio when they can own equities", it's little wonder that equities have continued their recent strength.
In spite of weakness today, the FTSE 100 was up by 1.2% on the week and the FTSE small cap index has continued on to further new highs. It appears that money has been rotating out of the defensive consumer stocks into cyclical base and precious metals, mining, engineering and alternative energyas investors have become more confident in a rebounding global economy.
One interesting way to track the pulse of the market by focusing on those stocks making new 12 month highs and new 12 month lows. The list of new highs is a constant source of new ideas as the only way for a company to become a 'multi-bagger' is by appearing on this list many times in succession.  By keeping one eye on this list each trading day, you can regularly find new names for further research.

But it's not only the names on this list that are of use. The ratio of highs to lows can tell you much about the health of the market, as it is an indicator of the market's 'breadth'.  In recent weeks, the ratio has stood at 3 new highs to each new low which signals a broad participation of stocks in the current rally. Often a divergence suggests that a move in the index is unsupported by the overall market, and thus can be seen as an early warning sign of that the market is at a turning point.  Of course, any indicator taken in isolation cannot be trusted, but as another tool in the investor's toolbox breadth indicators such as this are very useful.
New Highs

There have been over 100 new 12 month highs on the London market in this week's trading. The main story has been the continued charge of the Gold price, which burst through the $1300/oz barrier and now looks to be breaking out to a new high in Sterling too. In times of financial distress and concern over fiat currency devaluation, many look to Gold as the oldest and most reliable currency around.  As a result, there has been much strength in London listed gold companies, with a number gold companies like Allied Gold Ltd (LON:AGLD), Avocet Mining (LON:AVM) and African Aura Mining (LON:AAAM) all hitting new highs.  An indication of the strength of this sector is that Hochschild Mining Plc (LON:HOC) continued on to a new high in spite of Goldman Sachs downgrading their price target to 485p, after stating that the Azuca project scope is smaller than expected.
Gold's often ignored cousin silver seems to be where the smart money has been heading as the gold/silver price ratio is at its lowest in years.  After breaking out to a new high of nearly $24/oz miners, the few London listed pure play silver miners such as Herencia Resources (LON:HER) have been having an excellent week.

One of the reasons for Buffett's optimism over equities is the fact that so many stocks are paying out better yields in comparison to comparable bond instruments.   As a result, the new highs lists are filled with strongly yielding stocks including BT Group (LON:BT.A) at 4.5% and an array of financial sector companies from Aberdeen Asset Management (LON:ADN), Intermediate Capital Group (LON:ICP) and Ashmore Group Plc (LON:ASHM) Group to spread betters such as IG Group Hldgs (LON:IGG) Index, all of which yield above 3.5%.

The continuing strength of the engineering sector is putting cyclical names like Bodycote International (LON:BOY), Melrose (LON:MRO), and Weir Group (LON:WEIR) on the new highs list as fund managers back the continuing rebound of the economy. Melrose is trading on a 1 year rolling p/e of 11 times and is expected to pay a 3.5% yield for next year.

Other notable new highs include recent flotations Easydate (LON:EZD) and Mood Media Corporation (LON:MM.), and alternative energy favourites ITM Power (LON:ITM) and   Renesola Ltd (LON:SOLA).  Renesola -  one of the leading solar wafer producers globally and a trader's favourite over the last 5 years due to its radical price swings - has broken back through the £4 barrier for the first time in 2 years.

New Lows
Out of all the 33 new lows on the day, only 3 have a market capitalisation above £60m, suggesting that most of the names being ignored are much smaller and micro cap companies that are below the radar of the big institutional funds.  The more notable new lows however include Ocado which is continuing to look ever more severely mispriced at its recent float, and Allied Irish Banks (LON:ALBK) in the wake of the continuing Irish banking crisis and an announced $2bn capital raise. 
Of course, all these names require a lot more research before making any investments, long or short, but by tracking the sectors and names that are featuring more prominently in new highs and lows lists, you can get a very good sense of where the action lies and where the real stories of the week are to be found.
25 New Highs This Week on the FTSE All Share

Name

Price

% Gain - Week

Sector

Aberdeen Asset Management

1.679

3.1

Financial Services

African Aura Mining Inc

1.37

9.6

Mining

Allied Gold Ltd

0.3175

11.4

Mining

Ariana Resources

0.045

12.5

Mining

Ashmore Group

3.522

4.4

Financial Services

Avocet Mining

1.8125

8.5

Mining

Bahamas Petroleum Company

0.071

44.0

Oil & Gas Producers

Bodycote

2.788

11.5

Industrial Engineering

BT Group

1.518

6.3

Fixed Line Telecoms

Easydate

1.205

15.9

General Retailers

Focus Solutions Group

0.855

58.3

Software & Com. Services

Gemfields

0.11

114.8

Special Offer: Invest like Buffett, Slater and Greenblatt. Click here for details »

Mining

GoldStone Resources Ltd

0.0638

7.6

Mining

Herencia Resources

0.0163

1.6

Mining

Intermediate Capital Group

3.129

4.0

Financial Services

ITM Power

0.39

21.9

Alternative Energy

Kryso Resources

0.1825

12.3

Mining

Melrose

2.899

3.8

Industrial Engineering

Mood Media Corporation

1.175

4.9

Media

Mulberry Group

4.405

13.8

General Retailers

Obtala Resources

0.44

7.3

Mining

Polar Capital Holdings

1.15

3.6

Financial Services

ReneSola Ltd

4.045

5.0

Alternative Energy

Talvivaara Mining Company Ltd

5.305

8.0

Industrial Metals & Mining

Weir Group

15.22

5.0

Industrial Engineering
 Source: Sharescope
There's
value
in the stock market
but do you know where to look?
Get the most concise synopsis of everything that's been proven to work in value investing. If you like your stocks cheap you've found a treasure trove distilled to under 70 pages.
How to find ultimate Bargain Stocks with Ben Graham
How to spot Turnarounds and avoid Value Traps
From Graham to Greenblatt via Piotroski & Lakonishok
How to value stocks and set a margin of safety
Disclaimer:
As per our Terms of Use, Stockopedia is a financial news & data site, discussion forum and content aggregator. Our site should be used for educational & informational purposes only. We do not provide investment advice, recommendations or views as to whether an investment or strategy is suited to the investment needs of a specific individual. You should make your own decisions and seek independent professional advice before doing so. Remember: Shares can go down as well as up. Past performance is not a guide to future performance & investors may not get back the amount invested.
---
---

ITM Power Plc designs and manufactures hydrogen energy systems for energy storage and clean fuel production. In February 2013, the Company sold the first reference plant based on the HPac platform. more »

BT Group plc is a communications services company. The Company is engaged in providing and managing data and voice networks and providing a range of services over these networks. It operates in approximately 170 countries worldwide. The Company is a principal communications services provider, selling products and services to consumers, small and medium-sized enterprises and the public sector. The Company also sells wholesale products and services to communications providers in the United Kingdom and around the world. The Company supplies managed networked information technology (IT) services to multinational corporations, domestic businesses and national and local government organizations. Bt has four lines of business: BT Global Services, BT Retail, BT Wholesale and Openreach. In December 2012, the Company sold of its remaining 9.1% iin Tech Mahindra Ltd to institutional investors. more »