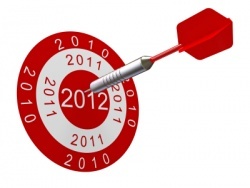 As the idea for this post came from Philip O'Sullivan, it seems apt to quote the first paragraph of his post at the start of mine by way of explanation:
In a recent email exchange with some of the leading share bloggers in the UK and Ireland I proposed that we each sit down and draft our thoughts for how the markets will behave in 2012, and what stocks we'd like to own to play some of those themes. Given resource limitations (I don't know of any blogger who has a team of analysts working for them!), there will, I'm sure, be quite a bit of selection bias in the names we highlight – generally speaking, people invest in what they know! I illustrate that perfectly by choosing 5 Irish listed names in my core picks, although all of them are firms with a distinct international dimension (none of them could be described as plays on the Irish domestic economy). But despite the selection bias I do think that this is a worthwhile exercise, and one that will no doubt contribute to idea generation. As ever, readers are strongly advised to do their own research and consult a professional financial adviser if they want to invest their own money.
The concept, then, was to pick twelve stocks we thought would outperform in 2012. Staying true to form, I'm being a little more boring that Philip and choosing to stick precisely with what I know - my portfolio, more or less. My reasoning is that my portfolio is run by looking at the stock market and picking stocks I think are likely to make me money; if I don't think that, the stock should get dumped. If I were to pick twelve stocks different from my portfolio, the logical thing to do would be to sell my portfolio and buy the twelve stocks - more or less! Unless, of course, I think that I can pick stocks that will go up in 2012 but not necessarily the longer term. That sort of prediction is something I won't even try and dabble in, so I'll keep my faith in value. Maybe it'll outperform this year, maybe it won't - there are no certainties. Investing, for me, is just about trying to tip the odds in my favour in the long-term.
What it does neatly do, though, is give me a chance to clearly restate my picks and why I have faith in them. Just like Richard Beddard at iii, then, I'll be trying to explain concisely why I'm invested, in as simple terms as possible. Without further ado, then, my choices:
Morson
Morson's share price recently dived after announcing the cutting of the dividend. While it's not perfect from my point of view, I'm nowhere near as concerned as the market is - mostly because of a metric I devised a while back, the holding ratio. Mason's (chief exec) huge holdings of the shares compared with a relatively small salary mean his financial interests are forcibly tied with that of shareholders - and as such I can understand the dividend cut being a precautionary measure to improve long-term share price performance. The company is extremely cheap on an earnings basis, in an industry which is certainly out of vogue (technical recruitment).
Barratt Developments (LON:BDEV)
The housebuilder Barratt is, I think, a victim of the great pessimism on the housing market in the UK. It needn't be that way, as I think they have potential to do well even in a sluggish market. Mix changes from flats to big houses, land bought cheaply in the downturn, improving margins and continued Governemnt support - not least because the majority of the voting public want house prices supported for their own personal interest - mean I think, in the long run, the picture for Barratt is pretty rosy. Earnings are still weak/negative, but Barratt has billions worth of land on its books, leaving it on a P/B of 0.31. That's my downside protection.
Communisis (LON:CMS)
Communisis are a company that look to be quickly changing and adjusting to market needs, whilst being given very little credit for doing so. They're shifting from being a generic mass mail printer to a top-end, targeted mail approach, with interesting tie ins with very 21st century technology - using Equifax's credit database, for instance, to draw up consumer profiles and understand what approaches will work best. I like it on a fundamental level, as it seems to be a far better approach to marketing, but more importantly their customers seem to like it, too. Continued contract wins and improving revenues combined with the better margins enjoyed from this new approach means I think Communisis will fly under the radar until the market realises they're fundamentally changed. On a P/E of 7, they're priced to decline, not to rise.
N Brown (LON:BWNG)
With a market cap of nearly £700m, the clothing retailer N Brown are far larger than my other choices, but have fallen prey to the same bearish attitude on all forms of spending. Trading on a P/E of about 9 is cheap for such a large company - and should reflect some underlying problems. The opposite, I think, is true. N Brown have seen revenues and profits rise through the recession, as their strategy of careful targetting through niche websites and catalogues continues to pay dividends (another strong point too, with a yield above 5%!). This concept - moving away from the highstreet - looks to me to have more legs than similar firms, and trading on such a low P/E in the midst of a huge consumer squeeze can only be a good thing. Should people get just fractionally more positive on their prospects in the next few years, we're suddenly left with a growth stock on a single digit P/E.
Plastics Capital (LON:PLA)
Plastics Capital define niche. The produce incredibly specific products - such as the plastic tube that keeps hydraulic hoses a consistent diameter - and, as such, seem fairly insulated to wider swings in consumer demand. I say fairly, as they aren't immune from restocking cycles - and, one must remember, if their customers' customers are getting hit, so are PC. With that said, though, they operate market leading positions in everything they produce - customer retention is very high, relationships are long, and as such revenues are reliable. That is at odds with a P/E below 7, for me, as the company looks to be safe in other respects.
Lookers (LON:LOOK)
The best explanation for Lookers is probably N Brown's story above turbocharged. It's a very simple investment case to explain; Lookers have grown revenue and profits through the recession in incredibly tough times. Going forward, unless you never see a consumer recovery, car sales should at some point recover. The market's pricing doesn't look that way - it looks to be signalling profits slumping significantly and taking a long time to recover. Analysts forecast only a small drop in profits this year then improvement as Lookers continue to gain market share; but their safe balance sheet and strong performance up to now in a bad consumer environment gives me the feeling that the business is resilient enough to be a solid performer in coming years.
Special Offer: Invest like Buffett, Slater and Greenblatt. Click here for details »
Howden Joinery (LON:HWDN)
Howden Joinery, makers of predominantly kitchens and fittings, have a very low cost business model and growth which is both deceptively recession-proof and surprisingly strong. Due to Howden's approach to selling to the trade instead of consumers, stores tend to 'mature' over time as they increase in account holders - something which is still driving growth even before store expansion. On top of that, though, Howden is continuing to pursue growth in the vein of its existing model - cutting out the expensive high street stores customer-facing sellers need, and allowing themselves to focus on margins, which continue to be very strong. French expansion is on hold at the minute due to the uncertainty, but the business seems solidly run and consistently profitable since their troubled beginning.
Cranswick (LON:CWK)
Cranswick make sausages and meat products, and were memorably described in one of my very early blog posts thus:"This seems like a Buffettesque company. I think the company will slowly accrete value." That's a description I probably agree with as, through various cycles of pork selling prices, Cranswick has continuously grown and remained profitable. In fact, they've grown revenue year on year for the last 10 years, and almost grown profit consistently for that same period. The balance sheet is extremely conservative, the management seem the same, and so the question always came down to valuation; and at a P/E of below 11 an extremely safe, consistent grower whose margins had been slightly squeezed seemed a solid bet.
Zetar (LON:ZTR)
Sticking with my foodie theme, Zetar occupy a different spectrum - Cranswick with a £350m market cap, Zetar with £25m, I still see some similarities. Zetar too has grown revenue year-on-year since its birth, and while its balance sheet isn't quite as safe in hard asset terms, its difficult not to ascribe a value to its profitable brands of chocolate and healthier snacks. Notably, Zetar licenses bigger names - Reggae Reggae and Bailey's, for instance, for use in nuts and chocolate, giving the company a degree of product differentiation. Since me buying, Zetar have continued their upward trend and announced a (very small) inaugural dividend. The case remains for me, then, as Zetar was always a quality/price story. It is very small and therefore a little more risky than bigger stocks, but it is still growing and a P/E of 6 seems harsh.
Character (LON:CCT)
Character offer a similar sort of attraction to Zetar in the sense of price vs. quality, then - a P/E of 7 for a company doing well in a very bad time for the toys they produce. It's also a company that's gobbling itself up, by buying back shares and paying out dividends from its strong profits, a process its directors are involved in. The company has both some proprietary brands and some licensed ones - like the top 10 Christmas toy Fireman Sam set. Cash flow seems very strong, bankrolling this sharebuying spree, though the company does continue to invest in future products and so hopefully is just exploiting the share price weakness. I do still have a few lingering doubts, but as ever it's a risk/reward calculation; and as the company reckons they can maintain 2011's performance through a tough 2012, if they manage it, I think the worst will be behind them.
Dart (LON:DTG)
At the face of it, Dart Group offered the dream in terms of metrics - the airline trades a discount to its tangible book value due to the high value of its aircraft and relatively low debt, has a very low P/E and seems to be fine in terms of liquidity. It was like that when I purchased it, however, and since then it's shed another 33% of its value. Bearishness on airlines is overpowering at the moment (though I should note at this point the group also owns a distribution wing, Fowler Welch) and I suspect this is to blame for most of the share price falls; but up until now, Dart have stayed ahead of the game. Margins are under great strain given the supply/demand relationship - a notorious problem for the sector - but Dart have continued to grow revenues. Given their sound financial and liquidity position, I think they're placed to get through the rough times and into the smoother, where they'll benefit from their recessionary growth.
Creston (LON:CRE)
Creston are a company that's de-risked significantly as they've paid down their debtpile through the recession. That's always satisfying, as everyone know a recession is the most difficult time to pay down your debtpile - but Creston managed it and then went back on the acquisition trail, snapping up a US healthcare marketing firm to complement their other PR and marketing agencies. Much like other firms in the sector, they have a large number of longstanding blue chip clients, giving the company some degree of safety in its revenues - but in an environment of shrinking marketing budgets, companies are always more likely to shift allocations away from weaker providers. Luckily, that doesn't seem to be happening - Creston have continued growing revenues as they've shifted through disposals to online and multi-channel marketing and away from old-fashioned print and TV, for instance. As with Zetar and Character, the size makes a choice like Creston inherently more speculative - but given that I hardly overpaid (Creston trade on a P/E of 7, analysts forecast growth in 2012) I'm not too worried. Small-cap shares tend to outperform on average, and value shares even more. I feel I'm more than compensated for the risk.
And there's my 12 for 2012! Good luck to all the other participants, and I look forward to learning from all the different styles of sharepicking.
---
Disclaimer:
As per our Terms of Use, Stockopedia is a financial news & data site, discussion forum and content aggregator. Our site should be used for educational & informational purposes only. We do not provide investment advice, recommendations or views as to whether an investment or strategy is suited to the investment needs of a specific individual. You should make your own decisions and seek independent professional advice before doing so. The author may own shares in any companies discussed, all opinions are his/her own & are general/impersonal. Remember: Shares can go down as well as up. Past performance is not a guide to future performance & investors may not get back the amount invested.
---
---

Barratt Developments PLC is a holding company. The Company's principal activities consists of acquiring and developing land, planning, designing and constructing residential property developments and selling the homes it builds. The Company's segments include: housebuilding and commercial developments. It operates across a spectrum of the market from flats to family homes and urban regeneration schemes. Its housebuilding business trades under the Barratt Homes, David Wilson Homes and Ward Homes brands. Barratt Homes focuses on traditional housing, flats and urban regeneration. David Wilson Homes focuses on producing larger family homes. Ward Homes operates in Kent and the South East. As of June 30, 2011, the Company sold 377 active sites across 25 divisions. On January 17, 2011, it acquired VSM (Bentley Priory 1) Limited, VSM (Bentley Priory 2) Limited, VSM (Bentley Priory 3) Limited, VSM (Bentley Priory 4) Limited, VSM (Bentley Priory 5) Limited and VSM (Bentley Priory 6) Limited. more »

Communisis plc is engaged in the provision of products and services that help the clients with customer communications. It services include the delivery of data and analysis services to help clients with their customer strategies, as well as risk analytics. It also includes services, producing and distributing targeted and personalized direct marketing campaigns in both online and offline channels and the provision of print management services. It also continues to produce transactional printed products, including cheques, bills and statements. It has two segments: Intelligence driven Communications (IDC), which offers data & Analysis, Campaign management, Creative and postal Sortation, and Specialist production and Sourcing (SPS), which offers print sourcing, direct mail, transactional services and cheques. Its subsidiaries include Communisis UK limited, Communisis France SARL and Communisis Italia Srl. On 14 June 2011, it acquired the trade and assets of orchestra Bristol Limited. more »

N Brown Group plc is an Internet and catalogue home shopping company. The Company is engaged in retailing through direct home shopping. The Company operates in the United States of America, the United Kingdom, Germany and Ireland. Its products include ladieswear, footwear, menswear, home and leisure. It offers a range of brands in its portfolio, divided into three age ranges: young (ages 30-45); midlife (ages 45-65) and older (ages 65+). The young age group consists of brands, such as Simply be, Fashion world, Simply yours, new now, Naturally close, Figleaves, VivaLaDiva, Jacamo and the Brilliant gift Shop. The Midlife age group consists of Ambrose Wilson, Classic Detail, Crazy Clearance, Feel Good Essentials, Fifty Plus, High Mighty, Home Shopping direct, House of Bath, JD Williams, Marisota, Oxendales, Premier Man, Shapely Figures, the Shoe Tailor, that's my style, Williams & Brown and Fabrici. The older group includes Gray, Osbourn, Heather Valley, Julipa and Nightingales more »