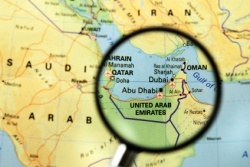 This thread is for any news relating to UAE (or UAE-related) oil and gas companies, whether government controlled or private, can be posted, along with other snippets relating to the UAE O & G sector, including UAE comments with regards to OPEC. Snippets from other Gulf states welcome - but, where appropriate, please cross-post on specific company boards, e.g. DGO, GKP, etc. Overseas interests/activity by UAE-based companies also included.
To reduce length 

12 June 2009
T

o add in Premier (PMO) JVs with EIIC and to update some of the companies: 19 November 2009 

 

10 August 2010, to update and include increase RAK Petroleum share in DNO
As a ready reference, here are website details for the following companies / institutions.
Owned by the Government of Abu Dhabi. Majority shareholder in Dolphin Energy, a gas transmission and sales company, (with Total and Occidental). Its Mubadala Oil and Gas subsidiary has interests in South East Asia, Libya, Oman, Bahrain and more - including a JV with Chevron in Kazakhstan (announced November 2009)
Also has a UAE JV with Petrofac (PFC)
International Petroleum Investment Company, IPIC - 
www.ipic.ae
Owned by the Government of Abu Dhabi. Among
 much else, it owns a stake of just under 20 per cent in Austrian-based OMV, as well as a lot of downstream interests (Korea, Pakistan, Spain etc)
Through its  subsidiary Aabar, also has stakes in Virgin Galactic, Daimler, the Brawn Grand Prix team and much else besides.
Majority owned by the AD Government. Active in O & G and power. Active acquirer of overseas interests, e.g. Canada, Holland and North Sea, until summer 2009, now scaling back - see TAQA thread - though still interested in 'bolt-on' acquisitions
This is the Abu Dhabi state NOC, which has relevant JV partnerships onshore and offshore, ADCO, ADMA-OPCO and ZADCO, for oil, ADGAS and GASCO, for gas, and other interests in JVs related to oil exploration and sour gas development. JVs with a host of foreign majors, including BP, Shell, ExxonMobil, Total, ConocoPhillips and Occidental (Total and Oxy also having links to Mubadala - see above)
Public company - though with a significant stake held by the Government of Sharjah, one of the seven emirates. Involved in gas production in the UAE, Egypt and Kurdistan.
Closely linked to privately-owned
Special Offer: Invest like Buffett, Slater and Greenblatt. Click here for details »
Owned by the Government of Ras al-Khaimah. Interests in Oman and East Africa (sole holder of the licences in Oman with which Indago Petroleum, IPL, were once involved.
Bought 5+ per cent in DNO on the market (Mainly for Kurdish interests?), November 2009. Increased this to around 30 per cent by August 2010.
Premier (PMO) - EIIC
PREMCO joint ventures between PMO and Emirates International Investment Company, EIIC.
PMO RNS from early 2008 here:
 By August 2010, though, nothing had happened, either inside or outside the UAE
Now some UAE-related firms quoted in London
rig refurbisher and builder, UAE-based but with an arm also in Thailand.
Another service company at heart, though with growing E & P interests (though North Sea interests now spun out into EnQuest). Very diversified these days, but with a significant UAE base
majority-owned by the Government of Dubai, through the Emirates National Oil Company, ENOC - which is actually owned solely by Dubai. Main interests in Turkmenistan O & G but with ambitions to diversify.
active in Algeria and Kurdistan, but with a significant stake still held by UAE investors.
More minnows amongst UAE-related companies to be added later if they appear to be doing anything of significance!
Suggestions for additions / changes to the above always welcome
Disclaimer:
The author may hold shares in this company. All opinions are his own. You should check any statements that appear factual and seek independent professional advice before making any investment decision.
---
---

Lamprell plc is a holding company. The Company is engaged in the provision of diversified engineering and contracting products and services to the onshore and offshore oil and gas and renewables industries. The principal activities of the Company and its subsidiaries are: the upgrade and refurbishment of offshore jackup rigs; fabrication; assembly and new build construction for the offshore oil and gas and renewable sector, including jackup rigs and liftboats; Floating Production, Storage and Offloading (FPSO) and other offshore and onshore structures; and oilfield engineering services, including the upgrade and refurbishment of land rigs. Its subsidiaries include Lamprell Energy Limited, Lamprell Investment Holdings Limited, Lamprell Dubai LLC, Lamprell Sharjah WLL, Maritime Offshore Limited, Maritime Offshore Construction Limited and International Inspection Services Limited. more »

Petrofac Limited is engaged in the provision of facilities solutions to the oil and gas production and processing industry. It operates in four segments: Onshore Engineering & Construction provides engineering, procurement and construction project execution services to the onshore oil & gas industry; Offshore Projects & Operations provides offshore engineering, operations and maintenance on and offshore; Engineering & Consulting Services provides technical engineering, consultancy, conceptual design, front end engineering and design (FEED) and project management consultancy (PMC) across all sectors including renewables and carbon capture, and Integrated Energy Services co-invests with partners in oil & gas production, processing and transportation assets, provides production improvement services under value aligned commercial structures and oil & gas related technical competency training and consultancy services. more »

Dragon Oil plc is engaged in exploration, development and production of oil and gas in Turkmenistan, Yemen and Tunisia. The Company holds a 100% interest in the Cheleken Contract Area, offshore Turkmenistan. The Cheleken Contract Area covers approximately 950 square kilometers (235,000 acres) and comprises two offshore oil and gas fields, Dzheitune (Lam) and Dzhygalybeg (Zhdanov). As of 31 December 2011, the contract area contained oil and condensate 2P reserves of 658 million barrels and contingent resources of 88 million barrels, 1.5 trillion cubic feet of 2P gas reserves and 1.4 trillion cubic feet of gas contingent resources. During the year ended December 31, 2011, it completed 13 wells, and installed a third wellhead and production platform, the Dzheitune (Lam) C. In October 2011, Dragon Oil signed a farm-in agreement with a wholly owned subsidiary of Cooper Energy Limited for a 55% participating interest in the Bargou Exploration Permit, offshore Tunisia. more »