Vallares PLC: Nat Rothschild teams up with Tony Hayward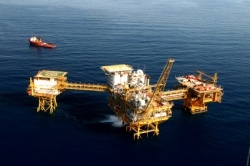 Almost a year on from floating Vallar (LON:VAA), Nat Rothschild is teaming up with Tony Hayward of BP fame to raise £1bn in a new oil and gas asset acquisition vehicle, imaginatively called Vallares. 
This morning's announcement indicates that Vallares will adopt the same proven model used by Vallar last year when it raised £707m then acquired interests in Indonesian coal producers, Bumi plc and Berau Coal.
The value opportunity
The Directors believe that increasing global industrialisation and urbanisation, particularly in Asia (outside Japan) and the emerging markets, is likely to lead to increased global demand for commodities. At the same time, the Directors believe that the supply of oil and gas will be constrained by insufficient investment to keep pace with this demand and by exploration and development challenges. This supply-demand dynamic is likely to generate sustained inflation in commodity prices. 
In recent years many valuable resource assets have been acquired by smaller companies that often do not have access to capital or sufficient capability to realise their development potential.  
Accordingly, the Directors believe that the resources sector, and especially the oil & gas industry, presents multiple attractive investment opportunities.
Business strategy and execution
The Company intends to target a major company, business or asset with an aggregate Enterprise Value of between £3 billion and £8 billion, although an opportunity with a smaller or larger Enterprise Value1 may be considered. The Company aims to achieve this through identifying and acquiring interests in companies, businesses or assets where the existing owners are attracted to the Vallares proposition, namely the opportunity to hold an ownership interest in a London listed company with a high quality Board and the cash, access to capital and capability to unlock the value of their assets.
Special Offer: Invest like Buffett, Slater and Greenblatt. Click here for details »
The Company intends to focus primarily on emerging and under-developed geographic regions where the Founders collectively have prior knowledge and experience. These include Russia, the CIS region, the Middle East, Africa, Asia and Latin America. However, the Company will not exclude other geographic regions where an opportunity presents an appropriate investment proposition.
Founders
Nat Rothschild
Tony Hayward
Tom Daniel
Julian Metherell
The Founders have committed £100m of capital to the Company and its group, including £80m to subscribe for Ordinary Shares in the Placing.
Board of Directors
Rodney Chase - Chairman (ex-Petrofac, BP, TNK-BP, Tesco, BOC, Diageo)
Jim Leng - Senior Independent NED (Alstom, TNK-BP, AEA, HSBC, ex-Corus, Pilkington, Hanson, IMI)
Sir Graham Hearne - Independent NED (Catlin, Braemar Shipping, ex-Enterprise Oil)
George Rose - Independent NED (National Grid, ex-Orange, Saab, BAE)
Nat Rothschild - NED (Vallar, Rusal, EN+, Barrick Gold, ex RIT Capital Partners)
Tony Hayward - NED (TNK-BP, AEA, ex-BP)
Robert Sinclair - NED (Chariot Oil & Gas, Artemis Trustees, + various investment trusts, ex-Vallar, Chromex Mining,
Ian Domaille - NED

Placing
Vallares will list on the London stock market at £10 per share; it expects to close its order book on or around 20 June.
Disclaimer:
As per our Terms of Use, Stockopedia is a financial news & data site, discussion forum and content aggregator. Our site should be used for educational & informational purposes only. We do not provide investment advice, recommendations or views as to whether an investment or strategy is suited to the investment needs of a specific individual. You should make your own decisions and seek independent professional advice before doing so. The author may own shares in any companies discussed, all opinions are his/her own & are general/impersonal. Remember: Shares can go down as well as up. Past performance is not a guide to future performance & investors may not get back the amount invested.
---
---

Genel Energy plc, formerly Vallares PLC, is an exploration and production company. It is an independent oil producer in the Kurdistan Region of Iraq. As of December 31, 2011, it had operational bases in Ankara, Turkey; in Taq Taq, Erbil and Suleimaniah in the Kurdistan Region, and in London. As of December 31, 2011, the Company's oil producing fields of Taq Taq (in which it held a 44% interest) and Tawke (25% interest) had estimated gross proven and probable reserves of 1.2 billion barrels of oil and proven, probable and possible reserves of 1.9 billion barrels of oil. During the year ended December 31, 2011, the Taq Taq and Tawke fields produced over 140,000 barrels of oil produced daily gross. In January 2013, it acquired 49% interest in the Miran exploration block in the Kurdistan Region of Iraq. In March 2013, Mediterranean Oil & Gas Plc completed the sale of 75% interest in Phoenicia Energy Company Ltd to Genel Energy plc (Genel). more »