Value-Investing & Distress: Is there a point of no return?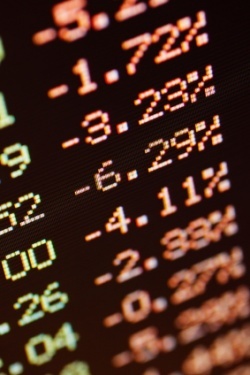 One of the biggest questions lingering in my mind over the last few weeks has been one that I'm sure all value investors regularly struggle with. It relates to those companies that just keep going down. As value investing is inherently contrarian, these businesses often pose painful questions for us - as they present us with a firm that often looks incredibly cheap on a number of bases but simply keeps falling. Since I don't believe in any sort of market timing at all - thinking it more to be a backward-looking, data mining exercise, the thought of 'jumping on the bandwagon' - shorting the stock simply because it's going down - is ludicrous to me. That said, it sometimes feels like that's the way they're destined to go; like HMV, Game, or Thomas Cook Group, the three which sit in my mind most currently - see chart below.
Shorting the stock isn't always bad, of course; just foolish for me to do unless unless I find fundamental reasons to short the stock. My portfolio doesn't currently have any short positions - and nor do I plan to add any soon - but from a theoretical perspective, I have absolutely no objection to shorting a stock that you think is overpriced by the market. The trouble is, it seems to me, the set of tools I use to value stocks loses some of its predictive power when a stock heads into the death spiral Game, HMV and Thomas Cook look to have entered. Am I simply being lazy and looking for reasons to avoid valuing these stocks? Perhaps I am, but bear with me!
My valuation techniques, largely, focus on earnings. All of my companies were profitable last year (Barratt are a fine-line, but were profitable pre-exceptionals). The majority of my companies are conservatively financed, in my opinion. None of them have experienced particularly spectacular growth in the last few years - they are predominantly in industries likely to be defined by the market as receding, not growing. In some sense, then, they're on the 'easier' scale of companies to value. I don't think that's a bad thing, and nor do I make the jump to thinking that I'll be accurate because of it - but there is a reason I don't try and ascribe a value to tech or growth companies - I think it requires a completely different skill set entirely; one which I don't have, and I'm not sure many do.
Think of this post as an open letter, then, as I'd love to hear you opinions as I conjure up one possible explanation. Is it the case, in exactly the same way it's foolish to use simply P/E and PBV ratios to value tech and growth companies, that these metrics lose any sort of relevance when companies go past the 'tipping' point in the mind of the market? Is the concept of a 'tipping' point an oversimplification? It seems to me that there is almost a cyclicality of reasoning in companies who are on the way down; equity investors won't invest on the basis of uncertainty in their lending, and I wonder whether lenders are put off by a company which has shed 70% of its value in the last 6 months. Both sides like confirmation from the other that the business is solid.
That said, though, if earnings and assets lose their relevance - as I have basically said above - what do we actually have left with which to value a business? The business is worth the discounted present value of future cash flows, the easiest proxy for which we have is earnings. How can earnings, then, lose their relevance? Maybe, as I posted in the second paragraph, I am simply looking for reasons not to invest in companies I have no idea how to value. I'm not sure that's such a bad thing, but there is always the possibility that I am missing a great deal of value here. It almost feels as if  am buying into exactly the premise I so strongly reject - that herd mindset that scares us away from stocks on the way down and sees private investors so often load up on stocks just as a long bull market peaks.
Maybe the answer is staring me in the face - the fact that all three of these companies have huge obvious catalysts for the share price - refinancing arrangements. The capital structure of all three companies, if they survive, is likely to change dramatically, and that's not something I have any experience in. Market thinkers commenting on the scale of equity raises or debt refinancing deals elicit no opinion from me - simply because I acknowledge how little I know about how these things work historically. Is this most obvious explanation the best one? Simply that these stocks have passed through 'the value zone' and into the realm of investors who are able to accurately perceive the outcome of capital rearrangements? I'm sure many of my peers have that skill, but it's certainly one I don't possess, and may explain my ambivalence!
---
Disclaimer:
As per our Terms of Use, Stockopedia is a financial news & data site, discussion forum and content aggregator. Our site should be used for educational & informational purposes only. We do not provide investment advice, recommendations or views as to whether an investment or strategy is suited to the investment needs of a specific individual. You should make your own decisions and seek independent professional advice before doing so. The author may own shares in any companies discussed, all opinions are his/her own & are general/impersonal. Remember: Shares can go down as well as up. Past performance is not a guide to future performance & investors may not get back the amount invested.
---
---
Thomas Cook Group plc operates under six geographic segments: UK, Central Europe, West & East Europe, Northern Europe, North America and Airlines Germany. In the United Kingdom & Ireland, India and Middle East it has 7.8 million passengers, which includes Includes 1.2 million passengers in India and Egypt, 1,103 of retail outlets, which Includes 326 retail outlets in India and Egypt and 40 aircrafts. It brands include Thomas Cook, Neilson, Sunset, Airtours, Elegant Resorts, Cresta, GoldMedal, and medhotels.com. In March 2012, it sold its rights in the Explorers Hotel (Explorers) to Verquin SAS. In August 2012, it completed the sale and leaseback of 11 Boeing 757 aircraft and eight Boeing 767 aircraft. In May 2013, the Company disposed Thomas Cook Canada Inc. and Thomas Cook USA Holdings, Inc., together known as Thomas Cook North America, to Red Label Vacations Inc. more »

HMV Group plc is engaged in retailing of pre-recorded music, video, electronic games and related entertainment products under the HMV and Fopp brands, and the retailing of books principally under the Waterstone's brand. It has four segments: HMV UK & Ireland, HMV International and HMV Live. HMV UK & Ireland and HMV International are the pre-recorded music, video and electronic games retailing divisions that primarily trade under the HMV brand. HMV Live's activities include the operation of live music venues and events, including festivals, together with sponsorship income relating to brands held within the business. The Group had operations in seven countries, with the principal markets being those of the United Kingdom and Canada. In August 2012, it announced the disposal of Hammersmith Apollo Limited. In December 2012, it sold MAMA Group Limited and its subsidiaries and its separately held interest in 50% of Mean Fiddler Group Limited (MAMA) to Juno Newco Limited. more »