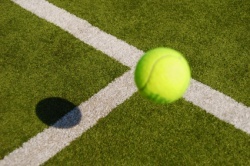 With Wimbledon nearly here, Nick Raynor, Investment Adviser at The Share Centre, serves up his tennis stocks.
Rafael Nadal
Rafael Nadal's aggressive and speedy game play can be seen in the explosive nature of BG Group's (LON:BG.) share price. When the international gas production and marketing company finds oil the share price soars, which can see investors benefit from what seemed to be a relatively lacklustre position – a trait that Nadal continually forces upon opponents.  Nadal plays to the present conditions of the game, which is also true of BG Group whose position changes as a result of the exposure to outside factors such as oil prices and changes to demand.  Investors looking for a consistent return should steer clear from BG Group as commodities are likely to remain volatile. However, the company has a great track record of finding new fields and going forward may attract investors seeking growth.
Roger Federer
Supermarket giant Tesco (LON:TSCO) can be likened to the all rounded player Federer, known for his versatility, as it remains one of the most dynamic companies in British retailing. Competition remains tough amongst the top three supermarket giants, as it does for the world number one tennis ranking. Tesco's international exposure and continued expansion plans are attractive for investors seeking growth and we recommend it as a long-term buy. Like Federer, Tesco is a consistent player and doesn't cause a frenzy of excitement; this stability attracts low risk investors. This well executed strategy has driven the company's success as it focuses on keeping prices down, margins steady and extending its range and volume. Tesco remains our preferred play in the retail sector.
Andy Murray
This late developer to the tennis world can be compared to the rags to riches story of online retailer ASOS (LON:ASC) who arrived late on the scene with a bang. Like the Scottish star the company has so far shown a low error rate in tough market conditions with increased competition. UK sales in the year to 31 March increased by an impressive 25%, to £184.1m, but it is the company's international exposure that is the real attraction for the investor. ASOS is pushing for less reliance on the UK market and overseas sales increased by 142% over the same time period. Like Murray, ASOS is one of the top returners in the game. Since we first recommended the online retailer as a 'buy' in June 2010 the share price has risen by 206% from £6.96 to £21.28. We feel there is more to come from Murray and ASOS alike and it is certainly possible for the company to reach its sales target of £1bn by 2015 if its international expansion continues at its current rate.
Special Offer: Invest like Buffett, Slater and Greenblatt. Click here for details »
Venus Williams
One the most recognisable names in British engineering,  Rolls Royce Group (LON:RR.) can be compared to tennis stars Venus Williams. Once famous for manufacturing finely tuned cars the company is now the world's largest maker of jet engines focusing on a trait shared closely with the athlete – power. The outlook for the company looks positive as it is expecting an uplift in profits in 2011 and is confident that in the coming decade Rolls Royce will be able to double revenue through organic growth alone. The player's winning streak is something the company shares with a continued flow of new contracts, appealing to investors seeking growth and global exposure. Medium risk investors seeking income will also be attracted to the company's reasonable dividend and its quality and diversified order book ensures continued rewards for those that are patient.
Wildcard
Mobile banking and payment technology provider Monitise (LON:MONI) has been selected as the underdog with potential. Like all Wimbledon wildcards, this AIM listed company has performed well despite not being amongst the top game players. Despite still making a loss Monitise is sat on a healthy pile of cash and is expected to move into profitability by 2013. Revenues for the last six months of 2010 soared from £1.7m the year before to £5.3m. The company's growing international exposure is attractive for long term investors, but the deal arranged with Visa to have access to its 1.7bn customers and a 14.4% stake in the company is the most appealing. The company now has 3.5m registered customers, double the number it had in December 2009, and with further potential contracts to be won it could see this streak of success continue.
All information given including prices, yields and our opinion is correct at the time of publication.  Our opinions on investments can change at any time and for our latest view, please go to the Share Centre website - www.share.com.  To understand how our Advice team arrive at their views please read our Investment Research Policy.
---
Disclaimer:
Investing in general, and the products and services mentioned above may not be suitable for all: if in doubt, individuals should seek independent financial advice. The value of investments and the income from them can go down as well as up and investors may not get back their original investment. Past performance is not a reliable indicator of future performance.
The bases and levels of taxation relating to ISAs, CTFs and SIPPs are subject to change and the value of these tax allowances may depend upon the circumstances of the individual.
---
---

Asos Plc is that of a holding company. The principal activity of its subsidiary undertakings is that of Internet retailing. ASOS.com is a global online fashion and beauty retailer, offering over 50,000 own label and branded product lines across womenswear and menswear, to customers in over 190 countries from its central distribution centre in the United Kingdom. Through its Global Free Shipping offering, ASOS delivers these products to customers for free in over 190 countries from its central distribution centre in the United Kingdom (Barnsley). Alongside global free shipping, customers can also choose a variety of other paid delivery methods and speeds in each territory. It sources brands from worldwide and has over 1,000 brands in its, portfolio including American Apparel, Denim & Supply and Polo by Ralph Lauren, Jack & Jones, Cheap Monday and Zadig and Voltaire. As of March 31, 2012, it had 7.95 million Registered Users and 4.38 million active customers from 160 countries. more »

Monitise plc is a United Kingdom-based holding company. The principal activity of the Company is as a technology company delivering mobile banking, payments and commerce networks worldwide. The Company's segments include Live Operations, Investment in future operations and Investment in technology platform. Live operations include both territory deployments and development contracts, which consist of Monitise United Kingdom, Monitise Americas and Global accounts. Investment in future operations segment represents the Company's operations which are not live operations covering both pre-sales and start-up period. Investment in technology platform segment comprises the ongoing development, enhancement and maintenance costs of the Monitise technology platform. On June 25, 2012, the Company acquired US mobile banking and payments specialist, Clairmail Inc. (Clairmail). more »

Rolls-Royce Holdings plc, formerly Rolls-Royce Group plc is a provider of power systems and services for use on land, at sea and in the air. The Company operates in four segments: civil aerospace, defense aerospace, marine and energy. The civil aerospace is engaged in development, manufacture, marketing and sales of commercial aero engines and aftermarket services. The defense aerospace is engaged in development, manufacture, marketing and sales of military aero engines and aftermarket services. The marine segment is engaged in development, manufacture, marketing and sales of marine propulsion systems and aftermarket services. The energy segment is engaged in development, manufacture, marketing and sales of power systems for the offshore oil and gas industry and electrical power generation and aftermarket services. In January 2013, the Company bought PKMJ Technical Services. In January 2013, Alstom SA acquired Tidal Generation Limited from the Company. more »