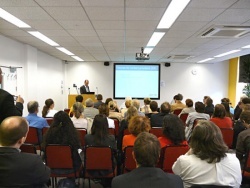 Inaugural ShareSoc Technology Company Seminar 
ShareSoc is pleased to launch the first of a series of technology company focussed seminars exclusive to ShareSoc members. The event will take place on the 20th March 2013, in the City of London, commencing at 5:30 pm.
Three companies will be presenting and answering your questions:
Escher Group (LON:ESCH) : a developer of software for the postal industry.
Deltex Medical (LON:DEMG) : engaged in the development, manufacture and sale of haemodynamic monitoring systems.
dotDigital (LON:DOTD) : a provider of Software as a Service (SaaS) for web-based marketing.
Refreshments and a finger buffet will be provided free of charge, over which you'll be able to have one-to-ones with directors of the presenting companies. After the event, we'll be adjourning to a local hostelry (details to follow for attendees), for a great opportunity to socialise with your fellow investors and discuss these and other investment opportunities.
As well as the company presentations, Roger Lawson will let us have his thoughts and the benefit of his experience of investing in and running technology businesses. Stockopedia will conveniently summarise facts and figures on the presenting companies for attendees and highlight key points - watch out for special Stockopedia subscription discounts for those that like what they see!
For those that like to do their homework (always wise!) Escher will be publishing their 2012 results on 11th March. dotDigital's interims will be released on 26th February.
Special Offer: Invest like Buffett, Slater and Greenblatt. Click here for details »
Pre-registration Required for Admittance
If you are already a member of ShareSoc, you can pre-register via the Members' Network by visiting: http://sharesoc.ning.com/events/sharesoc-tech-seminar and RSVPing, indicating that you are attending.
If you are not already a member you can conveniently join ShareSoc and simultaneously register for the seminar, by completing your details on this webpage: http://www.sharesoc.org/techseminar.html You can also find further details of the event and contact details on that page, should you have any questions about the event or difficulties with the registration process.
Hope to see you there!
Attendees Confirmed (5)
---
Disclaimer:
The author may hold shares in this company, all opinions are his own and you should check any statements that appear factual and not rely on them before making an investment decision. The author is NOT a qualified analyst nor authorised to give investment advice. Whilst the author is a director of ShareSoc, all views expressed are entirely his own and not necessarily those of ShareSoc.
---
---

dotDigital Group Plc (dotDigital) is a provider of software as a service (SaaS) technology and managed services to digital marketing professionals. The Company operates in the provision of Web-based marketing services. The Company's product portfolio includes dotMailer, which is an email marketing automation platform, and dotSurvey, which is an online survey tool. The Company also provides digital marketing services for businesses seeking dramatic growth through integrated, multi-channel engagement, conversion, acquisition and retention. dotDigital's services include dotAgency, which consists of Website design and ecommerce, and dotSearch, which consists of search and content marketing. more »

Escher Group Holdings Public Limited Company (Escher) is a United Kingdom-based company. The Company is a provider of outsourced, point of sale software to the postal industry. Its core software, Riposte, provides a solution for postal authorities which are seeking to counteract a decrease in traditional mail volumes by widening their service offering. It operates in two principal operating divisions: Retail Software Division which provides customers with point of sale products and services, and Message Based Communications Division is focused on the development of RiposteTrEx and will sell the software once it is rolled out. As of December 31, 2010, its Riposte was in use in 30 countries and territories worldwide and licensed for over 150,000 workstations. The Company's customers are national postal authorities including An Post in Ireland, Austria Post, Deutsche Post, Norway's Posten and SAPO in South Africa. more »

Deltex Medical Group plc is a holding company. The Company is engaged in the research, development, manufacture and sale of oesophageal Doppler haemodynamic monitoring systems (ODM). It has four segments: the UK segment, the USA segment, the Spanish segment and the International segment. Its CardioQ-ODM enables doctors to fine-tune a patient's cardiac performance during surgery using a technique known as Doppler-guided fluid management. ODM is the technology to measure blood flows in the central circulation; it is sensitive to changes in flow. Its subsidiaries include Deltex Medical Limited, which manufactures and markets medical devices; Deltex Medical (Chichester) Limited, which provides employee services; Deltex Medical SC, Inc., which markets and sells medical devices in the United States, which are manufactured by the Company in the United Kingdom and Deltex Medical, Espana, which markets and sells medical devices in Spain, which are manufactured by it in the United Kingdom. more »